 Nepal Telecom, an esteemed telecommunication company in Nepal is back with a wondrous offer. To celebrate the national constitution day, Ashoj 2, the company has launched a constitution offer. It's an offer where people will get non-stop access to Facebook and YouTube with some exciting data packs. Also, people can spend some fruitful time online.
With everything being digitalized, the significance of data pack offers also increases. And every facility that telecom companies bring, matters a lot. So, NTC Constitution Offer is also of great value for its customers. Further, with this offer, you'll get a chance to enjoy your favorite programs on YouTube. In addition to this, you can also stay updated with the latest happenings on Facebook.
Nepal Telecom Constitution Day Offer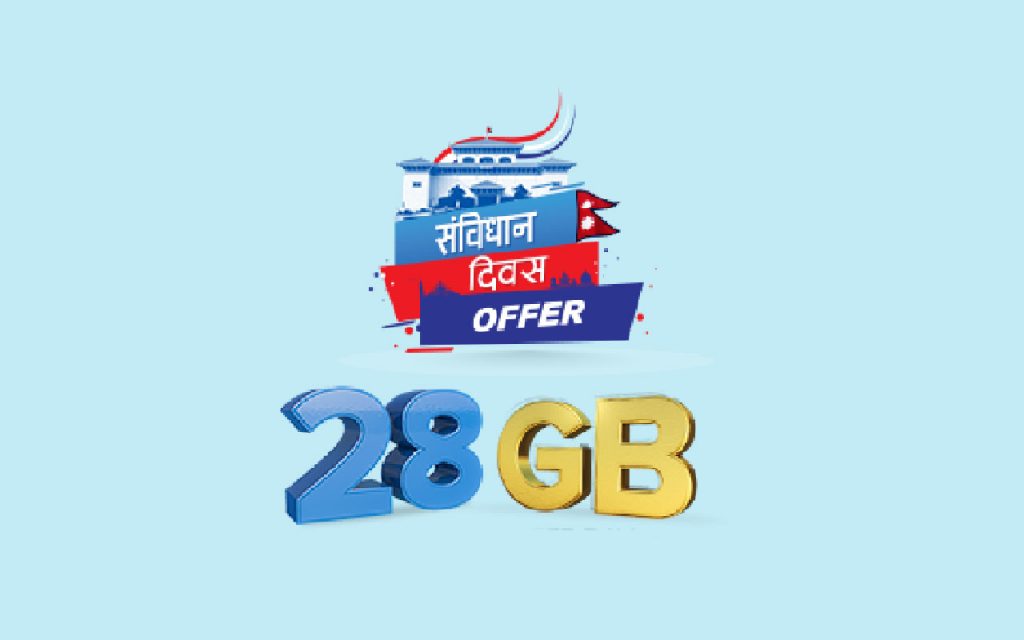 Within NTC's Constitution Offer, you'll get to choose between an unlimited Facebook pack and an unlimited YouTube pack. The Facebook data pack will cost you only Rs.55. Similarly, the YouTube data pack will also cost you Rs. 55. Both of them are valid for 3days.
Additionally, with these two packs, you can purchase an add-on pack where 1GB data is available to you at just Rs.15. This pack is valid for 3days as well.    
Along with the constitution offer, NTC is granting a discount of Rs.305 on the 28GB (1GB per day) data pack for 28days. Previously, the 1GB per day data pack was available at Rs.850. But considering the discount, 1GB per day pack is available at Rs.555, which is a reasonable price to pay.
Overall data plans of Constitution Offer:
Here is the list of data packs that you get with Constitution Offer:
Unlimited Facebook pack at Rs.55 for 3days
Unlimited YouTube pack at Rs.55 for 3days
An add-on 1GB data pack at Rs.15 for 3days
1GB per day data pack at Rs.555 for 28 days i.e., a total of 28GB data
Validity
Constitution offer (including unlimited Facebook pack and unlimited YouTube pack) will remain valid for 3days. Starting from Ashoj 2, this offer will be available till Ashoj 4. Moreover, the subscription must be made within this same time limit. As you have only 3days to enjoy this offer, make your subscription as fast as possible.
How to subscribe to Nepal Telecom Constitution Day Offer?
Many of you must be wondering about the subscription procedure of this offer. Actually, subscribing to this exciting offer is quite convenient. For the subscription,
Dial *1415*11# and then choose the data pack that you prefer the most.
You can also make your subscription via NT Mobile App or from Nepal Telecom's website.
Is it worth subscribing?
People who use data packs on daily basis are likely to get benefited from this offer, even though it's only for 3 days. With the constitution offer, you'll get unlimited access to Facebook and YouTube. So, it's not a bad deal to subscribe to this offer. Furthermore, if you connect to your work through Facebook, make your subscription sooner. And even if you use it just to connect with people and refresh your mind, it's better to subscribe. Therefore, subscribe and enjoy this offer wholeheartedly.
.