Nepal Telecom wants to collaborate with the smartphone companies to test it's 4G VoLTE service in various parts of Nepal. The largest telecom provider in Nepal has successfully implemented 4G in major cities of Nepal and aims to expand its VoLTE services all over Nepal. 
The state-owned telecom company has stated that it will carry out various tests regarding 4G in different smartphones of various manufacturers who sell their smartphones in Nepal. Nepal Telecom operates mainly in two spectra i.e 1800 MHz and 800 MHz Frequency band. Although not all the smartphones available in Nepal do not support VoLTE features, NTC wants to incorporate the technology in mobile phones in near future. 
What is VoLTE?
Voice over Long-Term Evolution commonly referred as VoLTE is a high-speed wireless communication standard for mobile phones and internet enabled devices. Which has up to three times more voice and data capacity than older 3G UMTS and up to six times more than 2G GSM.
This technology enables the  HD voice quality between the callers in 4G networks. VoLTE is able to provide crystal clear audio as it  turns voice into IP packets with which  companies are able to offer high-quality voice calls, 
Benefits of VoLTE
Crystal clear audio quality during the call
Utilization of RCS which includes fast video calling, file transfer, real time language translation, video voicemail and instant messaging
Faster call setup times
Simultaneous use of 4G/LTE services including web browsing, and teathening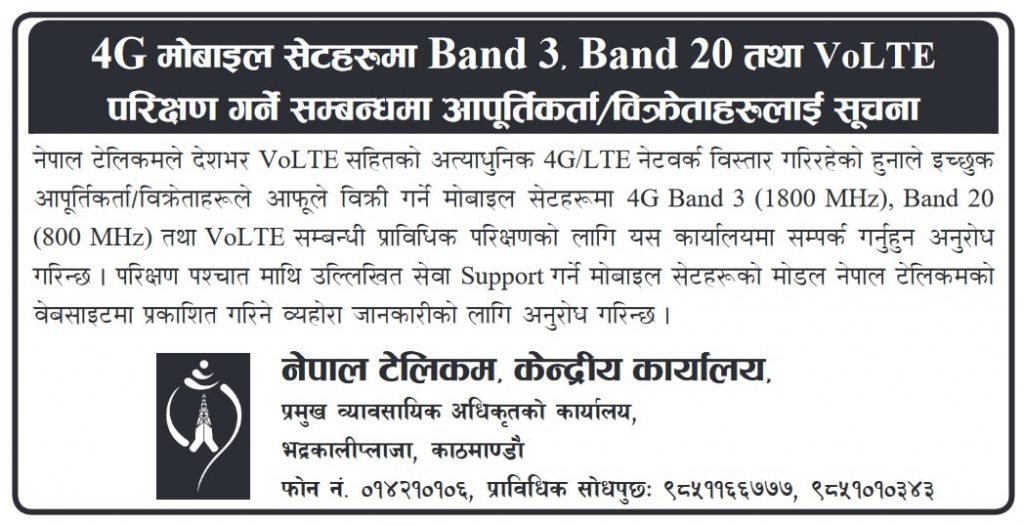 Nepal Telecom will carry out technical tests of the smartphones and examine the compatibility of VoLTE. During the test, Nepal Telecom tests the audio quality in various locations, audio frequency on the device and resolve the issue regarding the VoLTE. Nepal Telecom published a notice for the smartphone companies to collaborate for compatibility tests in the daily newspaper.
Also Read: Nepal Telecom's "जाडोमा न्यानो अफर": Subscribe to NT FTTH and get Free Mobile Data Everyday