Have you ever been in a situation where you paid the whole amount for a lunch and had to keep on asking your friends for many days for a refund? It is quite awkward when you have to ask your friends to pay back the amount you paid before, right?

To save you from those awkward moments, Namaste Pay wallet has launched split bill options for bill payments. Using this feature, the users can make payments and split the bill among other users with a tap.
This is another useable and unique service to its wallet platform which is available for Android and iOS users.
How does the split bill feature work?
Typically, the split bill feature enables users to instantly notify their friends/ family, or colleagues about the amount they owe to the bill. The person receiving this request can also pay back the initiator with a click.
As per the company,
With this feature, users can easily send requests as soon as the bill has been paid and receive money without having to share details of their wallet each time with each person, they need to share the bill with.
The split bill feature can be used for QR-based Merchant Payments, other online merchants' payments, or standalone without any bill generated within the app by simply clicking on the split bill icon available on the home screen of the app.
How to use the "Split Bill" feature in Namaste Pay?
Log in to your Namaste Pay account through your mobile number
On the homepage, click on the "Split Bill" icon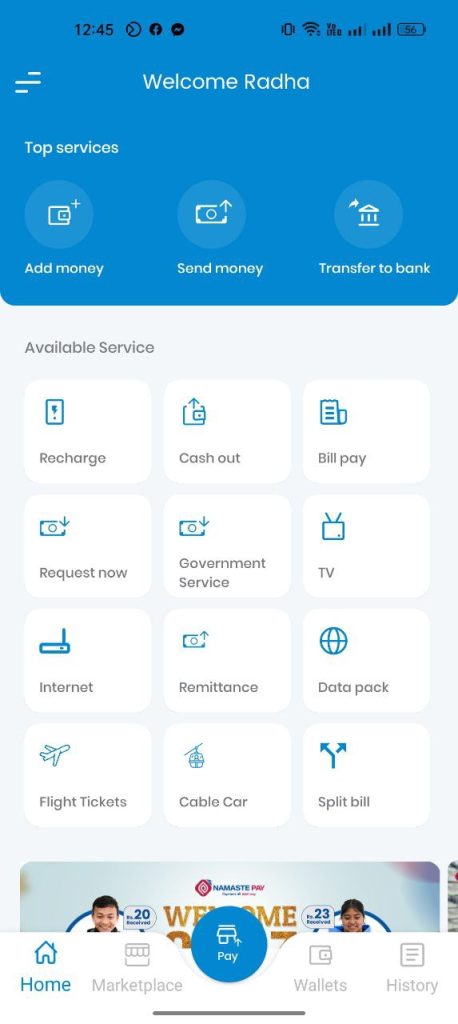 Enter the amount to be split. Then, add the mobile number of the Namaste Pay user with whom you want to split the bills. Then, click on Split Bill and proceed.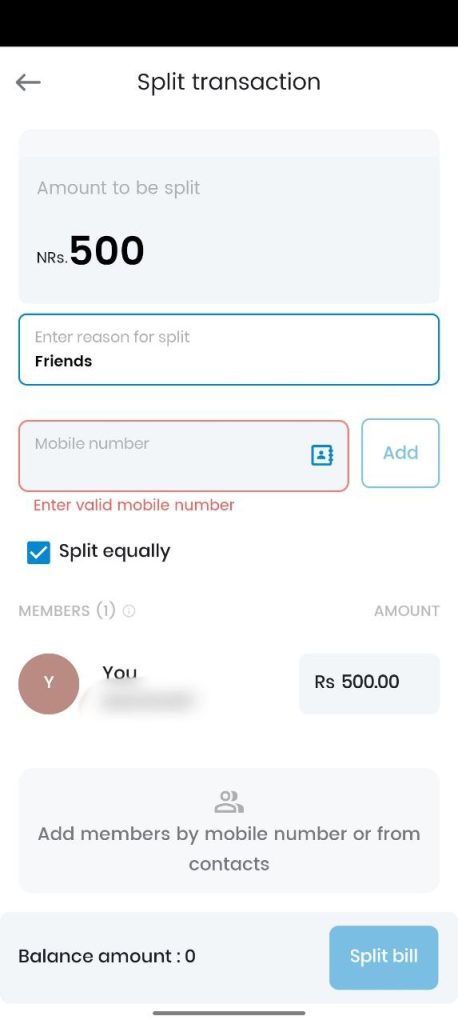 You can also split the amount equally. If you don't want to split the bills equally, you can assign the amount to each mobile number of the users.
After that, the other users will get a notification to pay for the split amount.
About Namaste Pay
Namaste Pay is a digital payment system operated by Nepal Digital Payments Company (NDPC), promoted jointly by Nepal Telecom and Rastriya Banijya Bank.
It aims to provide one-stop digital payment solutions for multiple categories of goods, services, and either financial services.
It is an initiation by the two prominent entities in Nepal to expand digital payment services, heading towards a cashless society. It was established in order to serve not only the banked population but also the unbanked population to bring true financial inclusion.
If you see during log-in, you can see the option to go offline mode. With that feature, you can also access to the
Transfer money
Recharge
Banking Services
And with the split bill feature, Namaste Pay aims to attract more number of users into its system. If you go out for lunch with your friends or colleagues, you can use this feature and save yourself from making the payments alone.
Namaste Pay has launched the Split Bill feature and customers can split the bill with just a tap which facilitates them, their friends, and relatives to focus more on the fun times by saving time from long and confusing calculations.
You can download Namaste Pay mobile app from both Google Play Store and App Store.