 At the launch event for the Xiaomi 12 series in China, Xiaomi finally unveiled MIUI 13. Rich widgets are supported in the proprietary software, which users may set on their home screen and customize in various sizes, comparable to the widget support in iOS 15.
Despite the fact that it seems like a huge upgrade, there are no significant differences between MIUI 12 and MIUI 13. There is a high possibility that most of the fascinating new features would most likely be exclusive to China. In terms of performance, MIUI 13 is said to provide a 20%-26% increase in overall system app responsiveness and a 15%-52% increase in third-party app smoothness over MIUI 12.5 Enhanced Version.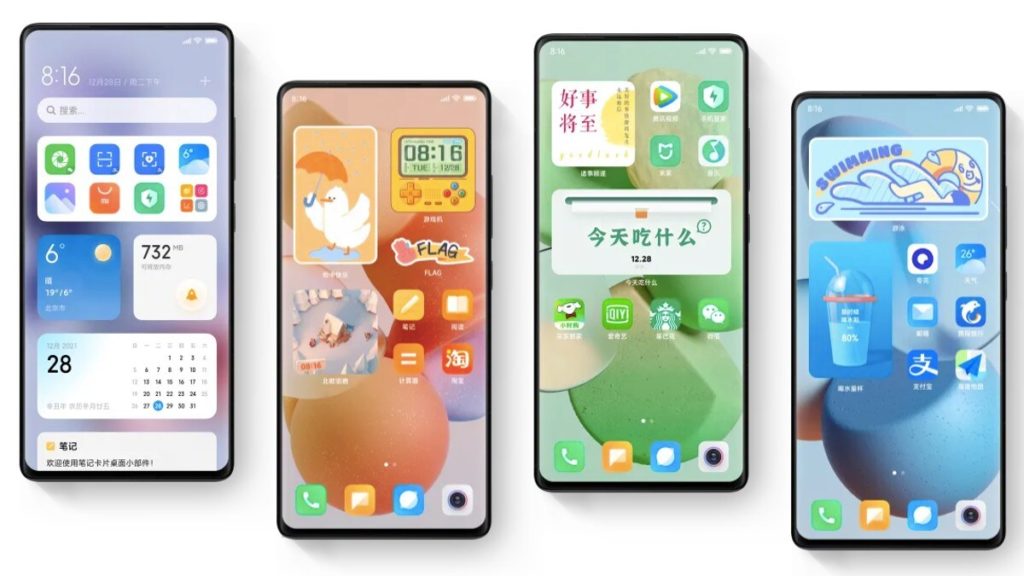 Features
MiSans is a new font that comes with MIUI 13. This is a basic typeface that is suited for Chinese and English languages to provide clear visibility and pleasant reading, according to Xiaomi.
MIUI 13 comes packed with improved privacy protection, including system-level electronic fraud alert, fraudulent app installation prevention, and face verification protection, according to the company. For privacy, MIUI 13 has been approved by even more authorities than MIUI 12. 'Virtual ID' was a new fascinating feature in the previous generation. MIUI 13, on the other hand, makes adjustments to the face authentication method.
Multitasking has also been much enhanced, with users being able to run up to 14 apps in the background on a flagship device.
Xiaomi has collaborated with Beauty of Science to create a new series of wallpapers.
In China, users could personalize their own avatar for Xiaomi's Xiao AI virtual assistant.
Xiaomi's response to Huawei's HarmonyOS Super Device is the new Mi Magic Center. This is where users can manage all of their Xiaomi ecosystem items.
Also Read: Xiaomi 12 Series Debuts With Snapdragon 8 Gen 1 SoC, 50MP Camera
From the end of January 2022, the stable upgrade for MIUI 13 and MIUI 13 Pad will be released in China for the first batch of devices. And it will be available in international markets from Q1 2022.
Update Eligible Devices
MIUI 13 for Smartphones and MIUI 13 Pad: From January 2022
Xiaomi 12 Pro
Xiaomi 12
Xiaomi 12X
Xiaomi Civi
Xiaomi Mi MIX 4
Redmi K40 Game Enhanced Edition
Redmi Note 10 Pro
Xiaomi Mi 11 Ultra
Xiaomi Mi 11 Pro
Xiaomi Mi 11
Xiaomi Mi 11 Youth Edition
Xiaomi Mi Pad 5
Xiaomi Mi Pad 5 Pro
Redmi 10X
Xiaomi CC9 Pro
Xiaomi Mi Pad 5 Pro 5G
Xiaomi Mi 10S
Redmi K40 Pro
Redmi K40
Redmi K30S Extreme Edition
Redmi K30 Extreme Edition
Xiaomi Mi 10 Extreme Edition
Xiaomi Mi 10 Pro
Xiaomi Mi 10
Redmi K30 Pro
Redmi Note 11 5G
Redmi Note 9 4G
Redmi Note 9
Redmi 10X Pro
MIUI Home
Redmi Xiaoai Touch Screen Speakers Pro 8
Redmi Xiaoai Touch Screen Speakers 8
Xiaomi Xiaoai Touch Screen Speakers Pro 8
MIUI TV
Redmi MAX 86-inch ultra-large screen TV (end-January 2022)
Redmi MAX 98-inch smart TV (end-March 2022)
Xiaomi Mi TV ES75 2022 (April 2022)
Xiaomi Mi TV ES65 2022 (April 2022)
Xiaomi-Mi TV ES55 2022 (April 2022)
Redmi Smart TV X75 2022 (April 2022)
Redmi Smart TV X65 2022 (April 2022)
Redmi-Smart TV X55 2022 (April 2022)