 Kamana Sewa Bikas Bank Limited has recently launched its digital wallet app named KS Digi. This is the first digital wallet by a development bank in Nepal. The service was inaugurated amid an event by the CEO of the bank, Mr. Praveen Basnet.
The app is available in both Google Playstore and App Store. The users can open their KS Digi account without having a bank account.
What's in KS Digi Wallet?
This wallet is developed by the joint collaboration of Chhito Connect and Manam Infotech. The wallet offers banking services like:
Account opening
Easy loan application
Interoperable QR based payments
Loading the wallet in mcash
Options for both Nepali and English language
Similarly, it uses Artificial Intelligence (AI) which allows face recognition to open the app. It has an in-built camera where you can take a selfie and scan your necessary documents. Then you can open your KYC account within 5 minutes. You can open a Goji Account; which is in fact a digital wallet.
KS Digi Wallet is a combination of a mobile banking and a digital wallet!
Yes, KS Digi Wallet is open for both Kamana Sewa customers and outsiders. Those not having an account in this bank can simply open their Goji account by submitting the required details.
You can simply open a Goji account by opening the camera for your selfie. Then after you submit it, you can follow these steps:
Select identification document and scan it
Either draw your signature or upload a photo
Enter your details like address, date of birth, occupation and father's mother's name
Set your 4-digit PIN
Then, submit the details and you'll get your Goji account
The AI checks your identity score!!
KS digital wallet's AI system is amazing as it verifies your identity documents in an instant and gives you the score for that. If it matches with the database, your account is verified.
Additionally, you can send money, top up your mobile, pay to the merchants, load money, and pay bills through this Goji account. You can send and receive money just by using your mobile number.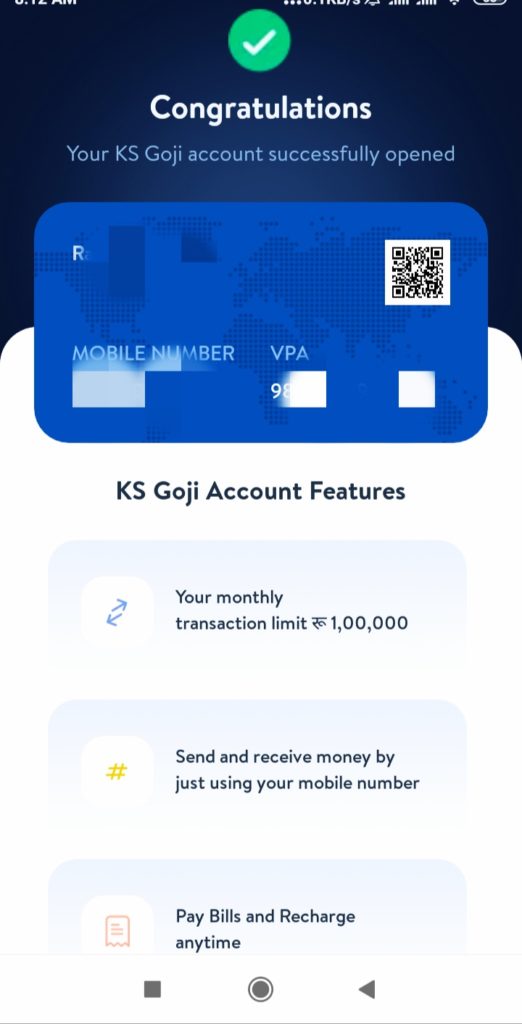 The transaction limit through the Goji account is Rs 100,000. You do not need a bank account to open this Goji account.
Whereas, Kamana Sewa Customers can use it as a mobile banking app
While the Goji account is open for all, you can use KS digital wallet as a mobile banking app. If you are a Kamana Sewa customer, you can enjoy the brand-new fintech feature in this app. It allows you to open a savings account through video KYC.
Most probably, this is for the first time where a video banking feature is added to a digital wallet. This feature allows you to:
Open a savings account with this bank
Enquire about personal loans
Enquire about OD cards
Furthermore, this app allows bills payments like:
Electricity and water charges
Internet and mobile top up
Landline and TV
School fees and e-learning
Flight bookings and Insurance
QR code payment
Moreover, you can search for the history of your transactions. It allows filtered search where you can tap on utility payments or money transfer for searching.
Additionally, you can withdraw cash at any of the Kamana Sewa Bank Agent Locations without visiting ATMs.
Did you know? KS Digi Bank is the second effort of Kamana Sewa Bikas Bank
Kamana Sewa is the first development bank in Nepal to operate mobile banking and digital wallet services. On top of that, KS Digi Bank is the first digital wallet by it. Before that, it had the KS Mobile app which offered mobile banking services only for the bank's customers. Now, with KS Digi Bank, you do not even need a bank account to use this service. Isn't this amazing? You can load your Goji account from the Kamana Sewa agents or branches.
With these innovative features and AI-enabled systems, Kamana Sewa Bikas Bank is being an exemplary development bank to provide digital banking facilities. KS Digi Bank would not only serve the bank's customers but also those who do not have a bank account. In this way, it can utilize its presence in remote areas since the users there can enjoy digital banking facilities. KS Digi Bank is the first of its kind to start a video banking and AI-enabled KYC account opening service. Among the non-banking apps, IME Pay is the first digital wallet in Nepal to allow opening a KYC account with a selfie. It is exciting to see new products and fintech ideas launching in the Nepalese financial markets. These efforts are both contributing to the digitization and making our lives better.
Also read: Has IMEPay Inspired International Digital Wallets to Launch Virtual Cards? India Gets its First Virtual Card by Paytm wallet