 Khalti payment gateway works both as a digital wallet and API provider for a variety of online payment services. It facilitates both receipt and payment of digital payments easily through its system in mobile app and web applications.
It serves as a payment gateway for the general users, small businesses, corporates, and government units. Individual users can register in Khalti and get their KYC verified so as to opt for digital payments. Moreover, the businesses can list themselves as merchants and vendors in Khalti and grow their businesses. They can register in Khalti and use it as their payment gateway for receiving digital payments from their customers and clients. Similarly, the government units can also list themselves in Khalti to receive the payments.
Khalti payment gateway works in a three-step approach for businesses:
A customer visits the store (either physical or e-store) of a merchant and uses Khalti to pay for their purchase either through QR or send money option.
Then, the payment gateway of Khalti receives that amount through its payment processing system.
The amount is deposited into the merchant's account.
First of all, let's know what an online payment gateway is
An online payment gateway is a digital system that provides an interface for the customers for making a digital payment to their merchants. It is a system that allows merchants to accept digital payments from a customer.
An online payment gateway's primary function is to approve the transaction between the merchant and the client. It's an important part of the online transaction process because it authorizes transactions between merchants and customers. In online stores, payment gateways are the "checkout" portals used to enter debit/credit card information or bank credentials for the purchase of goods and services.
The payment gateway is an important part of the electronic payment processing system since it is the front-end technology that sends client information to the merchant acquiring bank, which processes the transaction.
Payment Solutions in Khalti Payment Gateway
Khalti payment gateway is not just a digital wallet, but also a one-stop solution for major payment activities. It offers an array of payment solutions like:
Multiple payment methods re available in Khalti where you'll get 5 different payment APIs in Khalti namely- mobile banking, internet banking, connectIPS, SCT cards, and Khalti digital wallet itself. it means you can choose any of these 5 payment options through Khalti and pay easily to your recipients.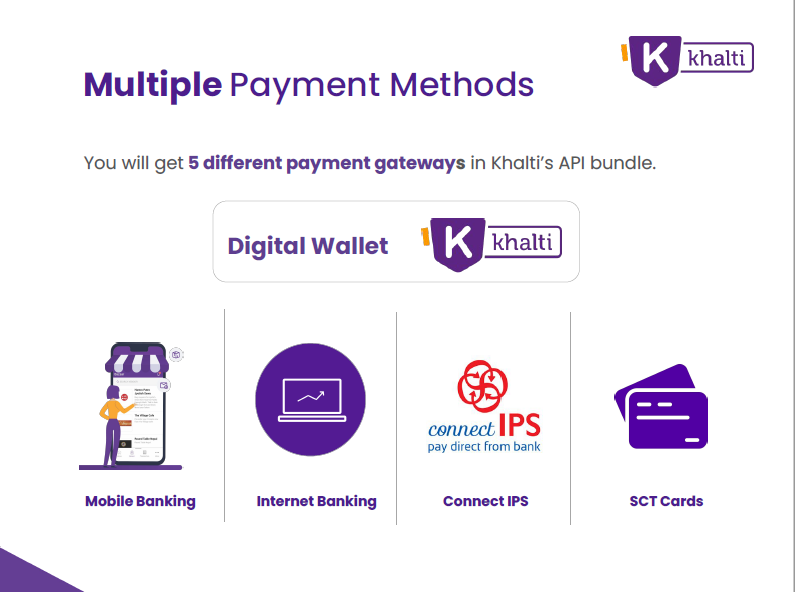 Direct access to multiple banks since you can link multiple banks with Khalti
Easy checkout using Khalti-wallet and e-banking
Complete payment cycle
Dedicated merchant support team
Moreover, it has 8000+ active offline networks across Nepal where one can load their Khalti account
Moreover, merchants can list themselves in Khalti bazzar and receive payments easily.
Khalti bazaar is a multi-vendor online marketplace inside the Khalti app for small/large enterprises and entrepreneurs to sell services, products, and subscriptions to empower independent startups or business owners in Nepal.
Khalti Bazaar works like a mini-app that supports businesses and services to customize the platform for their sales. One can list the products and services and start selling online through the Khalti bazaar.
There are options where you can list your products or services like:
Health and wellness
Gifting
Entertainment
Education
Food and Essentials
Clothing and apparels
Beauty and care
IT services
Training
Finance
Clubs and fitness
Subscription and so on
Khalti payment gateway offers these additional benefits for Khalti Bazaar merchants:
Online payment system that supplies beforehand notice about the number of clients visit or service requests for the day
Simple dashboard for order management
Collect pre-payments from the clients with single click pay
Utilize smart deals and discounts from Khalti to attract customers
Get visibility and acquire among 2M+ Khalti users
Moreover, Khalti bazaar saves your time, money, and effort that takes in building a website of your own. In addition to that, the payment system integrated with Khalti bazaar gives you a 2-in-1 benefit to grow your business.
Currently, there are more than 12 Khalti bazaar merchants ranging from Merojob to Bhojmandu and they are receiving their payments directly through Khalti.
5 Reasons Why You Should Integrate Khalti Payment Gateway into Your Business
1. Khalti QR
Khalti QR code is another service that adds value to the merchants and their customers. The customers can simply scan a QR code at the point of sale of their merchants or vendors. The system directly verifies the accounts of the receiver and then the customers can easily click on the proceed button just to make payments. It's easier than sending money by entering the mobile ID of the Khalti account.
Khalti provides both static and dynamic QR codes to their merchants. They can display the static code as below in their stores. Khalti has integrated QR codes of the operators like FonePay QR and Union Pay QR.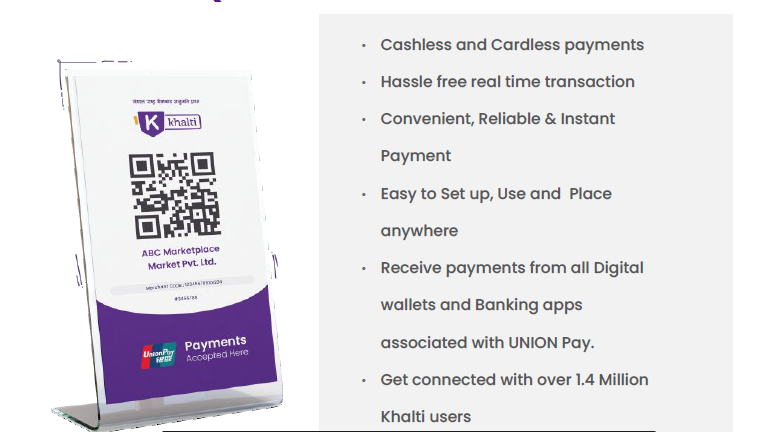 2. Enterprise service for mobile based transactions
Khalti provides a web login system to schools/colleges from which they can easily transfer authorized salary or vendor payments to teachers, staff, or any other vendors in just one click.
Moreover, they provide a system from which an enterprise can simply pay a mobile top-up to all the official numbers in just one click. Khalti provides VAT bills on a monthly basis for these transactions.
3. Corporate pay
Corporate Pay is a system developed by NCHL to provide enterprise payment solutions to companies. Any registered company can enroll in Corporate Pay and then integrate it with Khalti. They can directly send their payments like rents, salaries, and other administrative expenses through the Khalti account.
Since the banks do not provide mobile banking services, corporates either use systems like internet banking or corporate pay for making digital payments.
4. Sparrow SMS and viber for bulk messaging and marketing
Khalti Merchants can enjoy the benefit of 360 digital ecosystems through a bulk messaging package under Khalti. Khalti is a unit of Janaki Technology Pvt. Ltd., a parent company of Khalti, along with bulk messaging provider Sparrow SMS.
Khalti enables payment solutions for another associated ecosystem with your organizations along with SMS/ Viber solutions for communication and promotional work.
5. Easy documentation and good customer service
Khalti provides its API for free and it offers transparent documentation of payments and settlements for the merchants. Moreover, it has good customer service where the representatives will be available on Viber and the website. You can interact with them in real-time and solve your queries.
How can you integrate your business in Khalti Payment Gateway?
Businesses can integrate their mobile app, website, or e-commerce site in Khalti to receive direct online payments from their customers. If you are a business owner, you need to sign up for Khalti Merchant through their website.
Go through this link and enter your business credentials to sign up for Khalti.
The process of merchant acquisition in Khalti is a 6 step approach:
What are the required documents for registering as a merchant in Khalti Payment Gateway?
Khalti merchants need to verify their KYC to become listed in its system. Moreover, one must have their business registered formally. After that, you need to send the following documents (Scan copy) for the registration and verification process:
Company Registration Certificate
PAN/VAT Certificate
Tax Clearance
Official Stamp
Prices and charges under Khalti Merchant services
Khalti charges on the merchant services it provides to the clients. The installation costs Rs 20,000 which includes registration charges along with the cost of the dashboard, customized listing, real-time update, in-app promotions, Khalti bazaar platform, and real-time transaction history.
Another is the service charge which will be applicable on every transaction made either from Khalti wallet, e-banking, m-banking, connectIPS, or SCT card.
The service charge is free till Baisakh 2079. A 3% service charge will be applied after this offer ends.
The benefits of Khalti Payments Gateway do not stop right here!
Khalti offers cross-promotion benefits through its merchants in social media, campaigns, and press releases. Moreover, you can get direct payment to your bank account through Khalti when a customer pays for your goods and services. On the other hand, you can easily make payments like rent, salaries, creditors payments, and other administrative expenses using the API of CorporatePay in Khalti.
In such a way, the merchants can easily access their revenue collection and management through a one-stop solution app- Khalti and the customers too can enjoy an easy way to pay via Khalti.
Also read: NMB Bank launches 'YouWah! Digi Savings' to encourage Nepali youths for savings and investment