Khalti along with The Arbitary Group organized an online fundraiser concert "Music for Aid" with various marquee artists such as Adrian Pradhan, Bipul Chettri, Kengal M Shrestha and Ishan R Onta among them. The event was held on March 30th through their respective Facebook accounts. In this dire time of the COVID-19 outbreak when everyone is forced into lockdown, this was a great initiative by the organizers to bring together beloved artists of the Nepali Music industry for an online music concert.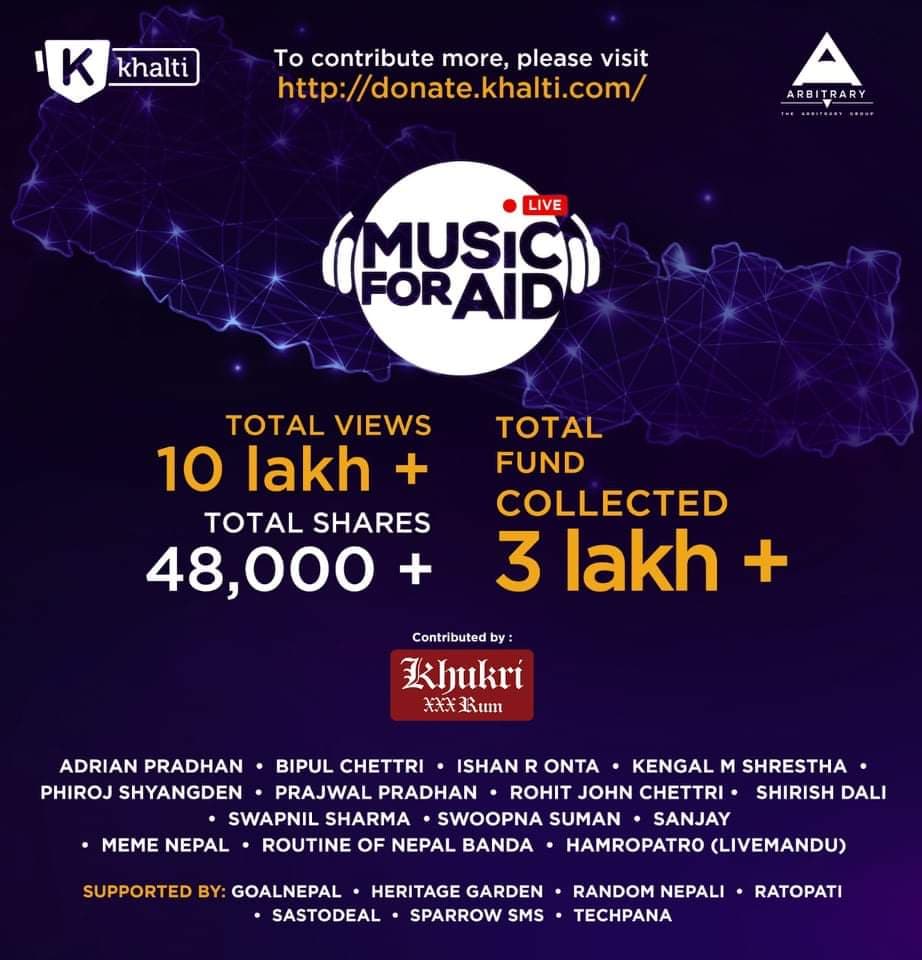 Music is an art of expression that brings people together and this was indeed a much needed coming together of people not only to enjoy the art of music but also to help fight against the COVID-19 pandemic. This was possible as for every share of the live video link with #StaySafe #StayHome #GoCashLess Khalti and The Arbitrary Group had announced to donate Rs 1 to PM's COVID fund to help fight the virus in Nepal.
With the event being largely successful gathering over 10 Lakh viewers and a total of over 48000 shares in just a few hours, Khalti and The Arbitary Group have said that they collected a fund of more than Rs 3 Lakh which will be donated for the CORONA VIRUS CONTROL AND TREATMENT FUND. This was indeed a creative and impactful event initiated by Khalti and The Arbitary Group. It showed us that you don't always need to gather in different places to make a social impact, you can do it from your home as well as long as you have the right idea.
The event also brought great joy to music lovers around the country as many big-name concerts scheduled in the country had been postponed or canceled due to the COVID-19 outbreak. Thus, this was something for them to rejuvenate as well.