On the auspicious occasion of Nepali New Year, Jeevee Health Pvt. Ltd. announced the launch of their New Year campaign, "Local Wala New Year 2078". This will be a month-long campaign running from Baisakh 01-31, 2078 (April 14th – May 14th, 2021). It aims to promote Jeevee as a locally developed online healthcare essentials platform that contributes to the future of Nepal.

About Jeevee
Launched in 2019, Jeevee Health is an emerging e-commerce/pharma company in Nepal. The main aim of this company is to introduce technology in the health sector and hence optimize the overall sector and bring affordable, quality healthcare to the public. Currently, their initiative is benefiting both the patients and medical professionals by bringing them together. Not only Jeevee allows users to consolidate all their health requirements safely in digital space but also enables the easy access of doctors, clinics, and health services. With Jeevee, all these activities have become possibilities with just one tap through their app.
Jeevee Local Wala New Year Offer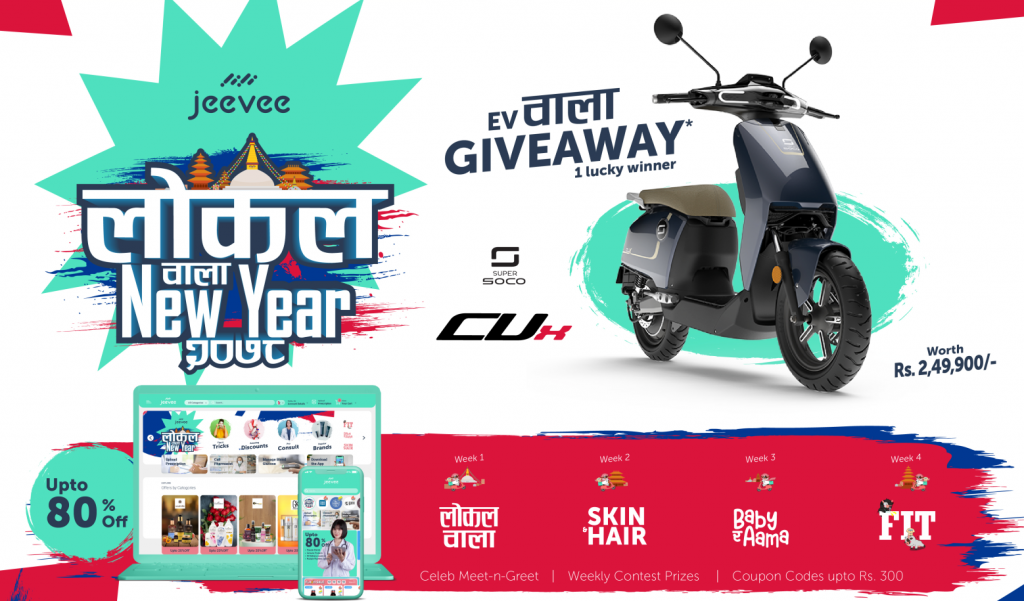 Local Wala New Year 2078 is the offer brought up by Jeevee this new year. This offer features massive discounts of up to 80% on popular products ranging from skin and hair to baby care and fitness. Taking a new route the campaign includes special discounts, contests, and giveaways on a weekly theme basis. These themes include local brands, skin and hair, baby, and fitness. The itinerary also includes coupon codes worth up to Rs 300. Users can also take part in a celeb meet-and-greet contest where they get a chance to meet their favorite celebrities over tea. A few of them include Sandhya KC, Dr. Santosh Upadhyaya, and Paramita RL Rana.
Shoppers can look forward to the Lucky Draw 'EV Wala Giveaway' in the form of an electric Super Soco CUx. Part of a new range of electric two-wheelers from VMoto Soco, it has been designed for the urban commuter. Powered by a 2788W battery, it has a top speed of 75km/hr and a maximum range of 85km. It costs around Rs. 2,49,900 in the market. Like Jeevee's previous "Swasthya ko Sawari" offer, users simply need to buy health essentials worth Rs. 3000 to be eligible to win.
Website Launch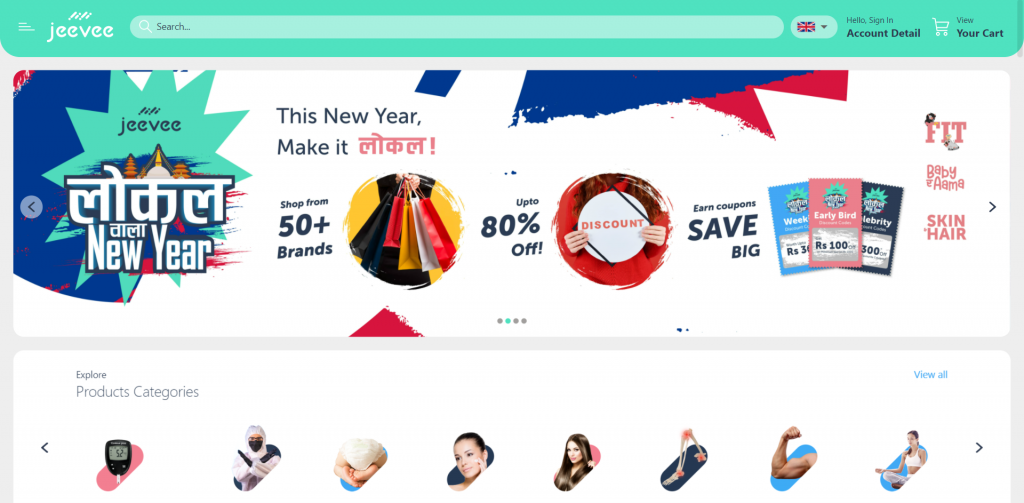 Furthermore, Jeevee has now launched its own website which offers the same services as their pre-existing app. These include an online pharmacy with 30,000+ products, an online consultation service called Namaste Doctor, blood donation services, digital prescription service, blood glucose management, and appointment booking service. Boasting a 3 lakh user base, Jeeve is constantly exploring new avenues in healthcare technology.
Make sure you take full advantage of their irresistible new year offer. Also, Don't forget to check out their new user-friendly website!