IME Pay Visa Card has undoubtedly transformed the concept of digital wallets in Nepal. Its virtual and physical debit cards powered by Visa are already available for its users.
IME Pay introduced its first virtual visa card in 2021. Following this, it also released its physical Visa Debit Card on March 2022. This way, IME Pay is on the road to becoming a digital bank in Nepal, simplifying payments and banking experiences through wallets.
However, many users and viewers asked if getting an IME Pay Visa card- either virtual or physical- is worth it.
Before diving into that topic, let's know why to use a debit card.
A debit card allows us to make payments in an e-commerce site or online store or make physical POS machine payments using the PIN. The amount from your bank balance will be deducted using a debit card. Also, you can use it for cashout in ATMs through a Debit card.
Visa has been providing this service to Nepali bank users for more than 25 years. And now, it has expanded its services through digital wallets too.
In this regard, IME Pay is the first to get both physical and virtual Visa Debit cards for its users in Nepal.
Why get IME Pay Visa Card?
IME Pay Visa card is a debit card that works the same as your bank card. Both its virtual and physical Visa cards allow users to make online purchases but they differ in some of their features.
IME Pay Virtual Visa Card
The virtual card shows in a display on your IME Pay app and you can use its unique CVV number to make payments, which regenerates for each transaction.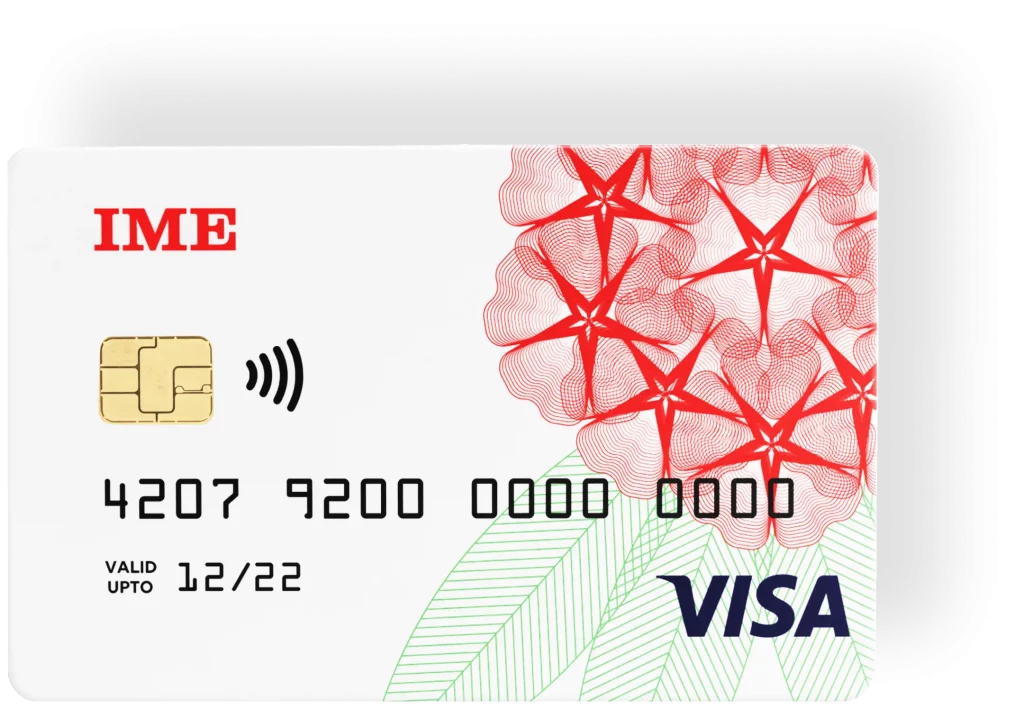 There are many use cases for the IME Pay virtual card:
Purchase from e-commerce
Pay to run ads on social media like Facebook
Pay for buying things from Amazon
Subscribe to various courses, OT T platforms, and others
Buy gift cards online
IME Pay has placed this virtual card under the "Prepaid Category". You can get it instantly through the IME Pay app and will be displayed in your IME Pay wallet.
IME Pay Physical Visa Card
IME Pay users can get IME Pay physical Visa Card from IME Pay's office, either from IME Pay agents or you can also get it from TechSathi's office.
For that, you simply need to visit our office and register yourself.
Remember that you can get both virtual and physical Visa cards but a single user can not get more than one card of any category. And the cards are provided only to the account owner who has verified their KYC in IME Pay.
Once you get your IME Pay Visa Card, you can use it to make payments online or through POS and also withdraw money using it. However, make sure you have sufficient balance in your IME Pay wallet before withdrawing the amount.
And the bonus part is that you will get 7.13% interest on your IME Pay balance. Isn't this experience similar to having a bank account where you can get both interest and a card?
Also Read: IME Pay Introduces Virtual Visa Card: Here's How To Get It
There are a few reasons why getting both IME Pay virtual or physical Visa cards is beneficial for you.
Getting a virtual Visa card from IME Pay will let you use it as a prepaid card and give you these benefits:
It is absolutely free to get IME Pay Virtual Card
No annual card fees are attached to using it, however, transaction fees apply as usual
You can use it for paying in both Nepal and India like other Visa Debit Cards provide by the banks
It is safer as you do not need to carry a physical card that might be lost.
Moreover, you will get IME points as rewards for using it.
There are a few limitations to using IME Pay virtual card because you can not use it to withdraw money from ATM booths. Also, since it is Visa Debit Card, you can not use it to make payments to countries except Nepal and India.
What about the physical IME Pay Visa Card? Is it worth it?
Well, this type of card is targeted at IME Pay users who stay offline many times but are more used to making payments through cards or digital wallets.
Those not having enough balance on other bank accounts but in their IME Pay wallet can simply use this debit card and make card payments.
And it is not always possible to be under a strong network connection where you can use your mobile data or WIFI connection everywhere. Hence, getting a physical IME Pay Visa card can be a savior in such circumstances.
Getting a physical IME Pay Visa card lets you:
Withdraw money out of your IME Pay wallet balance
No annual fees on the card
Get instantly without any charges
Supports tap and pay option with its Near field Communication (NFC) payment feature
However, your physical IME Pay Visa Card comes without your name imprinted on it. So, it might be disheartening to some users who want a customized design. Similarly, Rs 20 will be deducted each time you withdraw money from ATM after the first 2 transactions each month.
You can get IME Pay Visa Cards in any form according to your need. However, we suggest you get both of them as they have many facilities that a bank card would offer. So, I think getting IME Pay Visa Card is a really great idea.
Have you got your IME Pay Visa card? Please feel free to share your experience with using it.
Also, the newbies can get their IME Pay Card through TechSathi. You can simply contact us through a call or visit our office to get your IME Pay Visa Card instantly. Or visit IME Pay's Head Office at Panipokhari to get IME Pay visa card instantly.
Also Read: Is IME Pay the Next Digital Bank of Nepal? 5 Reasons that Make it More than Just a Digital Wallet