 IME Pay and Media International have signed an agreement to run nationwide financial digital literacy program. On Asadh 23, Mr Bikash Nahata; CEO of IME Digital Solutions Ltd. and Mr Madhav Nirdosh; MD of Media International jointly signed this agreement. Following the agreement, IME Pay announced this through a press release afterwards.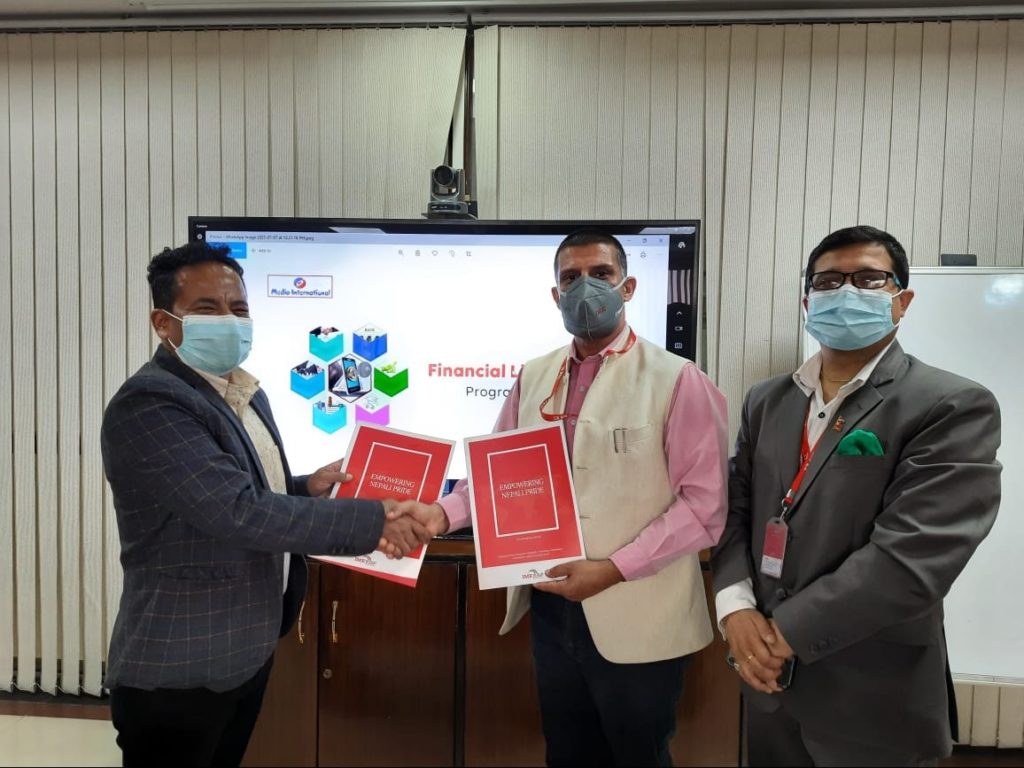 According to the agreement, Media International will be the organizer of this campaign and IME Pay would be the main sponsor of this campaign. According to Mr Raju Paudel from IME Pay, the main objective is to support the government's vision of "Digital Nepal". The training would be virtually provided by the head of Training and Development Unit of IME Pay, Mr Madhav Katuwal.
Addressing the contract signing ceremony, Mr Bikash Nahata shared that the campaign would surely spread financial literacy in every corner of the nation. Along with him, Mr Madhav Nirdosh too was happy to collaborate on the behalf of Media International.
Know more about "Financial Digital Literacy" program
As the whole economy is going digital, it is necessary to educate the citizens about technological development in financial markets. Though the digital trends are increasing in urban areas, the rural area is still beyond digital access and know how. Hence, the government has introduced "Digital Nepal Framework- 2075" to bring financial and digital inclusion in the economy. NRB too has made some policy reforms like introducing QR framework, allowing prepaid dollar card, licensing PSPs and PSOs to strengthen digital foundation.
This is a training project of Media International, a financial training company in Nepal. The training would be provided to bring awareness of digital payments like wallets and QR code payments. Media International has been conducting national campaigns like Banking Expo and financial literacy programs to promote digitalization and entrepreneurship. Moreover, its events are successful in raising public awareness about banking, insurance, stock market and entrepreneurship so far.
Also read: IME Pay Introduces Virtual Visa Card: Here's How To Get It
To make this nationwide campaign successful, Media International has partnered with many BFIs, payment systems and organizations so far. Continuing the partnership, it has signed an agreement with IME Pay to get the resource person for the training.
This is an additional effort of IME Pay for digital economy
IME Pay is a product of IME Digital Solutions Ltd., licensed as a PSP by NRB in Nepal. It has comforted people in digital payments through its services like fund transfer, mobile top up, QR code payment and other utilities payment. In addition, IME group has organized and run many digital financial literacy campaigns. One of its popular partnership is with UKaid Sakshyam Access to Finance program where they agreed to promote the digital transactions. Moreover, IME Pay has launched novel products like virtual visa card to enable the users to go digital. It is operating not only as a digital wallet, but also as a partner to promote digital finance.