 IME Pay has announced an offer where one can win up to Rs 1000 in any of the payments made through a QR code scan. It has introduced this offer with the slogan "App Ek, QR Anek", as it supports all the available QR code options.
This offer starts from today (16th Bhadra) and ends on the 14th of Ashwin, 2078. The users can pay through all the QR code options available in Nepal. There are four major QR code options available for payment.
FonePay
Smart QR
Union Pay
IME QR
IME Pay supports all of these QR payment options for both online and physical stores.
The team of IME Pay ensures that they are contributing to the vision path of the Nepal Government in making Nepal digital. In the present context where QR scan payments are increasing in number, this service by IME Pay could add another brick in the wall in facilitating digital transactions.
Moreover, the report by NRB shows that QR code payments rose from Rs 590 million to Rs 1.97 billion between 2077 and 2078. This upsurge is a milestone for the Nepalese digital payments spectrum.
How to make QR code payment via IME Pay?
Log in to your IME Pay account. If not, you can download it for both

Andriod

and

iOS

and then register there.
Go to the Scan QR option on the bottom of the home screen.
Scan any QR (including Fonepay, Union Pay, and Smart QR) and make your payment to any QR payment accepting online or physical POS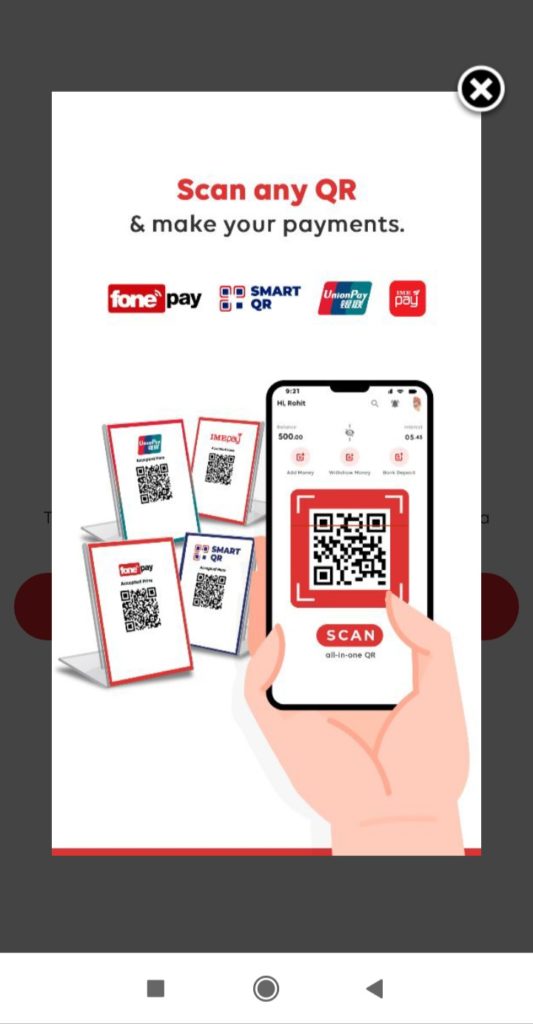 Every day one lucky winner will get Rs. 1000 directly in their IME Pay wallets after the lucky draw results are posted on IME Pay's Official Facebook Page.
Remember that, only KYC verified users can enjoy this offer. Additionally, KYC verified customers can load up to Rs 5,000 in their IME Pay account.
About IME Pay
IME Pay is the only digital wallet that accepts all QR scan payments available in Nepal. Having more than 35,000 outlet networks, IME Pay is the product developed by IME Group, under IME Digital Solutions Limited. It is the first digital wallet to be licensed under NRB's Payment and Settlement Bylaws, 2072. Under this, it has got permission to provide mobile wallet services through telecommunications networks. In this regard, IME Pay is the first PSP in Nepal to get such permission.
Also read: IME Pay Integrates FonePay's QR Based Payment Service: Linking Interoperability of QR Codes in Nepal
The users can enjoy mobile payment services on their own or through the IME Pay agents. Moreover, it has been providing services like P2P funds transfer, QR code payment for online stores or physical stores, mobile top-up, utility payments, and remittances. Similarly, it has already started offering virtual card services for users to ease e-commerce payments.
IME Digital has aimed in easing the users who are far away from banking access in making digital payments through IME Pay. This would surely support financial inclusion inside the country. Furthermore, IME Pay offers both interest and cashback in the mobile wallet. This wallet has successfully acquired more than 1.5 million users who have downloaded this mobile app. IME Pay offers fund transfer services to any of the listed banks there.