When it comes to being the top-seller of smartphones, Samsung was always on the top of the list. However, the case is completely different this time around as Huawei, the growing tech giant marks its position as number one bestseller in Q2 2020.

After two years of continuously remaining in the top, Samsung has now been replaced by Huawei as the top Handset seller for the second quarter of 2020. This is a very commendable accomplishment regarding the current global situation.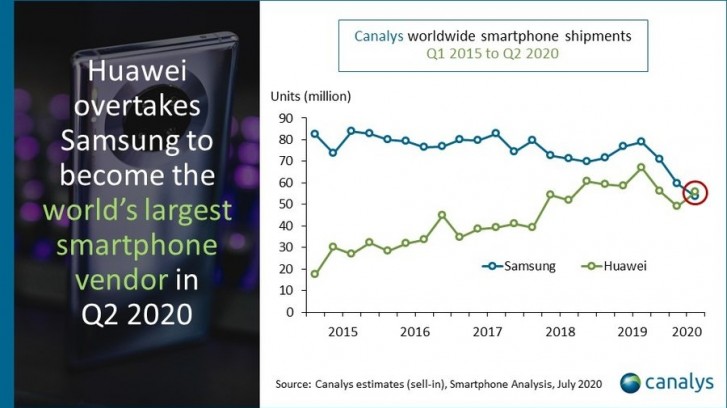 Now, According to research firm Canalys, Huawei proudly stands on the top by shipping 55.8 million phones. Whereas, Samsung after shipping 53.7 million handsets, remains in the second position.
Moreover, Apple remains in the third quarter with somewhere between 40 to 45 million. Similarly, Xiaomi and Oppo marked the fourth and fifth spot respectively with 28.8 million and 25.8 million.

Quick Grid:
Here's a quick grid of the smartphone companies and the position they acquired due to the number of handsets they sold for Q2 2020.
Huawei- 55.8 million handset
Samsung- 53.7 million handset
Apple- 40 to 45 million handset
Xiaomi- 28.8 million handset
Oppo- 25.8 million handset
Huawei as number one: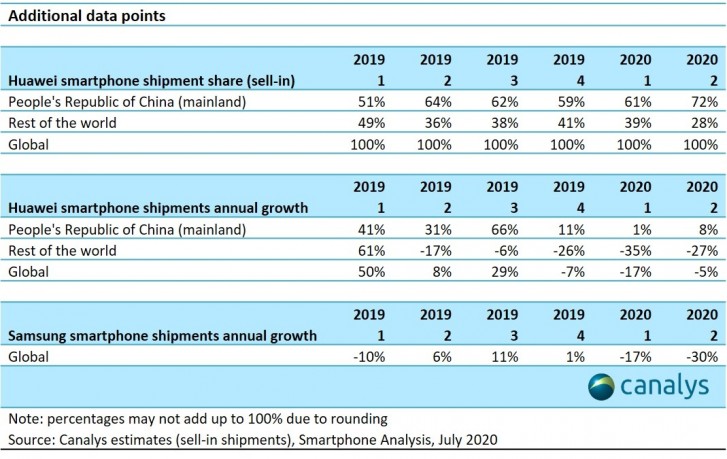 Huawei, the Chinese tech giant had dealt a major blow in May 2019 after being placed on the U.S. "entity list" by the Trump administration. This, unfortunately, excluded Google from supplying its core mobile services to Huawei.
Also Read: Huawei Brings Petal Search Widget: Gateway to Million Apps & Personalized Search
However, even after facing major setbacks, Huawei sold the most phones in 2020 combining Q2 and Q1 (49 million) sales numbers.
We all know the current Covid-19 disrupted the whole global situation. Considering the pandemic and its uncalled blow-ups, this is a commendable accomplishment for Huawei. Moreover, Huawei's key market, China, mostly resuming to normal daily life also played a major role in this achievement.
Mo Jia, a Paris-based analyst for Canalys stated: "China returning to normal life before [countries in the west]definitely contributed to the situation." He added that of the 55.8 million phones sold by Huawei in Q2, 40 million were inside China. "But Huawei's also managed to prevent its European sales numbers from free-falling as many had predicted after they were placed on the entity list."
Some insights on Huawei
Huawei's European market numbers dropped from 22% in Q2 2019 to 16% this quarter due to google and corona situation. However, Huawei managed to stay afloat in western Europe. It did that by re-releasing older models of phones such as the P30, which can still use Google's core services due to it being certified before the entity list.
Although, Huawei sustained market downfalls mostly on Europian market. The other parts of Europe such as Russia and Turkey have helped to maintain its league. This is mostly because these countries are not so reliant on Google services, due to which, Huawei sales have remained strong in those regions.
Also read: [Update: July 2020] Huawei Mobile Price in Nepal || Specs || Features
Moreover, Huawei is working on to strengthing HMS the alternative to banned Google services. As it has grown from 530 million to 700 million from Q1 2019 to Q2 2020.
More to that, the brand is taking an active approach at enticing European app developers to build for Huawei's ecosystem in the form of incentives. This also includes a $1 billion program aimed at nurture and support app developers in the west to build for Huawei's mobile services.