If you want to know how to retrieve deleted CCTV footage, this article is for you.
We often get to see a notice that reads – "You are under CCTV surveillance" in the banks, public offices, private properties, parks, roads, and sensitive places. Most of us stay alert after seeing that notice, irrespective of our knowledge if that is working or not.
What is a CCTV?
CCTV stands for Closed-Circuit Television and is commonly known as video surveillance. "Closed-circuit" means broadcasts that are usually transmitted to a limited (closed) number of monitors, unlike "regular" TV, which is broadcasted to the public at large.
CCTV technology was first developed in 1942 by German scientists to monitor the launch of V2 rockets. Later it was used by America for the surveillance of atomic bombs and nowadays it is used in every sector. However, the main usage of CCTV is to detect criminal activities, fraud, and other monitoring activities.
Usage of CCTV
CCTV is used mainly for the following reasons.
Crime management
Disaster Management
City and community street monitoring
Medical monitoring and diagnosis
Behavioral research
In general, there are three types of CCTV cameras:
Analog
Digital
Network
Analog CCTV cameras transfer signals via coaxial cables with the help of BNC connectors, while digital ones store recorded video in the memory card or hard drive, and Network type CCTV streams over the internet with certain IP addresses.
In Nepal, you can find an array of options to purchase CCTV cameras. You can check this video on the review of one of the available CCTV cameras in the market.
You can order the CCTV footages from e-commerce sites like Daraz, Sastodeal, Hamrobazar etc. or visit any other physical stores.
Reasons for deletion of CCTV footage from Hard Drives
Sometimes, we wonder why CCTV footages are deleted. Since they are used as evidence or investigating tools, deletion of CCTV footages can bring various consequences. If you are a movie maniac, you might know a plenty of examples how a single deletion of CCTV footage can turn any case upside down.
Here are the main reasons that CCTV footage may be deleted:
Accidental deletion of footage
Automatic deletion
Logical or physical failure of Hard drive
Formatted or corrupt SD card
Malware or Virus attacks
Intentional deletion
Another major reason for the deletion of CCTV footage is old data is overwritten by new data after a certain time to save storage. So it will be advisory to use large storage in sensitive sectors.
Can the deleted CCTV footage be retrieved? Yes.
Without any here and there, the clear answer is Yes. The deleted CCTV footage can be recovered by experts using different methods. As digital data are often stored anywhere among Hard Drives, servers, Clouds, they can be recovered easily.
How to retrieve deleted CCTV footage?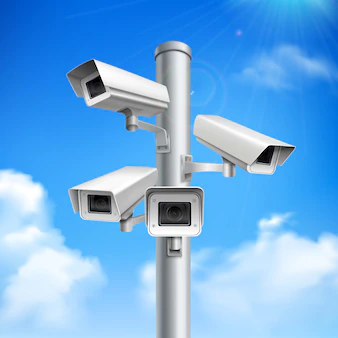 There are different methods of recovering deleted footage which depend upon the types of damage caused. Often experts use different photo recovery software, video recovery software, or data recovery software to recover the erased data.
The most popular methods to recover CCTV footage are:
1. Restore Deleted CCTV Footage using Backup
It can be easily recovered if you have the backup by simply following these steps.
Search for the footage backup folder and open it.
Find the deleted video from the DVR hard drive or SD card and copy it back to the disk or SD card
2. Recover Deleted Footage from CCTV Using Command Prompt
The deleted CCTV footage can be recovered with the help of Command Prompt. Beware, this method is not an ideal method and is not applicable for all types of damaged methods. However, you can try using these steps:
Open Command prompt (CMD) and run.
In Command Prompt, type chkdsk space Drive Letter /f (/f parameter fixes the detected errors on the disk). Wait till the command completes its actions.
Use the parameters for mentioned functions to fix the errors and recover the data.
-h: shows the Hidden attributes.
-r: provides the location of the bad sectors and recovers Read-only information.
/s: Commands the system to search for the specific path location.
However, this method has some demerits. Firstly, this is not the ideal method for all data files and causing factors. Another, if the files are bug-infected, chance of restoring the deleted data of CCTV cameras decreases. And also inadequate knowledge will lead to corruption or permanent loss of data.
3. Recover Deleted CCTV Footage with Photo Recovery Software
If there is no backup, then this method is usually called the ideal method for recovering lost data/photo/video/footage. There are some of the footage recovery softwares like:
Disk Drill Photo Recovery
Stellar Photo Recovery
Recuva
R-Studio
Any Recover Photo Recovery
Card Recovery
Here we will explain some basic steps which may be probably common for all the softwares. However, methods and steps vary according to the software used. Follow these steps to recover the CCTV footages through the softwares:
Download and launch the photo recovery software on your Windows or Mac system.
From the main screen, select your CCTV SD card to recover the CCTV footage and click on Scan to start the scanning process.
When the scanning is complete, the software will display CCTV photos and videos. Select and preview.
You can do a deep scan if the files are not found.
Select the files which you want to restore and click Recover.
After recovering, you will be asked to specify the location and Save the file.
Verdict
CCTV cameras are an integral part of life these days. The concept of smart homes, offices and other many places have been turned into reality with the usage of CCTV surveillance.
From surveillance and monitoring to investigating critical criminal cases, CCTV have made our life easier. So the safety of data also became such crucial. Here, we have put the insights on basic ideas on causes of data deletion and ways CCTV footage. However, it is suggested to use these tools with adequate knowledge of operating them.
Also read: Shop in Big Mart and Win Exclusive Offers for Their 13th Anniversary