 The famous television show Shark Tank is about to air in Nepal via Himalaya HD television channel. Shark Tank Nepal is all set to launch this year in Nepal. This show became a household name in Nepal after the popularity of Shark Tank India. Many entrepreneurs are excited to grab the opportunity from Shark Tank Nepal because it is a platform where you can showcase your idea or product and get some financial support. Today in this article, we will discuss what Shark Tank Nepal is and how you can apply as a participant. Let's jump into it.
What is Shark Tank?
Shark Tank is an American business reality show that started in 2009 and aired its first episode on the ABC channel. This is an adaption of a pretty popular Japanese concept of Money Tigers. Since 2009 it has been circulating on television and has entertained thousands of people worldwide. There are lots of editions of Shark Tank and countries like America, Australia, India, Malta, Mexico, Vietnam, and Colombia have their iteration of it. Now, Nepal is about to have its version of Shark Tank named "Shark Tank Nepal".
Many of us became aware of Shark Tank because of Shark Tank India and I guess most of us became hooked on the show ever since. It has drama, business talk, financial knowledge, and the most exciting negotiation part.

Unlike many other reality show that airs on Nepali channels, it is completely different and has a completely different feel to it because here you do not vote for anybody or judge somebody on their performance. To understand the show we need to understand the premise of the show. This show involves a panel of investors who are referred to as"sharks" and they are allowed to decide whether or not to invest in the idea and products that are put forward by entrepreneurs.
If you have watched any of the Shark Tank episodes from any country then you must know that Sharks are not easy people to play with. They are notorious for spotting flaws in an entrepreneur's assessment of their firm, product, or business plan. As a participant, you need to come up with a business that is already generating revenue as well as seeking investment to scale up their business and pitch them about the possibilities of the company or product in the market. After that, you will be asked various questions related to your product. If they are satisfied with your business then you have the right to ask for an investment amount in exchange for a certain percentage of equity in your company.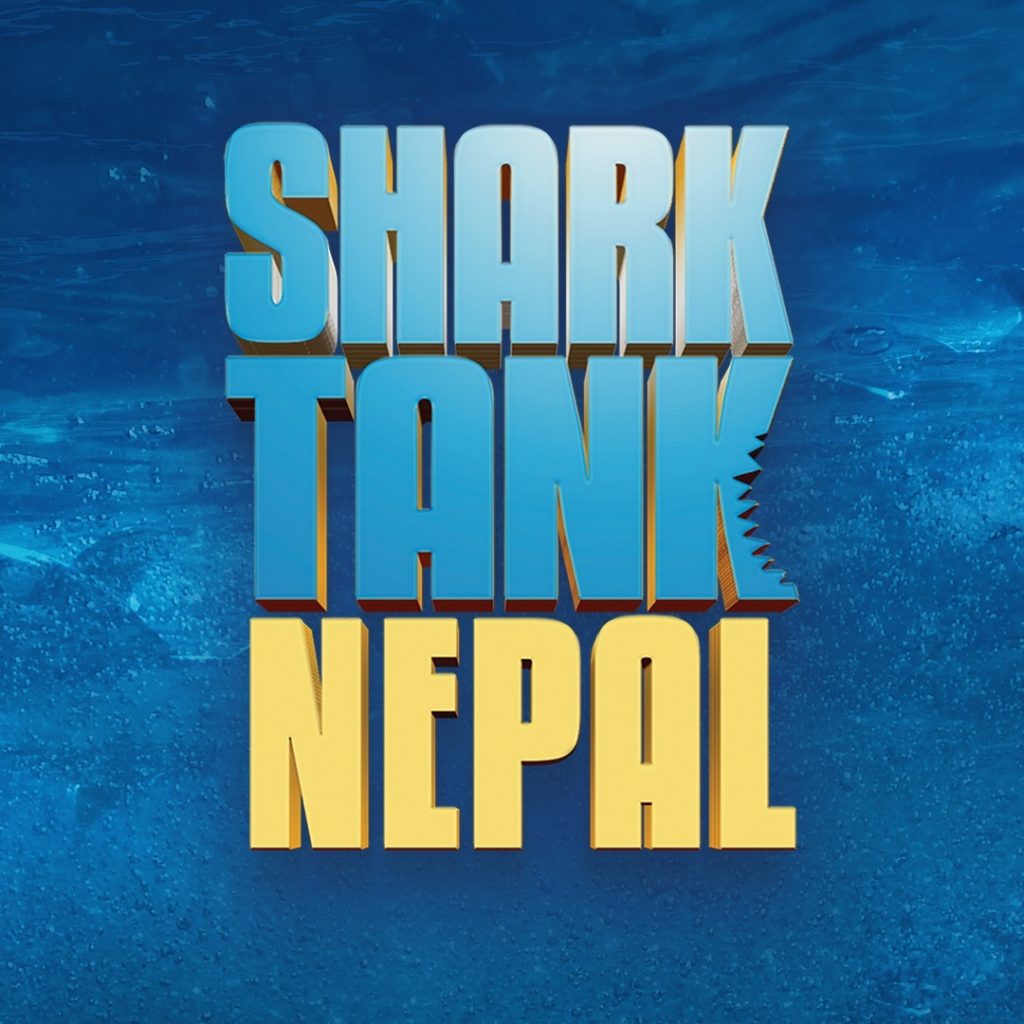 More than one Shark can jump on to take a bite of your company and be careful when negotiating the equity percentage because Sharks are experts at doing this and they will try their best to make the decisions in their favor.
Read about: How to vote for your favourite contestant in Nephop ko Shreepech?
Why should you apply for Shark Tank Nepal?
As we discussed, this show is all about the entrepreneurs that want to showcase their business and idea to the people and sell them that business. Here are some of the reasons why you must participate in Shark Tank Nepal.
A perfect platform for upcoming and new entrepreneurs to show their products and get investment in return.
Exposure of their company all over Nepal.
Great platform to learn things from the sharks and apply them in their business for better results in the future.
A platform to find partner or investor who could guide you on numerous things.
So, do not miss the opportunity of a lifetime as Shark Tank Nepal is coming up with its first season and people are keenly interested in watching the show. You will have the opportunity to make your brand recognized among thousands of people.
THINK BEFORE APPLYING!
Having a heavy knowledge before jumping into something is always fruitful and advantageous. Shark Tank Nepal is a new concept for the Nepali audience and also for the participants. To be an applicant you need to understand that this show is mainly for the entrepreneurs that are looking for investment in their companies. This will highly motivate the people looking to open a startup company in Nepal. You need to have financial documentation if you have been in business for some years and a sample of your product so that they can evaluate your product.
if you have legal documentation regarding copyrights, patents, and trademarks, then you need to bring them with you so that you are fully prepared for the show. You might be thinking of meeting Sharks before the show but it is strictly prohibited and could lead to the cancellation of your pitch. And The most important that you need to understand is that every contract that will happen in the Shark Tank Nepal show might not be executed because the Sharks might reconsider their decisions after the end of the show.
How to Apply?
After all of the information related to Shark Tank Nepal, let us move on to the topic that you all have been waiting for. You can fill out the form from the official website of Himalaya TV and also you can download the Himalaya TV application on your smartphone and can apply from there as well. To apply you can click here. You need to answer the questions that will be related to your business and be responsible while answering because that will decide whether you will be welcomed to Shark Tank Nepal.
If you are finding it hard to apply from the website, you can also download the Himalaya TV App from the Playstore and after that, you need to follow the following steps.
1. At the bottom of the mobile app, you find three options " Home", "Audition", and "Trendings"
2. Then click on the "Audition" option.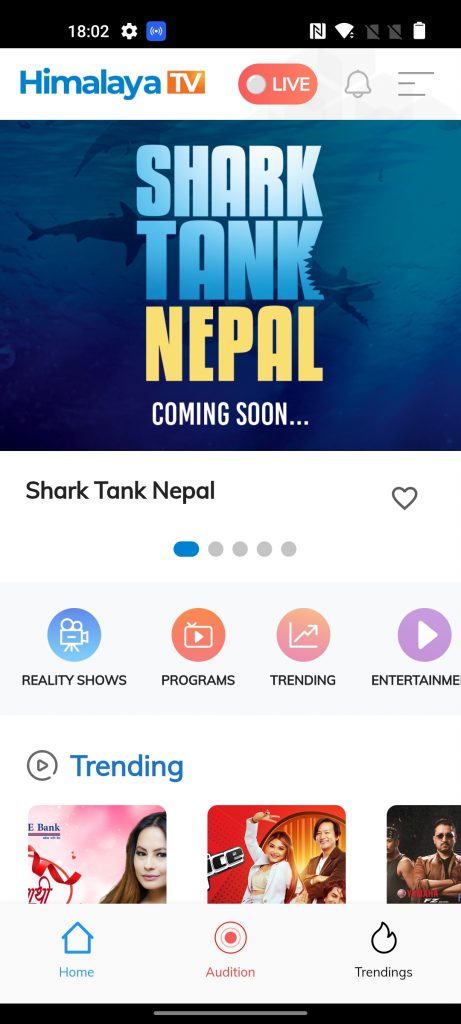 3. Then you will be provided with the option to fill out forms for other different shows.
4. Click on the "Apply Now" button under Shark Tank Nepal to apply for the application.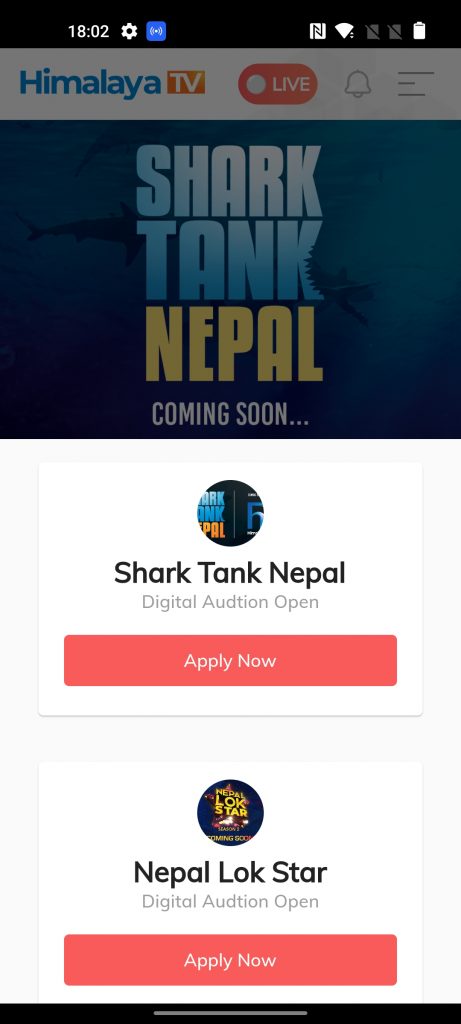 5. After clicking on Apply Now you will have an application form in front of your screen and now you can fill the form.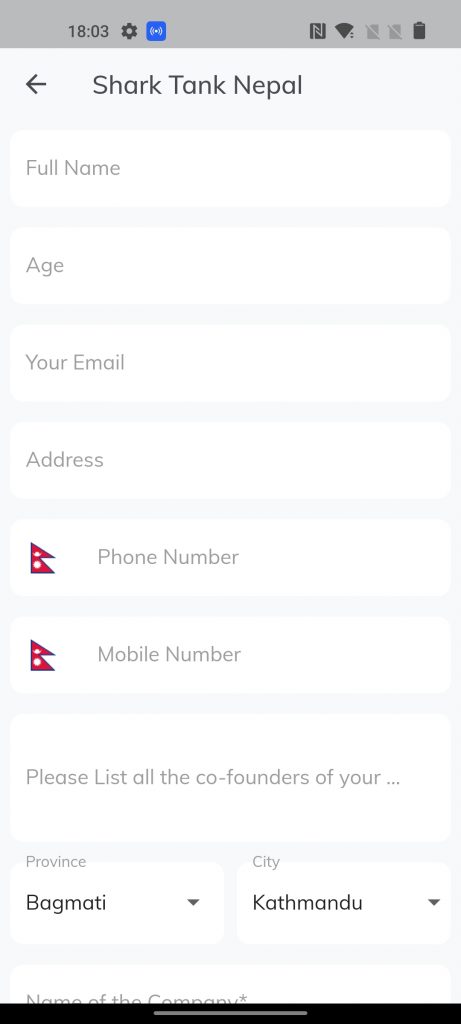 6. After answering all the questions and uploading your documents you can click on the "Submit" button to submit your application.
We hope you understood the concept of Shark Tank Nepal and the procedures to follow for applying. Grab the opportunity and fill out the form to showcase your product to a larger audience and bamboozled them with your ideas.
Who are the Sharks of Shark Tank Nepal?
To date, the sharks of shark tank Nepal are not fixed and publicly available so we think from big group of companies there will be shark but we have to wait more to know about this.
Who can Participate in Shark Tank Nepal?
Any Nepali citizen running a business registered and older than 1 year can participate in the shark tank Nepal.