The wave of QR code payment has brought a revolution in the field of digital payments. During the pandemic of Covid-19, physical restrictions over travel, shopping and events somehow have been a catalyst for the emergence of contactless payments like QR to become prime payment mediums.
Moreover, the usage of mobile phones for numerous purposes including mobile payments have caused a boom in the whole Fintech industry in the world. The global payment giants like Paypal, Google Pay, Venmo, etc. have gained a wide popularity even in the emerging economies like India.
In Nepal too, digital payment systems have soared up in these last few years. Moreover, the Covid-19 pandemic has shaped the common behavior of Nepali customers while making payments. From paying in cash, to paying through debit/credit cards, now we have come to the stage where people prefer mobile payment methods like digital wallets, mobile banking, and other payment system providers (PSPs) and payment system operators (PSOs).
Among all the digital payments, QR payments have grown exponentially in the last three years. By the mid July 2021 (Asadh end 2078/79), Rs 20.28 billion of QR code payments were made in Nepal. And it is even growing more.
Evolution of QR Code Payment in Nepal
QR code payment is a newly adopted digital payment in Nepal. However, it is the fastest growing one than other payment methods. The average monthly growth of QR payment during the year FY 2078/79 has been 22%, while other payment methods like cards are below that number.
The first QR code to be launched in Nepal is Union Pay. It is a QR-Code based payment system developed by a Chinese company Union Pay International. The company launched Union Pay QR in Nepal in the beginning of 2019.
Then came the FonePay QR in the same year, which made QR payments a commonplace. Today, it is the biggest QR operator in Nepal with the highest volume and amount in transaction. FonePay QR has 900,000+ merchants around Nepal.
The highest amount of transaction processed by FonePay till date is Rs 51 billion+, which was in the month of Poush 2078.
Similarly, there is Smart QR which is providing QR based services as the first QR interoperable platform in Nepal. It is a product of Smart Choice Technologies (SCT), the native card operator in Nepal.
On January 8, 2021, Governor Maha Prasad Adhikari himself launched QR code payments as "Scan to Pay" system on behalf of Nepal Rastra Bank at Kalimati Fruits and Vegetables market.
Following to this, Nepal Rastra Bank also released Nepal QR Standardization Framework and Guidelines in March 1, 2021. This is a governing document from NRB to guide QR code operators in Nepal.
Similarly, one major development in QR code payment systems is the introduction of NEPALPAY QR by NCHL. NCHL is the prime settlement and clearing entity that is promoted by Nepal Rastra Bank itself and other BFIs.
NEPALPAY QR is expected to be the one that will link many payment systems like digital wallets, mobile banking, and cards. In the first phase of its operation, NEPALPAY QR is integrating digital wallets like Khalti, IME Pay and other commercial banks to integrate most of the digital payment options within its "Scan to Pay" feature through the connectIPS app .
This way, QR code payments have been bringing comfort in the processes of making payments. Either you are shopping in a mall or in a local shop, QR code displays are everywhere in the city areas. Slowly, it is also expanding outside the main cities of Nepal.
Another revolutionary development in QR codes transactions is its availability in temples too, where one can donate there just by scanning a QR code from their mobile app.
Similarly, QR code payments have also touched digital lending, making banking even more easier for both the bankers and their customers. In October 2020, FonePay launched Foneloan in collaboration with Kumari Bank Limited, where the salary account holders could get a monthly loan by just scanning QR code through their mobile banking app. And remarkably, FonePay was able to process the disbursement of 1000+ of Foneloans within 100 days of its initial days of operation.
Following this pilot testing, F1 Soft International, the parent company of FonePay, launched Buy Now pay Later plan through FoneLoan, based on QR codes. Through this feature, the banking customers can pay to their merchants on credit using their own mobile app of the member banks by just scanning a QR code of their merchants.
And the most recent development is the launch of NEPALPAY QR, which links most of the digital payment platforms like digital wallets, mobile banking, linked bank accounts in connectIPS and debit/credit cards.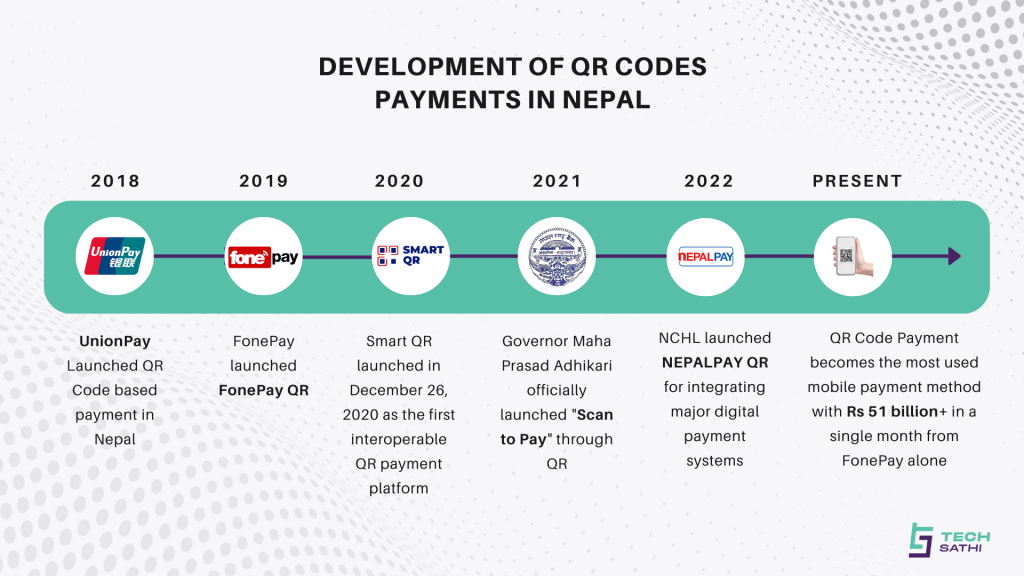 Now that QR codes payments have reached to shopping malls, e-commerce sites, small shop owners, restaurants, even temples and other places, many of us might be wondering how QR codes payments are processed and settled.
How does QR Code Payment Work?
Well, as a customer we feel it just happens in a few steps. One has to open their QR payment supporting mobile app like digital wallets, mobile banking or other payment systems. Then, they select "Scan to Pay" option and scan the static or dynamic QR of the merchants. They enter the payable amount and confirm the payment.
Although there are various QR code operators in Nepal, the common feature they share is their association with banks and financial institutions and digital wallets. After all, it is the bank account or your digital wallet account where the digital payments are deposited.
There are few steps in the backend which process the payments and settlements made through QR code:
Customer reaches to checkout point in a physical/ online store or the point of payment and scans a QR code.
The order ID with a unique customer and merchant identification enters the payment gateway.
That information enters the database of payment service provider which hosts QR code payment services. For example, if you scan a FonePay QR code through Khalti, that information in number 3 reaches to the database of Khalti.
The database in payment service provider creates a QR code URL in the name of the merchant.
In the checkout counter, when the customer scans the QR code through a digital wallet app and makes payments, the notification is sent to the PSP.
The PSP then verifies that unique QR code URL and merchant ID, along with customer's identification.
Then, the notification of successful transaction is sent by PSP to the customer.
Another notification is sent to the merchant and the amount is credited to their account.
Here is a schema diagram that shows how payments through QR codes are processed and settled.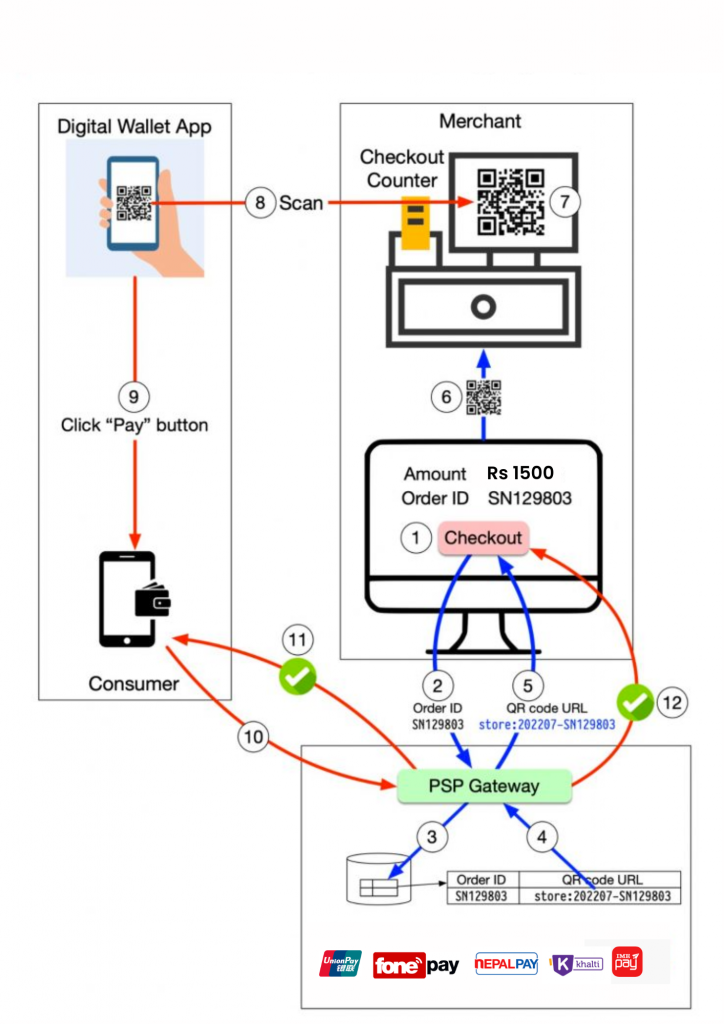 QR codes have made our lives easier by allowing us to use our own mobile phones in making digital payments. And now, it is expanding even more with the policy level support by the regulating authorities like Nepal Rastra Bank. With its whopping growth in the past few years, it is for sure that QR code will become a major choice for digital payments. And this will contribute at large to the vision of Digital Economy as per the Digital Nepal Framework 2019.
Also Read: Tea-Scan ; Nepal's First QR Vending Machine Developed by 18-Year-Old Twin Brothers