Honor 9X is another budget phone from Honor with the price tag below Rs. 30,000. This phone is an affordable phone that has a premium look and feels to it. It has an outstanding battery that lasts all day and is just appropriate for your normal daily use. This phone has much to offer for the price tag it comes with, so here are the things to know to find out if this phone is appropriate for you.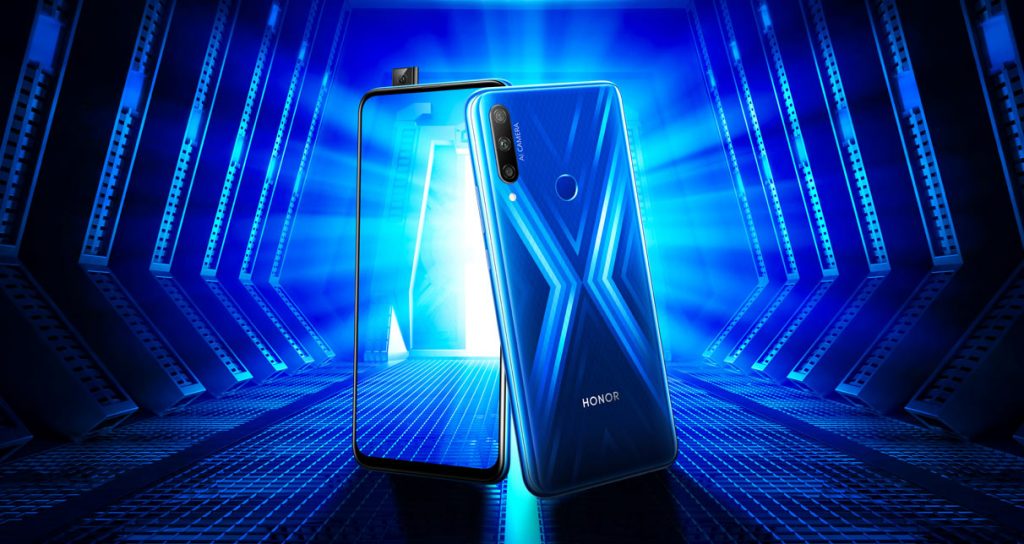 Design:
Honor 9X comes in 3 stunning colors Magic Night Black, Charm Blue, and Deep Purple. It has a premium look and feels to it as it has a 3D glass back. If you were to look at the back of the phone when it catches bright light it forms an X shaped pattern. It has a screen size of 6.59 inch which is huge for a phone at this price range. Many phones nowadays have that notch-free all screen, a noticeable amount of bezels look this phone is no exception in that regards with its notch-free and huge screen design. It is a heavy phone with a weight of 197 g.

It has a triple rear camera setup and a pop-up selfie camera.
It is available in 128GB Internal Storage and 6GB RAM variants with its additional card slot which allows up to 512 GB storage. There is a rear center-mounted fingerprint reader. Many phones are removing the headphone jack but Honor hasn't given in to this trend as it still decides to keep the 3.5 mm headphone jack which people prefer. It has a USB-C charging socket.
Software and performance:
Honor 9X is powered by Kirin 710F octa-core processor and Mali G51- MP4 GPU. It runs Android 9.0 (Pie) with Huawei's EMUI 9.1 and not Honor's Magic UI. Well, we can think of Hisilicon 710 processor to be an alternative of the Snapdragon 660. A very smooth, amazing performance can't be expected but it is up to par. This phone certainly isn't a gamer's delight because heavy games will not function well on this phone.
The US government had blacklisted Huawei which did affect the relation of Huawei with Google but you can still get the Google Mobile Service (GMS) on this phone, which probably could be the last Honor phone with this offering. But we're not sure about it yet!
Camera: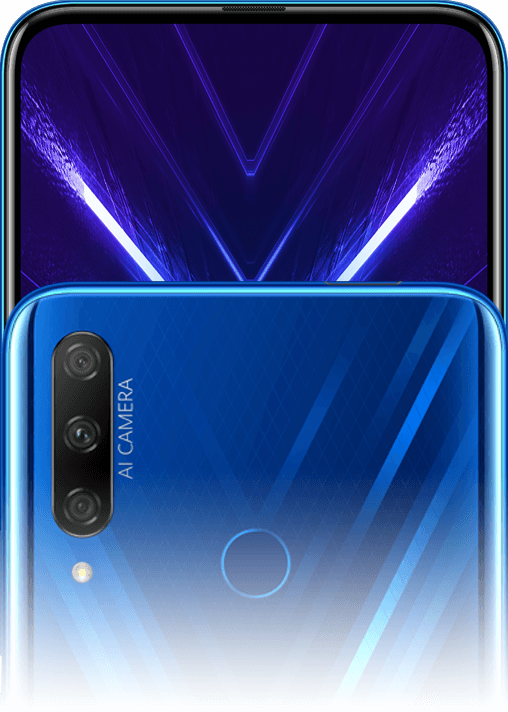 This phone has a triple rear camera setup having 48MPrimary lens, 8mp ultra-wide, 2mp depth sensor. It also has a 120 degrees field view. There is no telephoto lens which is very popular in phones nowadays. It can give out amazing, detailed shots provided the lighting conditions. Higher resolution doesn't necessarily mean amazing shots.   Photos taken in dim lights aren't preferable as the night mode can be used only at 8mp resolution. The portrait mode isn't outstanding but it is up to par.  The ultra-wide seems to look darker in the usual setting. Without a telephoto lens or zoomed-in pictures, there would be no optical zoom and has a limited 6x digital zoom.
Also Read: Honor Mobiles Price in Nepal
The 16MP pop-up camera has a fall, pressure, dust and splash protection to protect it from getting damaged. The pop up doesn't have a quick response but it is durable.
Screen:
The Honor 9X comes with a 6.59-inch screen with no notch and noticeable bezels. A big 6.5-inch screen for the price is good. It has an LCD screen, which might not be preferable as almost every phone now has an OLED panel to suit the need for an isp, brighter display. It has a resolution of 1080*2340 pixels. So, the screen isn't bad but the panel would be better.
Battery:
It is powered by 4000 mAh battery which comes with a 10-watt charger. It takes a long time to drain and the charging isn't fast as well. If you are careful with the usage then the battery can last up to a full day or two. It charges 16% from 0 in 15 minutes. The charging is slow.
Conclusion:
So, if you are looking for a bigger screen, more storage, and a phone to help you with your daily activities then you can consider this device. The performance is average and it definitely isn't for gamers but this phone has many features to offer for the price tag. If you want a good affordable phone with outstanding battery life and hardware, then this phone is the one for you. This isn't the best phone in the market; but for the price tag, it definitely comes into consideration.
Honor 9X price in Nepal has been set for Rs. 29,990 for a 6/128 GB variant. The phone is hitting the markets from 2nd December 2019.