In collaboration with Yeti Airlines, IME Pay has introduced a new offer. Users of the IME Pay App will receive free flight tickets to several beautiful spots in Nepal through a Lucky Draw when booking Yeti Airlines flight tickets using the IME Pay App for two months beginning 12th February 2022.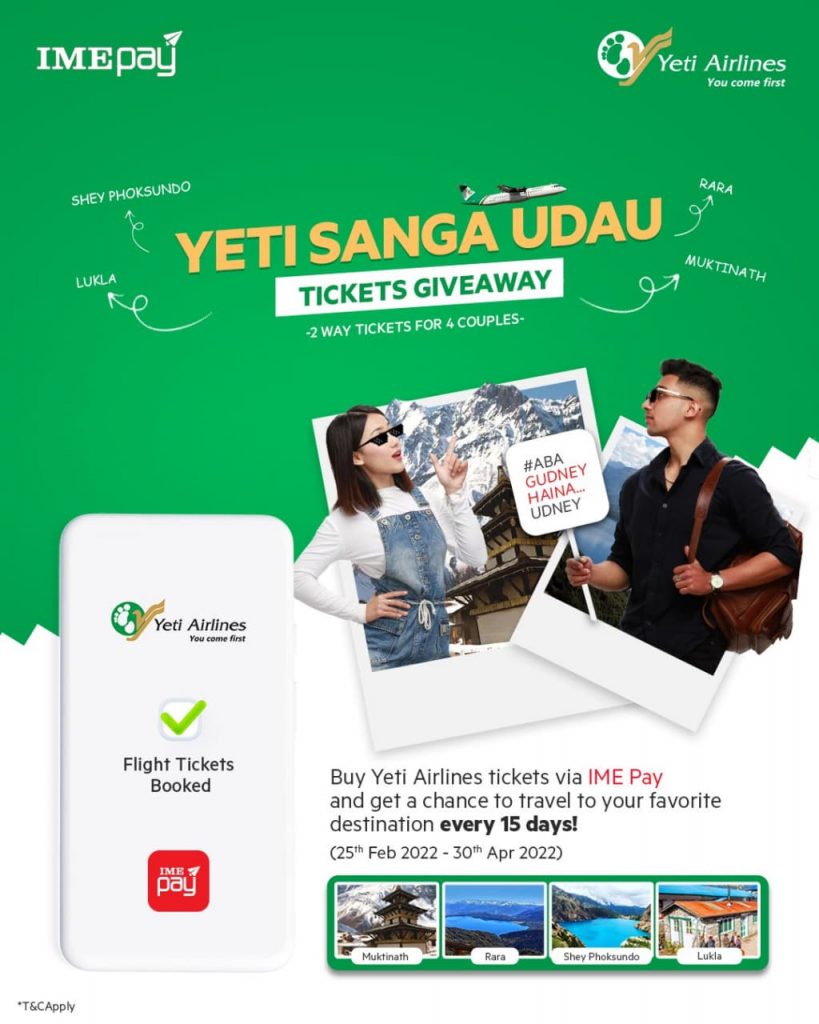 The Memorandum of Understanding was signed by IME Pay and Yeti Airlines with the goal of enabling passengers to travel effortlessly and comfortably. The number of passengers flying appears to be growing year after year. Some of the most prominent religious or tourist locations include Rara, Lukla, Muktinath, and Shey Foksundo. It is intended to help promote both external and internal tourism in Nepal.
Only users who book flights with Yeti Airlines using the IME Pay Mobile Wallet app will be able to take advantage of the deal. The promotion is only available for a short time. During the promotion time, four fortunate winners will be chosen, with each winner receiving a departure and arrival ticket for two. The lucky winners will be allowed to select one of the above-mentioned locations.
Also Read: Get 10% off every Sunday when paying via IME Pay in Daraz App
About IME Pay
IME Digital is one of Nepal's leading Digital wallet service provider. The company obtained permission to provide mobile wallet service through a telecommunication network as per Nepal Rastra Bank's Payment and Sale Regulation 2072 BS. IME Digital is the first payment service provider in the country to receive such permission. Through IME Mobile Wallet, the client will be able to make various payments by himself or through agents.
It has been providing services ranging from simple person-to-person money transfer facility to QR scan and payment at various online and on-site stores, mobile recharge and payment of various household and office bills. This mobile wallet also has the facility of interest and various cashback. IME Digital Solutions Limited aims to contribute to the financial inclusion of Nepal by providing access to financial services to all Nepalese who are deprived of banking facilities and to the general public who have low banking facilities. It has been able to provide electronic payment services to more than 2 million customers directly through mobile wallet apps and agents.
About Yeti Airlines
Yeti Airlines Pvt. Ltd. launched its maiden commercial flight in September 1998, using a single DHC6-300 Twin Otter aircraft produced in Canada. With a fleet of BAE Systems Jetstream-41, DHC6-300 Twin Otter, and German-built Dornier Do 228 aircraft, it became the largest domestic airline operator within a decade. Yeti Airlines has four ATR 72-500 aircraft in its fleet, two in 2017, one in 2018, and one in 2019.