Fonepay is bringing to you Nepal's largest digital economy conference, "Fonepay Digital Economy Conclave". The event aims to address the needs, opportunities, challenges, and also what next in the scenario of the digital economy of Nepal. The digital economy has experienced quite an upturn in the past months. The coronavirus pandemic has had quite a part to play in it as well but also the digital payment platforms have upped their game with the opportunity arriving.  
Event Highlights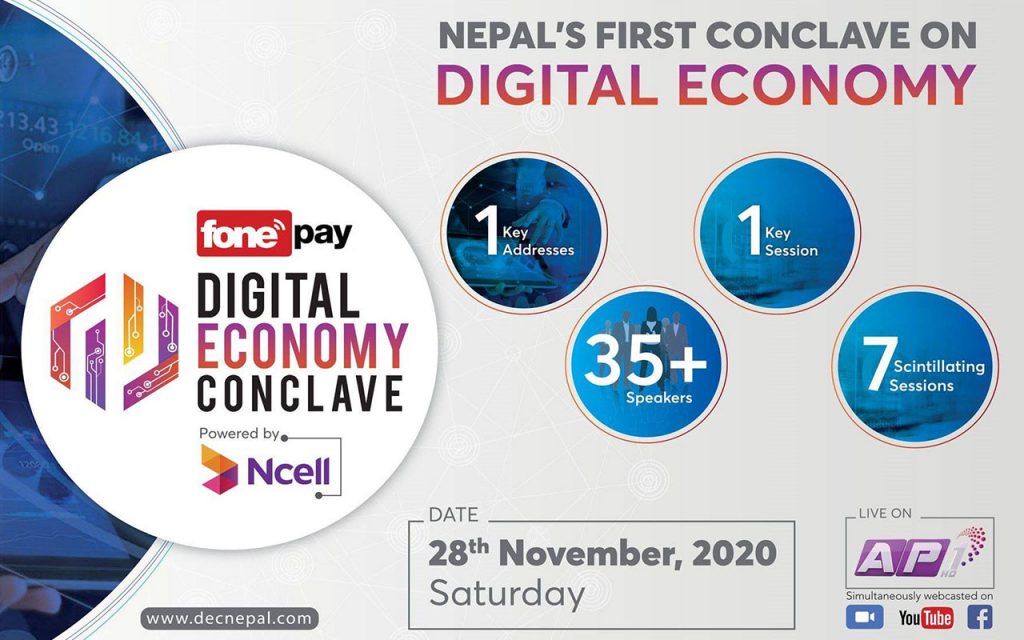 The event will kick off at 9 am with an Opening Keynote Address by Rt. Hon. Prime Minister, Mr. KP Sharma Oli about Digital Transformation in Nepa followed by conversations with two ministers for the development of Digital Nepal. The conclave will then have sessions on कहिले हुन्छ त नेपाल डिजिटल?, Payment: The Race is on!, Digital Remittance – The cost of moving money, Digital Banking – "Bank 4.o", लाइनमा कि अनलाइन and Facilitating Digital Market Place and then move onto sessions on emerging topics related to the digital economy. The program is scheduled to end with a session on eLearning: Going Back to the School. It will deal with the innovations required in the education sector and how digital learning can be better implemented. Also, the closing remarks shall be given by Mr.Biswas Dhakal, President, F1Soft Group
The event features a list of high profiled speakers with keynote speakers as:
KP Sharma Oli – Rt. Hon. Prime Minister Of Nepal,
Bishnu Prasad Paudel – Hon. Finance Minister of Nepal and
Parbat Gurung – Hon. Minister for Communication and Information Technology.
Furthermore, the conclave organized by Fonepay will host a lineup of top ICT experts, industry leaders & doers, bankers, entrepreneurs, policymakers, media, and major stakeholders. So, we can surely expect some mind-boggling discussions from the best in the field. The conclave will cover emerging topics regarding the digital economy of Nepal and provide a much needed open discussion on the matters relating to it. The event is going to be hosted on Live Television (AP1) as well as simultaneously webcast on Facebook, Youtube, and Zoom.
You can check the program schedule and full lineup of speakers here.
Covid-19 also has its fair share of credit for moving digital technology adoption further. The COVID-19 Wave: Payment Systems and the Further Possibilities explores this in much greater detail. We hope that digital payment rather becomes a norm and not a seasonal trend.