Fewabazar Pvt. Ltd., a rising e-commerce platform, has become the first company to provide an Installment Payment Facility in Nepal. It has carried 1000+ EMI via privilege cards. This time, the company is providing a Credit facility for teachers and students with Academic Certificate & Promissory Notes. With this privilege, you won't have to stress out for having complete payment to buy things. You can easily register for this service and pay through EMI. This allows you to pay for the things slowly, but it has to be done timely (every month).
About Fewabazar:
Three years ago, Fewabazar was founded to deliver high-quality goods to the people at a reasonable price. Since then, Fewa Bazar is following the trails of Digital Nepal and is aiming to expand e-commerce nationwide. With its main office in Pokhara, corporate office in Kathmandu, and 11 outlets to serve nationwide, Fewa Bazar is providing trustworthy services to people.
Fewa Bazar has a wide range of products including electronic and electrical devices, clothing and fashion, kitchen and dining, sports and outdoors, furniture and decoration, and art and literature books of various brands. The platform has become significant for national as well as international production companies in Nepal. Fewa Bazar has been providing employment opportunities and is contributing to the nation's economy through the digital medium.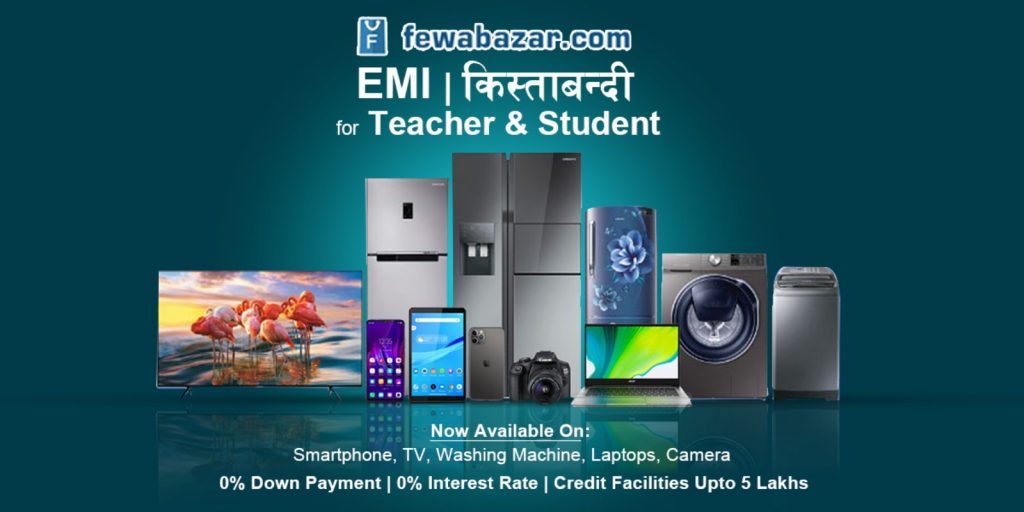 Credit Facility for teachers and students:
Previously, Fewa Bazar brought free COVID-19 insurance service and people admired it a lot. After the free corona insurance service, next in the row is Fewa Bazar's Credit Service. COVID-19 has severely affected the normal day-to-day lives of people. Hence, in association with Prabhu Bank, Machhapuchhre Bank, and Sunrise Bank, Fewa Bazar has brought this service to help the customers. With this, the 5 lakh Credit Buying Facility will be available when you buy things from Fewa Bazar. Moreover, no credit interest will be charged and you can buy things with 0% down payment. Till now, this service is limited to teachers and students only. But things might change in the upcoming days.
Also Read || Nabil Bank is Now Providing Loans to Buy Bicycles
How to register to this service?
If you are willing to enjoy Fewa Bazar's Credit Facility, follow the procedure as listed below:
Open the registration form: Click Here
Then fill your full name, e-mail, mobile number, address, age, residential status, occupation, and level of occupation.
Along with it, you'll have to answer some queries as well.
Additionally, you'll also have to attach an Academic certificate or Promissory Notes and upload Citizenship Card and Bank Statement.
Finally, when you're done, submit the form.
Advantages of purchasing goods through Fewabazar:
Fewa Bazar provides a safe and convenient online shopping experience for its customers. Some of the merits of shopping through Fewa Bazar are:
Quality goods in reasonable price.
Keeps you safe as you won't have to visit crowded places.
Home delivery at a cheap rate with enough safety measures.
Monthly EMI facility to make payment.
80% discount while buying big appliances.
Apart from these, Fewa Bazar provides many other exciting schemes.
Fewabazar Online Shopping: