If you are worried about how to receive remittance from your dear ones staying abroad in this lockdown, then this article is for you. Did you know that eSewa has a special feature of remittance named "eSewa Remit"? Yes, you can receive remittance directly via eSewa even in this lockdown.
eSewa has partnered with various remit companies to ease our homies abroad in sending remittance back home. As it claims, it is committed towards reducing the overall cost of remittance in Nepal by providing competitive alternatives to brick-and-mortar establishments with reduced fees. This service of eSewa has been provided by eSewa Money Transfer since 2019, where one can send remittance in Nepal from 200+ countries around the world.
At present, eSewa app provides two options for remittance – eSewa Remit and City Express.
eSewa money transfer has partnered with the international remittance companies like Remitly, MoneyGram, WireBarley and many others for a seamless remittance experience.
How does it work?
eSewa remit has 8000+ agent locations spread across Nepal to receive the payout amount. Similarly, the remittance amount can also be directly credited to the beneficiary's bank account. After that, the amount can be instantly forwarded to the beneficiary's eSewa wallet in a matter of minutes.
One can send money to Nepal through eSewa money transfer in two different ways:
Cash Pickup
Instant Bank Deposit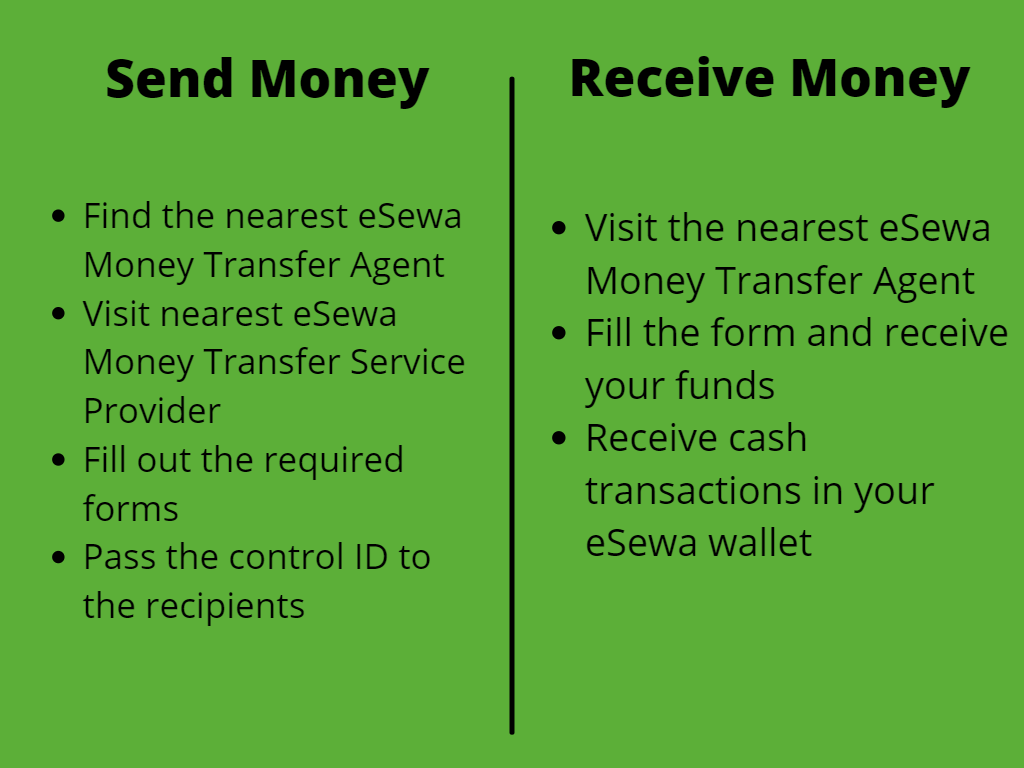 Since this is the time of restriction due to lockdown, you can easily receive money into your bank account soon after the sender sends you the funds via eSewa money transfer.
Note that you can receive money from 200+ countries through this app, but can not send it abroad since the digital wallets are not yet allowed for international payment gateway. Inside the country, it allows you for domestic remittance where you can select the district where you would like to send the money.
Partner Companies
eSewa has a wide network of partner remit companies across the world for making the convenient inflow of remittance from abroad. Following are the remittance companies in various countries that support in sending money to Nepal via eSewa.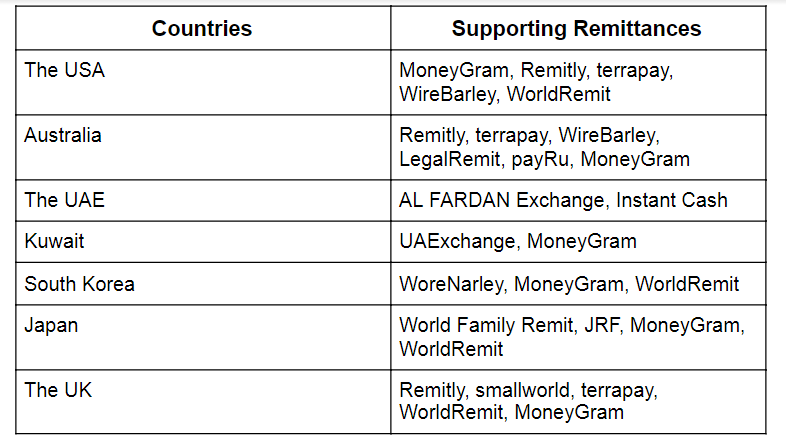 How to send money to eSewa in Nepal?
To all the migrants abroad, here is how you send money to eSewa in Nepal from abroad.
Download any remit app that supports in the country you are living and create an account. For instance, you can download the Remitly app if you are sending money from Australia.
Then select Nepal as your destination country.
Enter the amount you wish to send and other details like delivery speed, delivery method.
Select eSewa as your payment method,
Enter your recipient's mobile number and full name. Remember, the recipients back home must already have an eSewa account.
Enter your payment details.
How to receive money in eSewa from abroad?
Login to eSewa
Tap on "Remittance"
Select eSewa Remit
Tap on "Receive Money"
Select country from where you are receiving the money, enter the MCTN number and amount
Tap on "Proceed"
Why to Use eSewa for Remittance?
Well there are other options as well for sending remittance to home. But why eSewa? You might be wondering, right? Let us give you the reasons below:
1. Payment Tracker
This feature also includes a payment tracker, where you can get real-time updates of your transaction with their online tracking system by simply entering the tracking ID/control number provided by their agents.
2. Compliance Policy
eSewa has specific steps to verify its users and they maintain a record of each transaction including documents for at least 5 years for audit trials.
They are also committed to Anti-Money Laundering and Anti-Terrorist Financing since the transactions must comply with the guidelines and recommendations of the Financial Action Task Force (FATF).
Click here to check their compliance policy: https://esewaremit.com/content/compliance-policy
3. Wide Network
There are 8000+ eSewa payout locations in Nepal for remittance. Once can find the nearest domestic agents from where to send and receive the payout amount. Similarly, eSewa Money Transfer has partnered with more than 80 banks and financial institutions for providing easier remit services to its customers.
In the hindsight, let the data speak!
Nepal is one of the top 20 highest remittance receiving countries in the world and lies within the top 5 among the SAARC countries of this category. In 2018 alone, Nepalese migrant workers sent a total of $8.1 billion remittance through formal remittance mediums like banking and financial transfers.
After the surge of Covid-19 pandemic, the World Bank had projected a 7% decline in remittance inflow at low and middle income countries in 2020. According to the annual report of FY 2076/77 published by Nepal Rastra Bank, Nepal witnessed a 0.5% decline in remittance inflow from the migrant workers abroad during that period, making the figure to Rs 875.3 billions, which was rather increased by 16.5% in the previous year. However, since the number of Nepalese migrants is increasing, it is obvious that remittance is going to contribute more to the country's GDP.
Yet, there is a gap in remittance inflow since a headless amount of it enters the country through informal processes. The formal process of remittance is supported by various banks and financial institutions along with the non-banking institutions. Anyways, digital wallets like eSewa are supporting the inflow of remittance online through a safe, reliable and a hassle-free system. Send this to your people abroad who are wondering how to send you money in this lockdown. It might be a relief for them and you as well.