eSewa introduces the eSewa iPhone 11 offer with a chance of winning the iPhone at just Rs11. eSewa has been coordinating the Rs 11 Grand offer where previously they had Rs. 11 ma Mountain Flight Offer. In that offer, a lucky participant got a chance to experience Mountain Flight with their loved one on the occasion of Valentine's Day. The winner got the glimpses of 20 of the highest peaks of Nepal, starting from Langtang Lirun peak and moving on to Mt. Everest and finally Chamlang peak.

Now, continuing the Rs. 11 offer, this time, eSewa has bought Rs. 11 Grand Offer! with iPhone edition, where a lucky winner will get a chance to Win iPhone 11 at just Rs. 11. In this offer, a winner will have a chance to win a brand new iPhone 11, while the additional 40 lucky winners will get a chance to win 100% cashback promo code to be used in their next transaction (up to Rs. 500).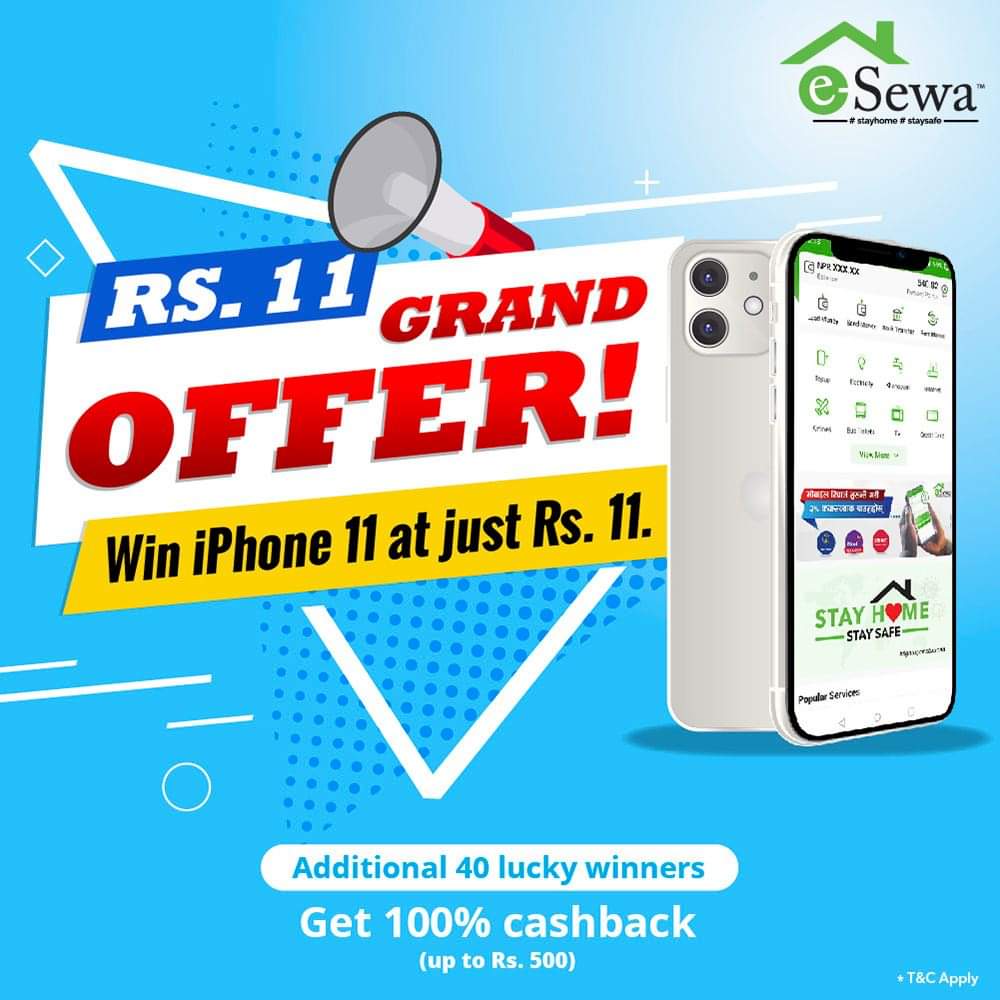 Also, for the participants who won't be able to win, Rs. 11 will be refunded in their eSewa wallet before 20 July 2020. So, this basically is a win/win situation. This offer will be valid from 22 June 2020 to 15 July 2020, so if you want to participate, just go for it. The fortunate winner of iPhone 11 and 40 lucky winners of 100% cashback on the next transaction (up to Rs. 500) will be announced on 17 July 2020. Winners will be notified through contact details registered in eSewa.
Some requirement that are needed to participate:
1. You must be KYC verified users and agents. Just in case you are not verified then you must submit the KYC verification request and be verified within 15 July 2020 to be eligible for this offer.
You should have made any bill payment (merchant payment) of Rs. 500 or more to be eligible for winning the prizes.
The winner should claim the prize within 15 working days of the winner announcement. If the winner does not claim the prize within the stipulated time, eSewa reserves the right to cancel the prize.
The winner of iPhone 11 should provide a copy of any government authorized document (Citizenship Certificate/ Driving License/ Passport) for verification. [Note: The documents shown at the collection of prizes must be original and should match with the documents provided in the KYC form.]
The users must follow all the procedures to be eligible to win the prize; eSewa shall not be liable for the incomplete transactions of the users.
So, if you meet the requirements or want to fulfil the requirement to participate then here is how you can enter the competition.
First, just log-in to the eSewa app.
Then, in the Popular Services section, tap on the Rs. 11 maa iPhone icon.
Next click in Offer, tap on Rs. 11 Maa iPhone and tap on Proceed.
Finally, tap on Confirm, Enter your MPIN/Fingerprint and complete the participation process.
And Voila, you are done. So, in these easy steps, you will be able to participate in this amazing offer bought to you by eSewa. Since there is nothing to lose, you might as well just give it a try. Let us know your thoughts and opinion about this interesting offer in the comment section down below.