Nepal's first online payment gateway company, eSewa, is celebrating "1 Million App Installs" as it recently reached 10 lakhs downloads in Google Play Store. This is the largest app downloads count ever among the banks, financial institutions, and other payment services providers of Nepal.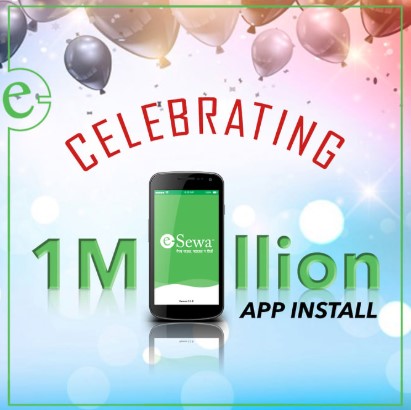 eSewa started its service officially from January 25th, 2010. Currently, 75 lakhs people around the nation are using this service. Besides the normal users, there are about 50 thousand agents (eSewa Zone and Point) throughout the country.
Subhas Sapkota, director of F1soft International, says "In the upcoming days, our team will continue to work on the smoothening daily life of Nepalese by making the mobile financial services broader from the city of Nepal to the rural region".
In a decade's period, eSewa has been successful to reach every corner of the country being successful to end the traditional way of paying bills being in a queue by sitting in home and paying bills using mobile app very efficiently.
You can use eSewa to pay bills of your Mobile, Telephone, Internet, Electricity and Drinking Water, Air Tickets, Bus Ticket, School and College fees, Restaurant Bills along with more than 50 other services. There are currently more than 51 banks and financial institutions associated with eSewa which can be used to load funds to your eSewa wallet and to send money from your eSewa wallet to Bank Account.