Nepal's prominent digital payment service provider, E-sewa has announced a partnership with WorldRemit, a leading digital cross-border payments company on Thursday. This partnership allows Nepalese around the world to send money directly to the eSewa mobile wallet of their family and friends in Nepal. Currently, this partnership allows Nepalese people to receive remittances from 50+ countries to Nepal.

About eSewa
E-sewa is a mobile wallet that allows you to make online and offline payments to merchants. Besides this, it facilitates transfer of funds to banks and many more services. Not only you can make utilities and bill payments but also book airline and even tickets through their app. It is one of the major payment service providers in the context of Nepal.
Ajesh Koirala, Managing Director of eSewa Money Transfer, said: "We are very excited to join hands with WorldRemit, a global leader in digital cross-border payment services. This partnership underlines our effort to bring competitive alternatives to brick-and-mortar establishments with reduced fees.
About WorldRemit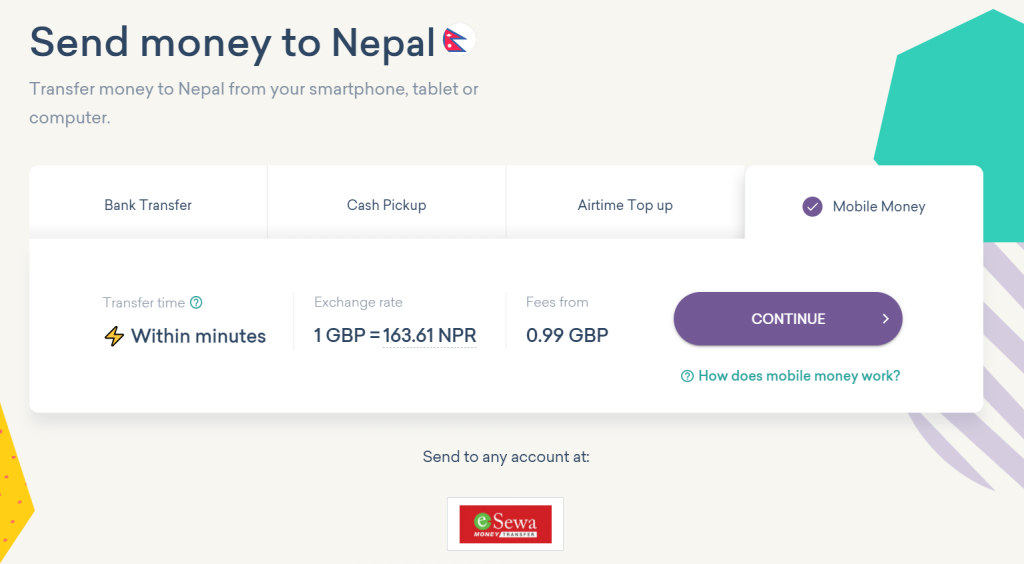 WorldRemit is is a cross-border digital payments service that provides international money transfer and remittance services. As of March 2021, it is providing its services in 130 countries in over 70 currencies. Not only their service is fast and flexible but also secure with affordable charge. WorldRemit has been changing the way people send money abroad since its establishment in 2010.
Ruzan Ahamed, Country Director for South Asia at WorldRemit, stated: "Nepal is implementing digital initiatives for their people at pace, and we are seeing the Nepalese population embrace these changes. WorldRemit is committed to keeping pace with these developments, and we are proud to collaborate with eSewa Money Transfer to do so."
Promo Offer
Between 6th April 2021 and 30th June 2021, WorldRemit is offering a free first transaction fee promotion for new customers. If you are a new customer, you can get the offer by using the promo code WRNEPAL. However, the company has stated that the terms and conditions are applied to it.
Final Thoughts
If you're looking for a hassle-free way to support friends or family who are living or travelling in Nepal, it shall not be difficult anymore. Finally, WorldRemit and eSewa has arrived to your rescue! This collaboration is going to be a cornerstone in the digital payment eco-system of Nepal. I believe this E-sewa partnership with WorldRemit make financial services more inclusive and affordable, particularly for underbanked individuals of Nepal.