 A lot of youngsters are working as a freelancer on platforms like Upwork, Fiverr and others. However, most of them work for foreign clients and companies which is not much easier to find. Many people do not get their profiles verified for a long period of time. In such a case, we need a local job services platform where you could list your skills on your own.
A new digital marketplace platform called 'Esahar' has started its services in Nepal. Its fundamental goal is to bring service and work together. You can create an excellent way to earn money by listing your skills and abilities on this platform. Similarly, business owners can offer their business services on the website. Mostly, it focuses on linking the home-based services to the people in need of that.
What services can you list in Esahar?
You can register for 50+ services in Esahar. There, you can search and get services from expert and skilled manpower through this platform. Esahar allows you to list services like Electrician, Plumber, Painter, Cleaning & Sanitation, Handyman services, Booking service, Beauty service, Vehicle / Product rental, Photo-video, Computer maintenance, IT / SOFTWARE, Labor / Mistri, Operator, Events and entertainments.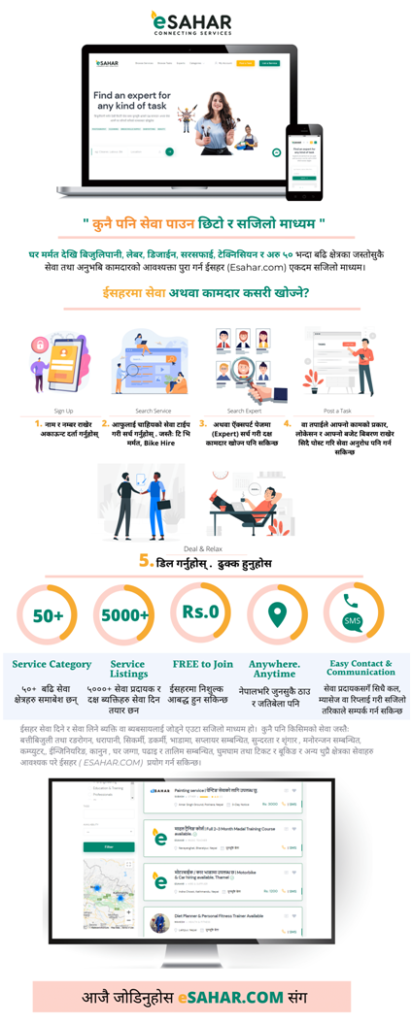 How to list task and services in Esahar?
Esahar is a platform where you can list a task and services. If you're looking for a service, esahar can help you identify qualified people in your area. If you have a specific task that needs to be completed, you may also post a service request.
You can get create a personal account in Esahar to get started.
The service seekers for various services and tasks list a task they require to get done by someone else. For example, if you are in need of a plumber, you list a task through the "Post a Task" button and then get a skilled person for that.
So, if you have any skills, you can list them on esahar and earn money with them. Business owners can also offer their services on the site. If you are a service provider, you may offer your services on the request post by stating your budget and the services that the service seeker has requested. There is also the option of using private texting.
More about Esahar
Esahar is a new digital marketplace in Nepal especially designed to list jobs and skills. It has recently started in 2021 Now, it would be easier to find people for specific home-based or official jobs online. You can either list a task to find people or services to list your skills.
There are additional features in Esahar:
Multiple service listing
Direct communication
Private messaging
Easy search options
Another key point to mention is that this is a 100% free platform. There is no cost to connect, and the services are also free. Go through their website eSahar.com and browse more.