The internet has become a major contributor to everyday living, from shopping to renting movies to researching personal health issues. Today, there are thousands of internet websites that can be used to access health information. Although there are many benefits of internet health care, there are also many problems that can arise from using this information. So, it is definitely better to consult with professional medical expertise before acting on your health condition. Now it is easier than ever to consult online doctors with the presence of Doctors on Call Nepal.
About Doctors on Call Nepal
Doctors on-call (DOC) Nepal is one of the leading home healthcare service providers commenced with an entirely new concept in the health sector to deliver hassle-free, convenient, quality home healthcare facilities by experienced and qualified medical professionals Doctors, Physiotherapists, Dietician, Nurses, Health assistants, etc.
Since its establishment, Doctors on Call Nepal has been constantly working in making health care accessible, affordable & equitably available. They are making this possible via means of providing home based care services and digital health care services.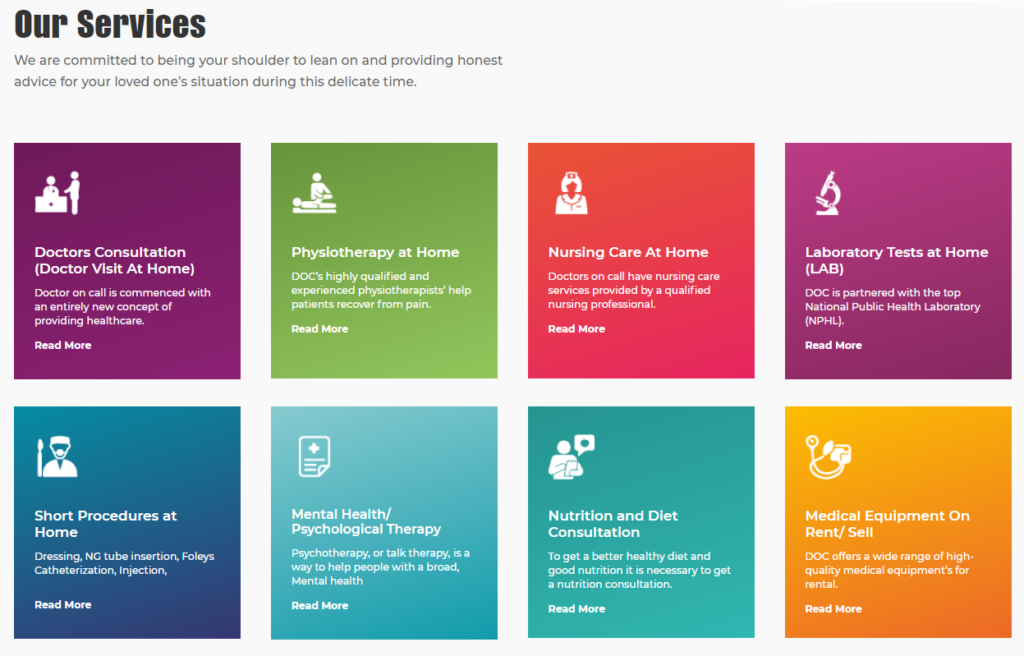 Doctors on Call Nepal is adopting the Modern approach of care changing the healthcare environment. DOC can be the easy way to health to your doorstep; at your comfort zone for you and your loved ones with just a phone call or intimation of a message. They are determined in strengthening the health care delivery eco system of Nepal.
Its main objective is to meet the health and wellbeing needs of every individual especially the CHRONICALLY ILL PATIENTS, HOUSEBOUND/BEDRIDDEN PATIENTS, AND AGED/ELDERLY population by providing the best service they can, and promoting individual choice, recovery and independence. DOC service provision is based on operational values and principles of care. 
Dashain Special Package
On the auspicious occasion of Dashain, DOC Nepal has brought an exciting offer for its customers. In this offer, customers can get their health condition checked up through a basic health check package. The basic health package costs only Rs 2499 with a discount of whooping 50%.
Recently, Doctors on Call Nepal also won the prestigious NYEF startup award. NYEF startup award is a platform for startups to showcase the innovation and idea that has an impact on the society for good cause. Within its short period of operation, DOC Nepal has already been trusted by plenty of customers. Therefore, if you are looking to get a consultation on your condition, Doctors on Call Nepal could be the right choice for you.