Daraz has launched the "Proudly Nepali Initiative" today in order to promote local Nepali brands through its e-commerce platform. Daraz Proudly Nepali Initiative aims to onboard more local sellers who are selling Nepal-made products through this marketplace. This way, they can get a chance to grow under the biggest online marketplace in Nepal along with increasing their visibility among the customers.
The major purpose of this project, according to the company, is to spotlight, promote, and push Nepali Brands that have consistently delivered high-quality goods and services in the Nepalese market, both in the past and present. Daraz's core beliefs and aim of elevating communities via commerce are precisely aligned with this new endeavor.
With the onboarding of a new Managing Director, Ms. Aanchal Kunwar, in February, the company's worldwide strategy of focusing more on localizing in each of its operating regions received a boost. Another step toward realizing that ambition is the Proudly Nepali campaign. Proudly Nepali will not be a one-time campaign, but rather a long-term endeavor, according to the firm.
Daraz Proudly Nepali Initiative; Promoting Local Brands
This project also aims to directly support Daraz-affiliated local brands and merchants in expanding their online presence and conducting business more easily in the new digital age. Previous initiatives, such as the Daraz Sahayatri and Sarathi, attracted large crowds and directly assisted over 11,000 sellers in moving their enterprises online. Daraz expects that by doing so, it will be able to assist Nepali brands in increasing their internet visibility and taking their businesses to new heights.
With a hand-picked list of some of the top Nepali brands including Fuloo, Juas, CG Digital, Mantra, Goldstar, Yasuda, Virjeans, and more, the company is confident that this initiative will provide clients with the opportunity to learn about and discover more about homegrown Nepalese brands.
For an import-dependent country like Nepal, there is a firm notion that domestically produced goods and services are inferior. Daraz Proudly Nepali Initiative aims to change that perception by encouraging and motivating customers to support and patronize native Nepali companies and services.
Daraz has formed a strategic ecosystem with FNCCI and SAWDF to further convey the key message of PROMOTING NEPALI BRANDS. Promotions for Proudly Nepali have also been extended across the country.
How to sell your products on Daraz? Be a part of Daraz Proudly Nepali Initiative
Any registered seller can onboard in Daraz and get thrie business growing. Remember, your business must be legally registered. You will require to submit documents like:
Pan/Vat Registration Document
Bank Details (Account number, bank name, account name, branch etc)
Company Name, Address, Logo
For that, you can go to Daraz Seller center through www.sellercenter.daraz.com and follow simple steps: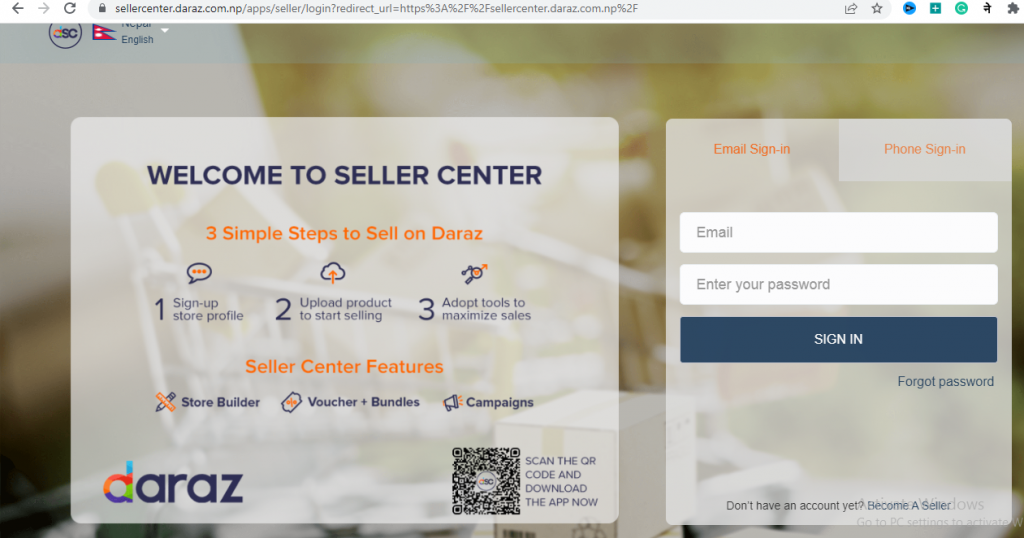 There, click on "Become a seller" option at the bottom. Then you can choose any of the four option which will be shown like this: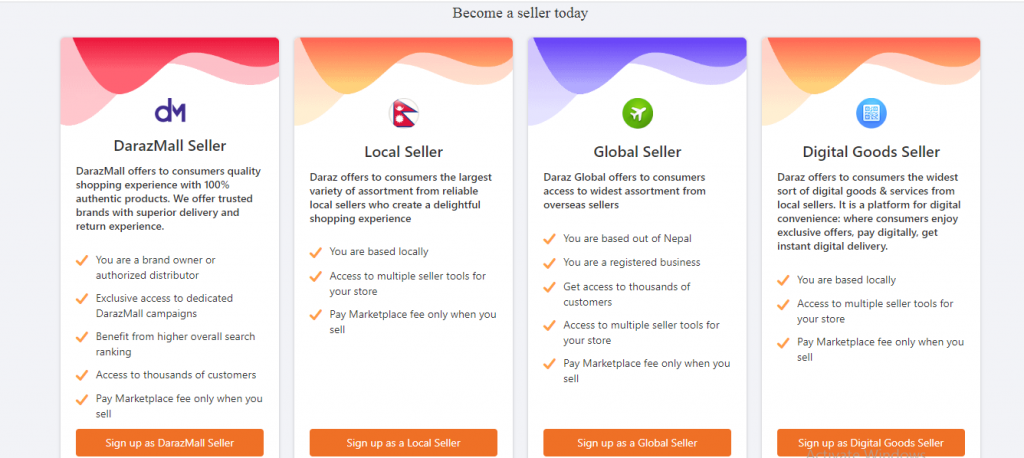 Read all the requirements in each of the onboarding plans and you can choose as per the nature of your business. Then, you will need to enter your company's email address, contact details and sign up.
After that, the representatives from Daraz will contact you and help you through the overall process of onboarding.
With all these steps, you can easily set up your e-commerce journey with this huge marketplace. Daraz is a subsidiary company of the global e-commerce giant Alibaba. Alibaba is the parent company of this e-commerce platform. And now, Daraz Nepal is all set to promote Nepali products in its platform and support local brands through Proudly Nepali Initiative.
Also read: Forbes 30 Under 30 Asia List 2022; 5 Nepali from 4 Companies Got Made It to The List