Daraz, one of the popular fronts for B2C online shopping site in Nepal, is all set to host a Mobile Sales Week that commences early next week. Initially announced on its Facebook page on June 14th, the company claims it to be a one of a kind flash sales bonanza event, quite possibly Daraz Nepal's first summer mobile phone sales event, after the rebrand from Kaymu. Consumers will be able to buy phones of varying price points, with their prices slashed generously.

What to expect?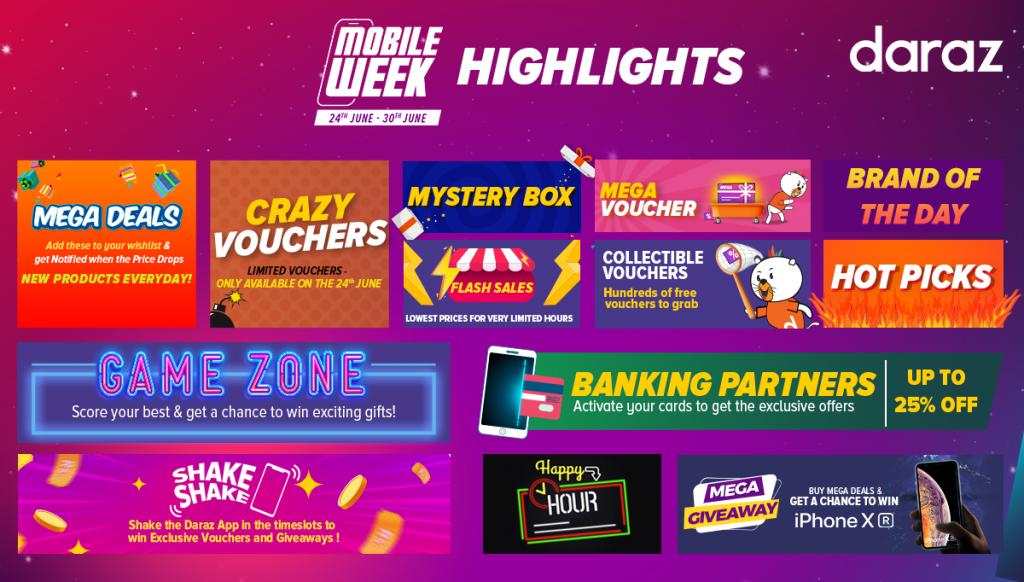 The main premise of the sales is supposedly a mystery discount rate, which would be unveiled on the day of the event launch, which is then eligible at the same discounted rate throughout the entire event, albeit until stocks last. Although most phones heavily discounted are Huawei ones, it is speculated that other brands will join the fray, going on a heavy discount; although only time will tell. Not only is an event like this a motivator for businesses to execute a proper stock clearance, but it also allows mobile phone enthusiast to have tons of options to work with, so they can hopefully get a phone that fits both their requirements and within their fixed budgets.
There is also a campaign for the same sales event organized by Daraz and partner banks, where consumers using their cards for payments will be able to enjoy better discounts. These discounts are available to partnered bank customers, through all authorized online transactions supporting Debit/Credit Cards. The company has noted in their campaign page that in order to be qualified, the consumers would need to undergo activation for supporting online transactions.
The team at Techsathi.com have their eyes on Xiomi Redmi 7 as well Redmi Y3 phones, and Oppo A7, which are both notorious for being formidably spec'd phones, which also arguably, scale comfortably in terms of the lucrative value for money they provide. Being all-rounder phones, we wholeheartedly recommend grabbing one of them in the coming week ahead.
Also Read: Mi Band 4 Released in Nepal: Buy it in Daraz
Sales run from June 24th to June 30th, 2019.
Notwithstanding the already loaded event, Daraz is also hosting a flood of giveaway events on their facebook page, with promises of more to come as soon as the event launches. We speculate loads of accessories giveaway, so it's recommended to keep tabs on the giveaways that come forth for free swag.
Details of the Sale
Besides just the massive discounts on the phones, Daraz is giving some extra discounts to those paying directly through debit cards. The discount rates have been specified as:
Sanima Bank: 10% off
Nabil Bank: 15% off
Standard Chartered Bank: 10% off
Bank of Kathmandu: 5% off
Siddartha Bank: 25% off
NIC Asia Bank: 25% off
If you've been debating about picking up a new phone, well now is definitely time to pull the trigger. PUBG players rejoice, now you can potentially get yourself a phone to finally get that chicken dinner you always wanted: No longer will you be hassled by that chronic framerate stuttering on your potato(oops) phone. Let us know if you decide to sweep up any of these deals down below!
Check out Daraz Mobile Week here.