 After Dashain and Tihar, the next biggest festival for e-commerce in Nepal is obviously Daraz 11.11 Sale 2022. This year too, Daraz is bringing this as the "Biggest Sale of the Year".
If you have ever ordered goods from Daraz, you will want to load your cart and not miss exclusive discounts and offers in Daraz 11.11 Sale 2022.
Indeed, you will be delighted to know that Daraz is offering up to 80% off on 11 lakh products during Daraz 11.11 Sale 2022 starting from November 11.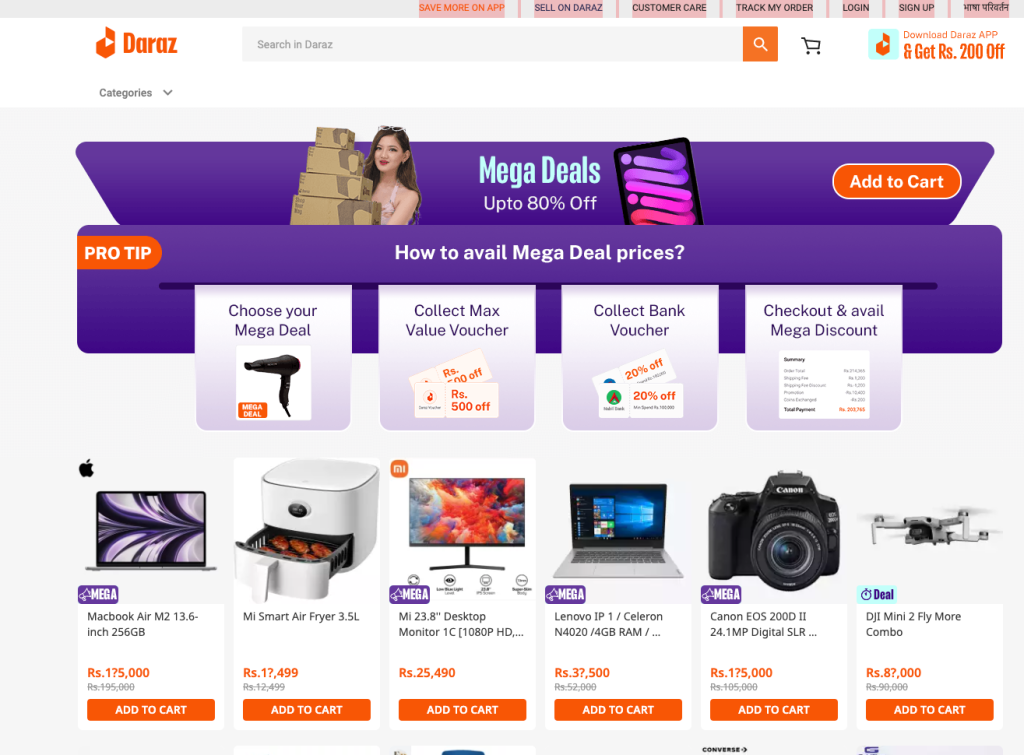 Grab the deals on Daraz 11.11 Sale 2022
There is a long list of discounts and offers in this campaign that we will need to make a separate section for this:
One Rupee Game
The signature deal of Daraz- One Rupee Game is back again with more prizes and gift hampers.
Customers can win exciting products by adding them to the cart at just Rs 1. Customers must pay Rs 1 via card, eSewa, or IME Pay and will get a chance to win their choice of products. That Rs 1 will be refunded if they do not win the selected products.
What are the exciting prices in Daraz 11.11 One Rupee Game?
There are many prizes in Daraz 11.11 One Rupee Game:
Amazfit GTS 4 Mini Smart Watch Alexa Built
Realme 9i 5G 6.6 Inch | Ultra Smooth Display
Webor Microwave
Tranquility Spa Shirodhara Nerve Restoration Massage
Highground Adventures ZIPFLYERS for 2 Person
Highground Adventures Sky Screamer for 2 Persons
Pokhara Package 1N/2D Including for a couple | Spark Car
Titan Smart Watch
How to participate in the One Rupee Game?
Step 1: Open the Daraz app and click on the 11.11 icon or text.
Step 2: Inside the 11.11 page, select One Rupee Game
Step 3: Click on the product of your choice
Step 4: Add the product to your cart
Step 5: Click on Checkout and then click on Proceed to Pay
Step 6: Select your method of payment – either with a Debit/Credit Card, Esewa, or via your IME pay account.
Step 7: Enter Your OTP (One-Time Password) and click on submit
Isn't it simple to participate? Moreover, who would not participate if you get your Rs 1 refunded back?
Add to Cart & Win
In this offer, you can win Daraz Vouchers worth Rs 2222 by simply adding your favorite products to the cart.
Mega Deals
The deal offer is called "Mega Deals" because this year, Daraz is offering discounts worth up to 80% on 11 lakh products on the 11.11 sale.
This way, you can get all your favorite products at the lowest price possible among the categories like Fashion, Electronics, Home Appliances, Automobiles, Musical Instruments, Home Decor, and more.
Bank Discounts
Like the previous year, Daraz is offering bank discounts on Debit/ Credit cards.
Customers who shop during 11.11 will be able to save up to 15% (max Rs. 2500) via Debit Card and 20% (max Rs. 3000) via Credit Card.
Similarly, customers of Nabil Bank, Kumari Bank, Sanima Bank, Machhapuchchhre Bank Limited, Everest Bank, Sunrise Bank, Mega Bank, NMB Bank, Citizens Bank, Nepal Bank, NCC Bank, Nepal SBI Bank, Century Bank, Jyoti Bikash Bank, Shangrila Bank, Siddhartha BankHimalayan Bank, Kamana Sewa Bank can avail the aforementioned discounts.
Likewise, customers of NIC Asia Bank, Sunrise Bank, Citizens Bank, and Machhapuchchhre Bank can enjoy 0% interest Easy Monthly Installment plans (EMI) via credit card.
Free Delivery
Likewise, customers can avail of free delivery depending upon the minimum cart value set by the sellers.
New User Voucher
First-time Daraz customers will get Rs. 200 off on their first purchase. Shop and save Rs. 200 during 11.11 if you are a new customer.
Mega Giveaway and Mega Vouchers
This time, Daraz is offering 11 65" MI TV as the MEGA GIVEAWAY.
This is for the first time ever in Daraz. Daraz users will get a chance to win the Mega Giveaway by shopping on Daraz during the 11.11 campaign.
Also, it is offering mega vouchers worth up to Rs.11,111. Customers can get a chance to get heavy discounts on their favorite products through discount vouchers.
Other Vouchers
Additionally, customers have the opportunity to use additional coupons, including store coupons, free shipping coupons, bank coupons, and early bird discounts.
During Daraz 11.11 Sale 2022, you have a ton of opportunities to receive heavy discounts. However, these discount coupons frequently expire extremely quickly. Customers are therefore urged to take action quickly and utilize all of the opportunities.
Apart from these, there are other highlights:
Hot Picks
Daraz Mall Day
Shake Shake
Brand of the Day
Review and Win
The 11.11 campaign features top national and international leading brands that are offering the best and exclusive deals on all their products.
Diamond partners for the campaign are Baltra, Lotto, WOW, Goldstar, and Basemark.
Gold partners include Mamaearth, Jeanswest, Rohto, QNU, and Vianet. Likewise, Silver Partners include Aamayra Fashion House, Brillare, Astaberry, Naturo Earth, Cetaphil, and Mi.
This way you can get the most of the deals available at the Daraz 11.11 Sale 2022.
Also Read: Yarsa Labs Startup Fest 2022 Begins Today; Experience Digital Startups and Innovations Pitching from All Over the Country