The global pandemic has driven us into social or physical distancing to reduce the spread of the virus. To minimize the risk, most of the companies and services are trying to go digital. In this scenario, the use of digital payment is getting more important than ever. As this is happening, digital wallets have started the COVID-19 insurance program. As we know, insurance is an essential part of financial planning; it is one of the best options to invest one's money in. This is supposed to provide financial security and mitigate the risks, now by digital methods.
The digital wallets are associated with the following insurance companies:
Nepal Insurance
Premier Insurance
HGI Insurance
Ajod Insurance
Sagarmatha Insurance
NECO Insurance
NLG Insurance
Shikhar Insurance
IME General Insurance
Sanima General Insurance
United Insurance
Everest Insurance
eSewa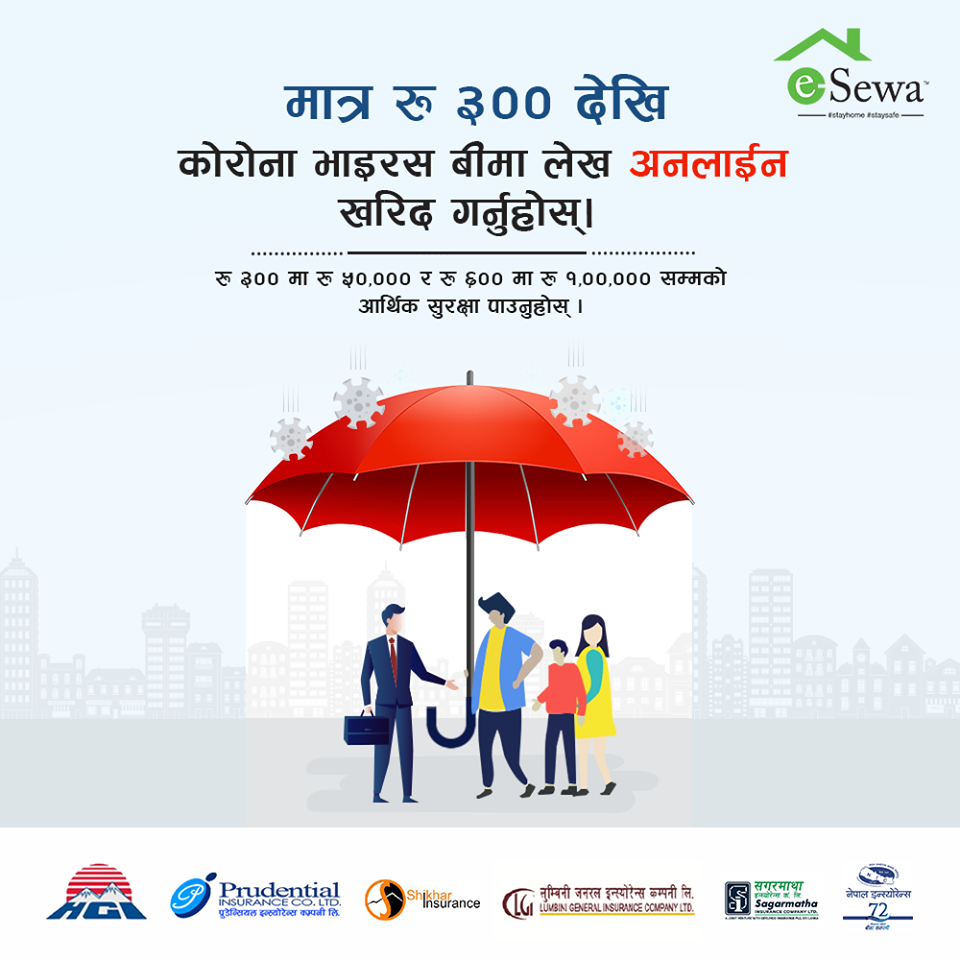 eSewa is a leading online payment gateway of Nepal that helps you make online transactions. After being helpful in a lot of areas like bill payment, top-ups, bank transfers, online payments, eSewa has now started Insurance as well.
| | | |
| --- | --- | --- |
| Insurance amount | Insurance Premium (1 person) | Premium (For a family or a group) |
| Rs. 50000 | Rs. 500 per person | Rs. 300 per person |
| Rs. 100000 | Rs. 1000 per person | Rs. 600 per person |
To purchase the policy: https://bit.ly/CoronaVirusInsurance
Khalti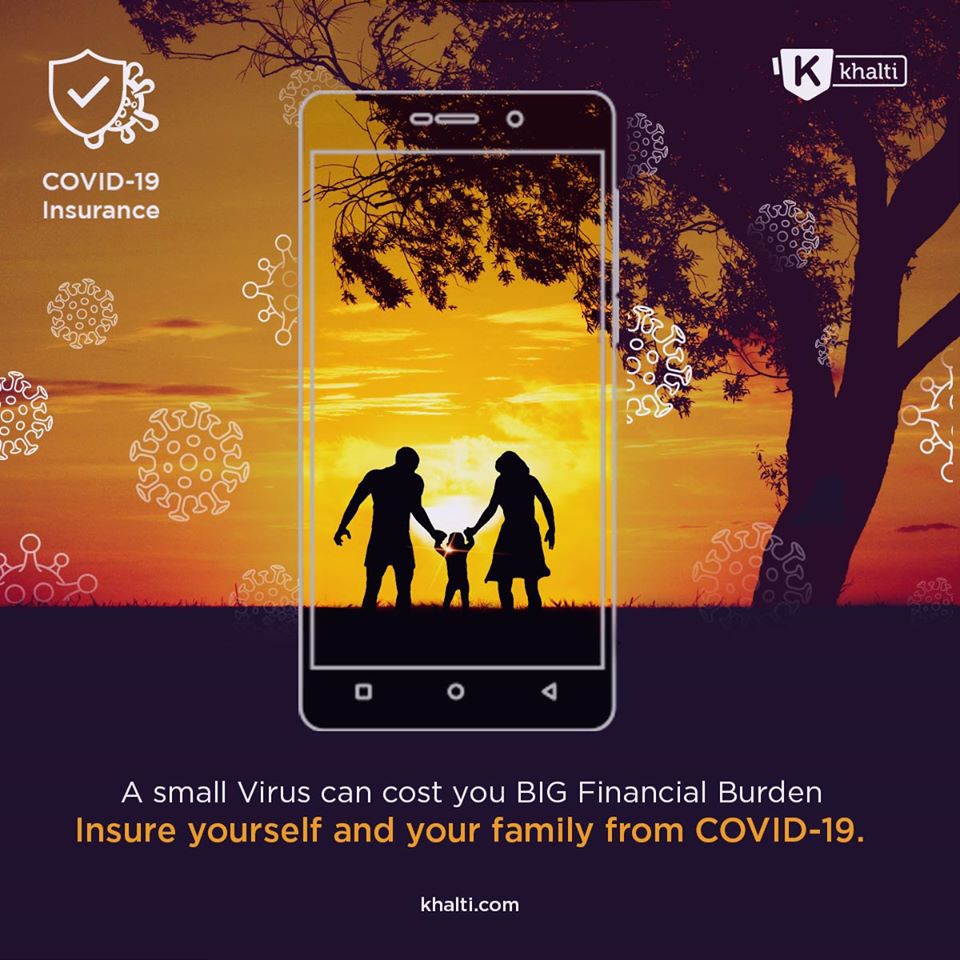 Khalti is a mobile wallet cum payment gateway service provider in Nepal. It is amongst the top e-wallets in Nepal as it is easy to use while also being quick and responsive. From paying bills to booking airline tickets, Khalti does it all and now it is providing insurance scheme as well.
The premium amount starts at Rs.300. You can purchase the scheme for an individual only or your family. To purchase the scheme for your family you need to pay the Insurance Premium for each member. You can opt for the 50000 or the 100000 one.
If you are interested in this policy then you need to download the Khalti app > open the app > Tap on Bazar > search insurance and then from the list you can proceed to buy the COVID insurance.  You can also buy the policy from COVID 19 Insurance Tab on the Homescreen.
IME Pay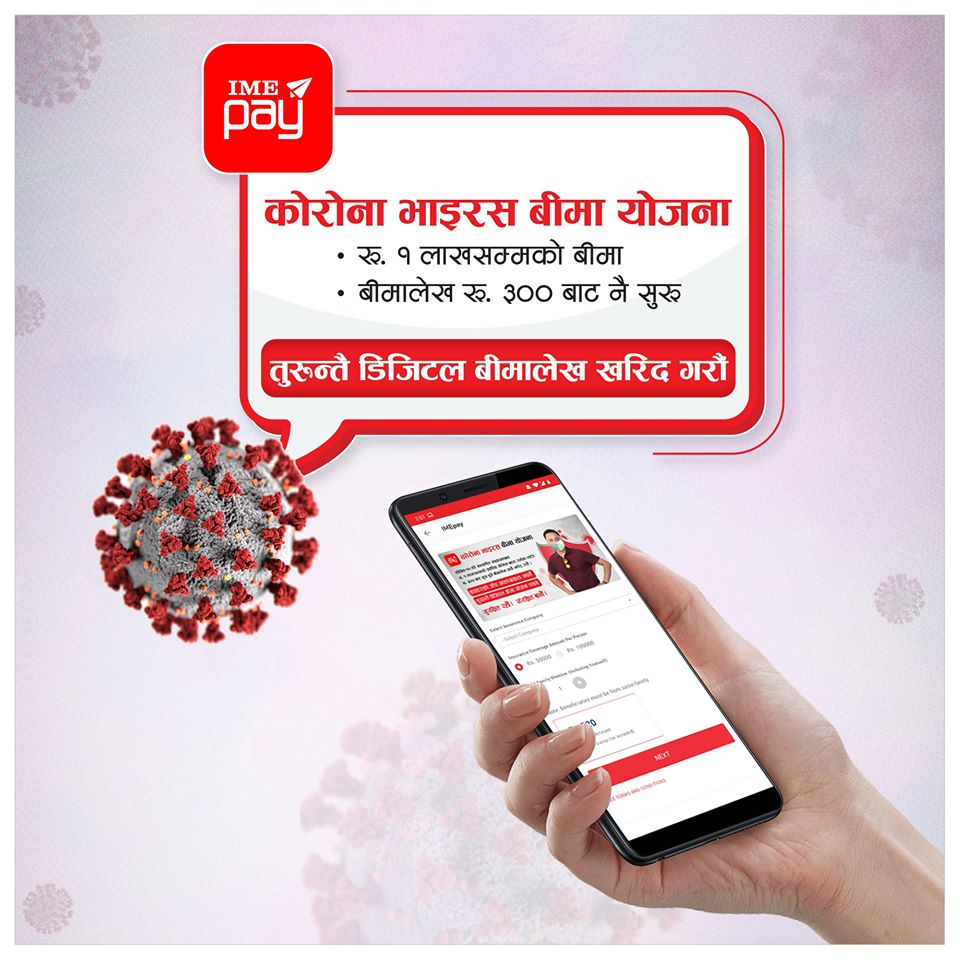 IME Pay is a digital payment service mobile application for easy payment solutions; licensed by Nepal Rastra Bank (NRB) and powered by IME Remit. You can transfer money, pay utility bills, and make purchases online or offline with just a few easy clicks with the help of IME Pay.
You can get an Insurance Amount of up to Rs.100000 and the Insurance Premium amount starts at Rs.300. You can buy the scheme from the IME Pay app.