connectIPS has introduced Winter Offer to encourage customers for using bank account-based digital transactions. During the offer period of 1st of Mangsir 2079 till 29th Magh 2079, the end customers will receive various benefits on enrolling and using the connectIPS channel.
connectIPS Winter Offer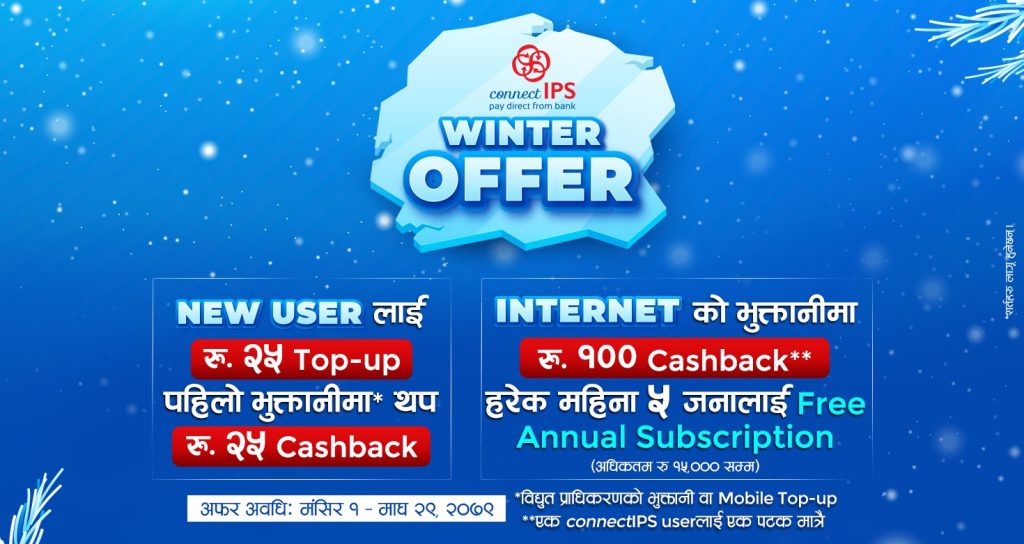 Banking users will receive Rs. 25 mobile top-ups upon enrollment in connectIPS and get an additional Rs. 25 cashbacks upon its first transaction of either mobile recharge or NEA electricity bill payment. Similarly, the user will also receive Rs. 100 cashback on the first internet bill payment and 5 lucky winners per month will win full annual internet subscription (upto Rs. 15,000).
The bank customers can download connectIPS mobile app or go to www.connectips.com for creating a new users and for one-time verification to complete its enrollment. The user can link one or more bank accounts and get it verified online through self-verification or from its respective bank/financial institution.
About connectIPS
connectIPS has become one of the most prominent and convenient payment channels for the bank customers to manage its multiple bank accounts for easy fund transfer and service payments. It allows fund transfer of up to Rs, 20 lakhs per transaction from its web application and up to Rs 2 lakhs from its mobile app. Various other payments such as mobile top-up, electricity, landline, internet, school fee, hire purchase, government tax, Loksewa fee, traffic fine, broker payments, NEPALPAY QR and many more are possible with connectIPS.
connectIPS as channel platform is now powered by Retail Payment Switch under NPS. It has processed close to 15 million transactions equivalent to NRs 1,130 Billion in settlement value during the current fiscal year, through over 57 member BFIs.