Very few people in Nepal use legitimately-bought software, most use pirated or virus-infected "discount" software, usually at a 10th of the cost. After that, most people purchase anti-virus software (which may have viruses itself) to protect an already-infected system. To limit this bad practice, an operating system named Chitwanix OS was developed to suit Nepalese users' tastes. Chitwanix is an Operating System developed from Nepal using Linux Kernel which is based in Ubuntu.
OS Type: Linux
Based on: Debian, Ubuntu
Origin: Nepal
Architecture: i386
Desktop: Sagarmatha
Category: Desktop, Live Medium
Status: Discontinued (defined)
Popularity: Not ranked
About Chitwanix OS
Chitwanix OS is an Ubuntu-based distribution that has been crafted to fit the needs of computer users in Nepal. It comes with the Sagarmatha desktop environment (a fork of Linux Mint's Cinnamon) and it also offers various user-friendly enhancements. The developers of Chitwanix OS are cooperating with user communities in Nepal in order to translate the operating system and applications into Nepali, as well as Tharu, Newari, Gurung, and Magar languages. It is developed for a better, friendly UI with Nepalese taste.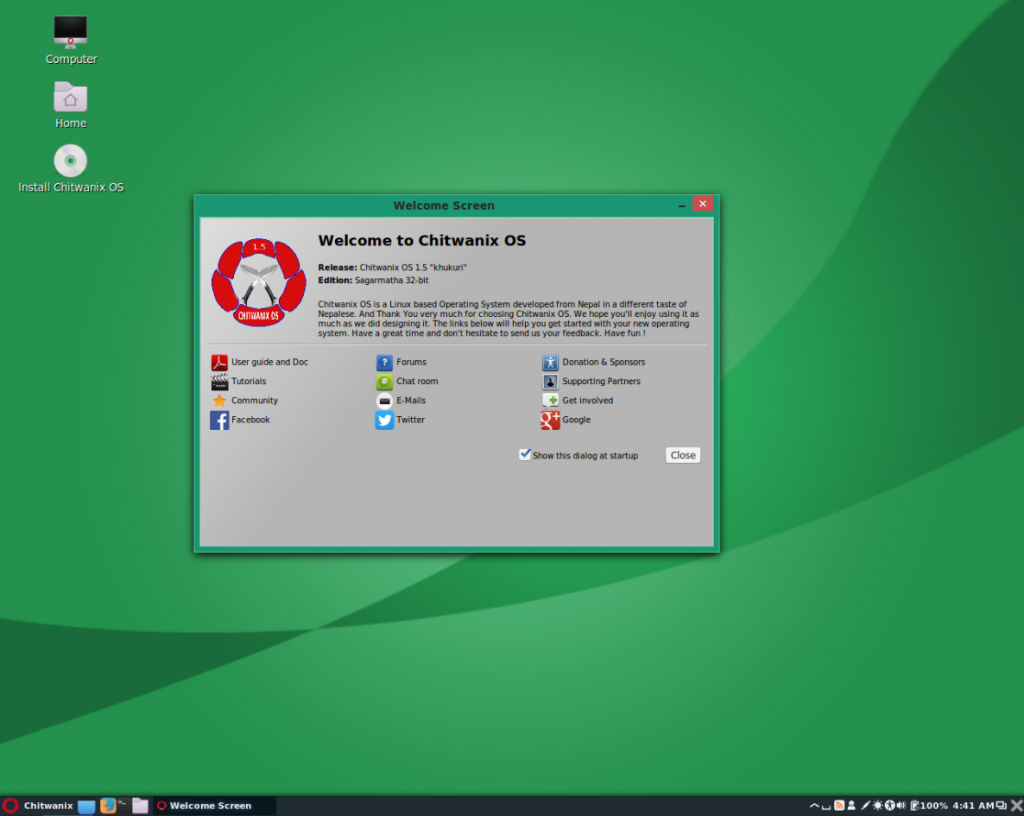 Chitwanix OS Available Versions
Chitwanix OS released its first version with code name Kadey Vyakur (Spiny Babbler) on September 21st, 2013 on the occasion of Software Freedom Day Celebration by the FOSS Nepal Community from Kathmandu, Nepal. Its second version locally named Khukuri was released on the 12th of August 2014.
According to official reports available online, the main aim for developing this OS has been to serve with Nepalese computing feel and taste. It also helps to promote, create, share and collaborate culture. Not only does it have a pool of Nepali developers' applications but also a pool of Localized applications. Chitwanix OS names convention is based on Nepal recognizing objects, places, animals, person's name starting with Nepali Letters Ka (क) Kha(ख) Ga(ग) variation with respective version.
To sum up, Chitwanix OS is designed for new and experienced users alike, but it's geared towards the Nepali Linux community. It includes lots of free software, which can be used as alternatives to popular apps found in Microsoft Windows or Mac OS X operating systems.