Cellcom Private Limited- CellPay has brought a new offer in collaboration with Himalayan Bank Limited titled "HBL को अकाउन्ट लिंक गरौं Galaxy A52 जित्ने मौका पाऔँ" for all the HBL customers.

About the Campaign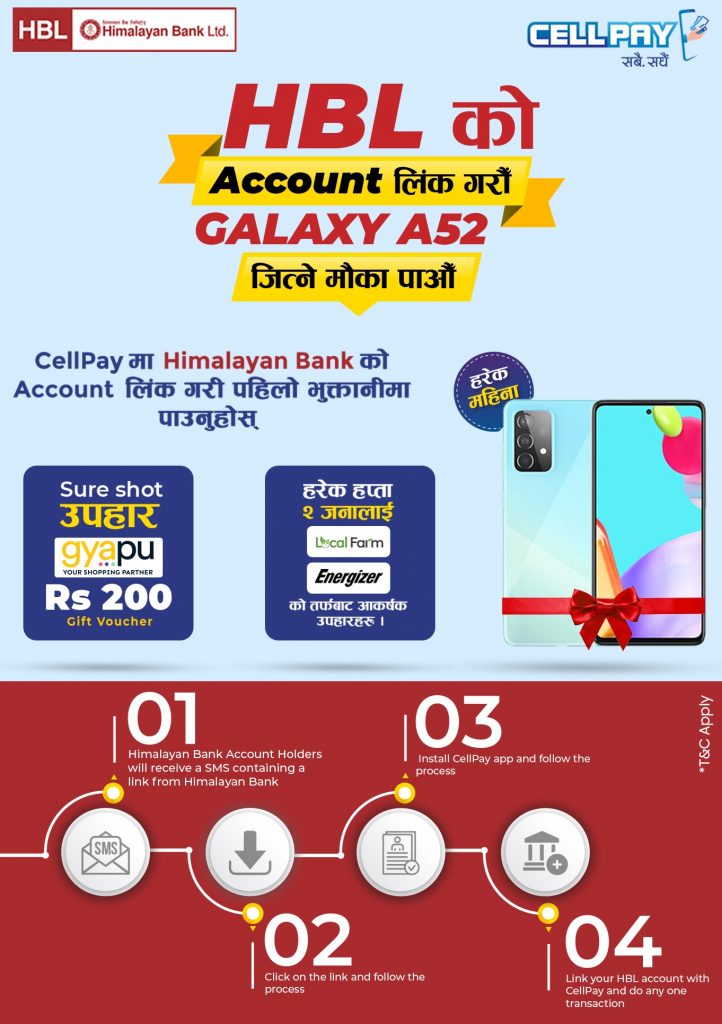 Customers of HBL will receive an SMS with a link from the bank as part of the CellPay Offer. Customers can create their profile by clicking the link and uploading their picture along with required documents. Again the customers will receive an SMS with a link to download the CellPay app with their CellPay user credentials once their profile has been created.
To participate in the Campaign, Customers need to Sign in and link their Himalayan bank's account in CellPay followed by at least one transaction from the CellPay app & win a sure-shot gift voucher worth NPR. 200 from Gyapu Market Place while every week 2 lucky customers will get a chance to win exciting gifts from Local farm & Energizer & every month 1 lucky customer will get a chance to win the bumper prize of Galaxy A52. The Offer starts from 10th May 2021 until further notice.
Steps to Participate
Step 1: Himalayan Bank Account Holders will receive an SMS containing a link from Himalayan Bank
Step 2: Click on the link and follow the process
Step 3: Install the CellPay app and follow the process
Step 4: Link your HBL account with CellPay and do any one transaction.
Note: Customers who have not received SMS yet can also install the CellPay app directly from Playstore/Appstore, sign up, and follow the process.
About CellPay
CellPay is an NRB licensed payment service. It is Nepal's first mobile payment system which doesn't require a wallet and operates through a website and application. All you need is a bank account; then you are all set to use this payment app for real-time transactions.
Don't Miss