Banks are now offering free transaction as the risk of infection with the Corona Virus (nCOV-19) increases using different rupee notes. To decrease the risk of spreading the virus through the medium of banknotes, the transaction fee for different transactions are free of charge as of now.
Banks have emphasized on the online transactions to reduce the number of people in the bank's different branches. For this, they have decided to reduce the charges on both mobile banking and internet banking.
Also Read: Best Digital Wallets in Nepal
Also, we can send the money to 50+ banks from eSewa and 40+ banks from Khalti according to them. The fee of 'Connect IPS' service provided by Nepal Clearing House will also not be charged.
Banks have requested that the customer, who has previously forgotten the password for internet and mobile banking services or for any other technical problem, can now be asked and resolved by telephone too. On Friday, Nepal Bankers Association, Development Bankers Association Nepal and Nepal Financial Institutions Association issued a joint statement. They have also requested not to go to the bank branch except in very urgent cases.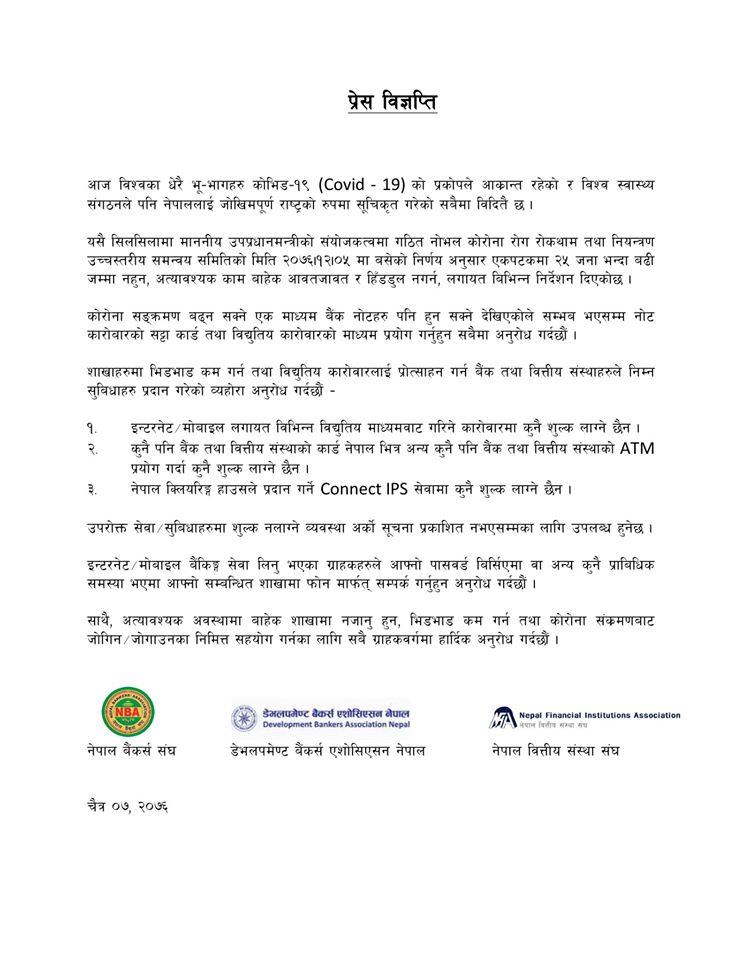 Bankers have called for reducing cash transactions as soon as possible, stating that there is a risk of transmission of the virus very quickly and easily through banknotes. However, the World Health Organization had issued a statement ten days ago saying that the virus does not increase through the medium of notes.
The withdrawal of money from any bank's ATM is free of charge. Earlier, the use of one bank card in another bank was a provision for charges of Rs. 50 – Rs. 150 varying from bank policy. Now, the card of any of the commercial banks, development banks can be used in any bank's ATM booth free of charge.