With the outrage of COVID-19 and almost everything slowly coming to a shutdown we have been seeing growth in the Work from Home movement. Offices have started shutting down with employees now being made to work from home as a preventive measure to fight against the spread of the Coronavirus. It can be tough for companies as well as employees who aren't used to working from home to cope with this sudden transition from an office environment.

Therefore, keeping all of this in mind, we've come up with some tools which might benefit you while work from home.
Slack
Slack is an instant messaging platform that allows live communication among team members so that they can effectively collaborate with each other even while working from home. The users can also share files among them such as PDFs, images, videos, and other common file types. Also, there are options for voice and video calls among team members. The team members can choose to show their status as available or working on individual tasks as per requirement.
Also Read: Tips for Working from Home
Another cool thing about it is that you can screen share with your team members for increased efficiency and productivity. This helps you show your work to other team members in real-time and receive feedback and help as needed.
Zoom
Zoom is a video conferencing and communication tool for businesses which is of great help to team members who work from different places. They can easily run Video meetings, Video Calls, and Webinars through Zoom. It creates a collaborative network for teams which allows them to have an office like atmosphere from their homes. Besides this Zoom also allows users to send messages and share files among team members.
Spark
When you're working from home you've got to deal with a lot of emails and Spark is just the right tool which will help you manage your emails so that you will always be in the loop while avoiding the nuisance of unnecessary emails. Spark will automatically collect and categorize your emails from every account. Also, it helps you priorities the emails and filters the ones which you don't require.
There are various options that make Spark really helpful when it comes to managing emails. Smart inbox cleans up your inbox, helps you find any email with "Smart Search" and snooze unnecessary emails. Smart Notifications enable you to receive notifications of important emails only. You can assign emails to team members so that the right person is looking after the right task. You can schedule emails to send them later and also you can set reminders to follow up on important emails.
Trello
Trello is a collaborative work management tool that organizes your projects into boards. It helps you keep track of what's being worked on, who's working on it and the progress of the work. You can also jot down to-do lists for your team members. It makes the overall flow of information among team members smooth to ensure that everyone from the team is updated with what is going on.
Toggl
While working from home you want to know how effective you're being at your tasks and how you can boost your efficiency. Toggl helps you do just that by keeping a track of how much time you're spending on tasks and how profitable it is. It provides you with Toggl reports showing you data of the time you're spending working on various tasks with how much you're making out of it. It also alerts you if you're taking rather a longer period to complete some tasks. You can use it for project planning as well by comparing the time taken for individual and group tasks.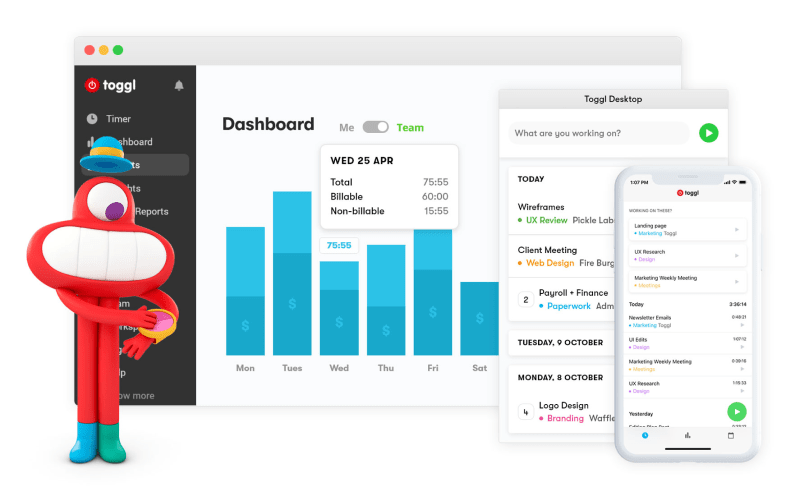 Noisli
Keeping your focus can be a major problem for people who aren't familiar with working from home. You may easily get distracted and slack off which may lead to major downfalls in your productivity. Noisli aims to help you get rid of these distractions so that you can keep your focus on your work. You can create your own personal ambient sounds which keep you relaxed and focused with the help of Noisli. This also cuts off disturbing background sounds to make you feel peaceful.