Nepal is certainly moving towards a new world with a digital revolution. With dozens of online shopping platforms already flourished (i.e., Daraz, , Sastodeal, SmartDoko, etc.) we have a new player in the market and that is Askmepasal. Without any delay let's check out what this eCommerce platform has to serve us.
What sets Askmepasal apart?
Amidst the rush hours and busy lives, Askmepasal purposes to offer quality online shopping experience with just a few clicks. The company assures to deliver all the products in same day making it easier for customers during times of urgency. The only thing you need to do is place an order before 2PM which is now just a step away from reaching to your doorsteps. All your goodies will be delivered in a single package.
Available Product Categories
Groceries
Beverages
Chocolates
Ghee and cooking oil
Vegetables and fruits
Bakery items
Breakfast snacks and dry fruits
Salt, sugar and spice
Rice and flour
Lentils, pulses and beans
Frozen items
Organic goods
Cleaning
Hair and body
Baby care
Celebrations
Clothing: Women Fashion
Getting started with Askmepasal: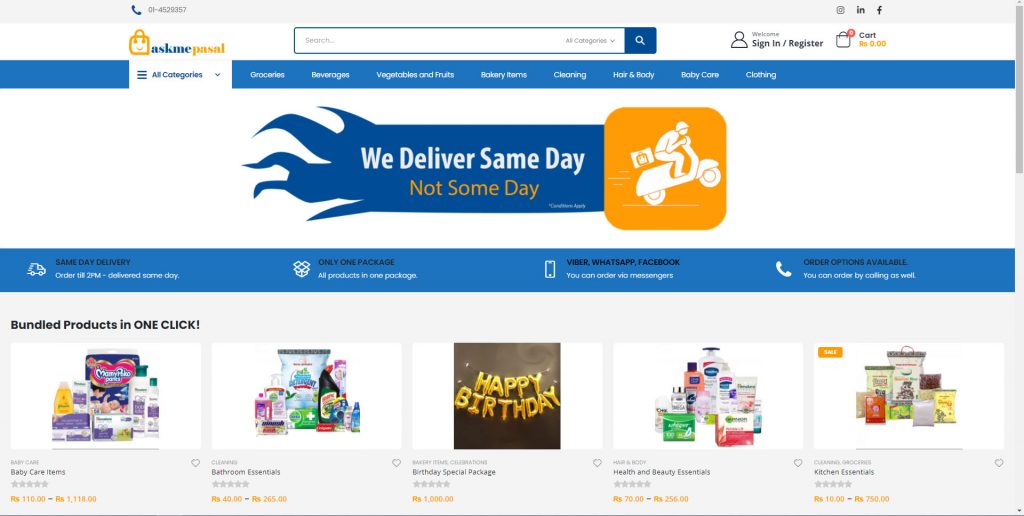 Visit Askmepasal's Website register your account with your full name, email address and password. While setting your password you need to make sure it is strong enough or else the website will ask you to set a new one. Voila! You can start shopping now and log out whenever you like. In order to login next time, you need to enter your email address and password.
Key Features
You can set the price range as per your preference by applying filter.
Considering users' feasibility, they offer multiple payment options including Cash on delivery, fonepay, and eSewa.
All the products can be rated out of 5 stars as well as reviewed by the customers.
While shopping you can add multiple items to your cart and proceed to checkout with all the products together.
You can place an order via Facebook, Viber, WhatsApp, Phone call, and of course the website itself.
For every item, an image is provided along with its information.
After selecting a category, let's say grocery for instance you can sort by default, popularity, average rating, latest, price: low to high, and price: high to low.
You can also add a product to your Wishlist.
Also Read || Pre Bookings for DTEN Open Now in Nepal: All in One Video Conferencing System
Conclusion:
With several e-commerce platforms already dominating the market will Askmepasal be able to make its way on top? Well, I think initially the company can attract customers by providing exciting offers and discounts. Speaking of offers, currently, they have 25% off going on women's apparel collection. They have bundle products offer as well on health and beauty essentials, baby care items, bathroom essentials. Furthermore, a sale is going on for kitchen essentials. However, a satisfied customer is a key to success. If the company can ensure honesty, loyalty, and consistency to their valued customers I guess that should be good enough for Askmepasal to make its way on the market.