 ICT Award 2022 concluded among more than 1,000 attendees at The Soaltee, Kathmandu on the 23rd of December, 2022.
14 awards were distributed to people/products/organizations in various categories on this day including the South Asia Startup ICT Award.
The award was distributed among the participation of huge IT enthusiasts, policy leaders, IT professionals, corporate leaders, and participants.
The ICT Award program organized by Living with ICT every year is known as the largest and most prestigious award program in the field of information and communication technology.

The Award was associated with many institutions and companies like InfoDevelopers, Nepal Telecom, Genese, Huawei, SCT, Ncell, Smart QR, IME Pay, Daraz, NIC Asia bank, Microsoft, Dishhome Fibernet, Presidential College, IME General Insurance, Broadway Infosys, Veda, Fuse machines, Silver lining, Worldlink.
Similarly, the government entities like Kathmandu Metropolitan City, Ministry of Communication and Information Technology, National Centre for Information Technology, NTA, NAST, FNCCI, etc also supported the event.
After 150+ preparation days through numerous rounds of pitching, mentoring, and selection processes among 550+ online nominations by 12+ jury members, this award has finally come to an end with the following winners in three main categories:
Category A: Award Distribution to Product
This award is presented to the products developed by companies that deploy Information Technology (IT) for solving problems in the market. Among more than 40 nominations, the winners in this category are:
Likewise, the Public Choice ICT Award has been received by BIC Technology (Tigg).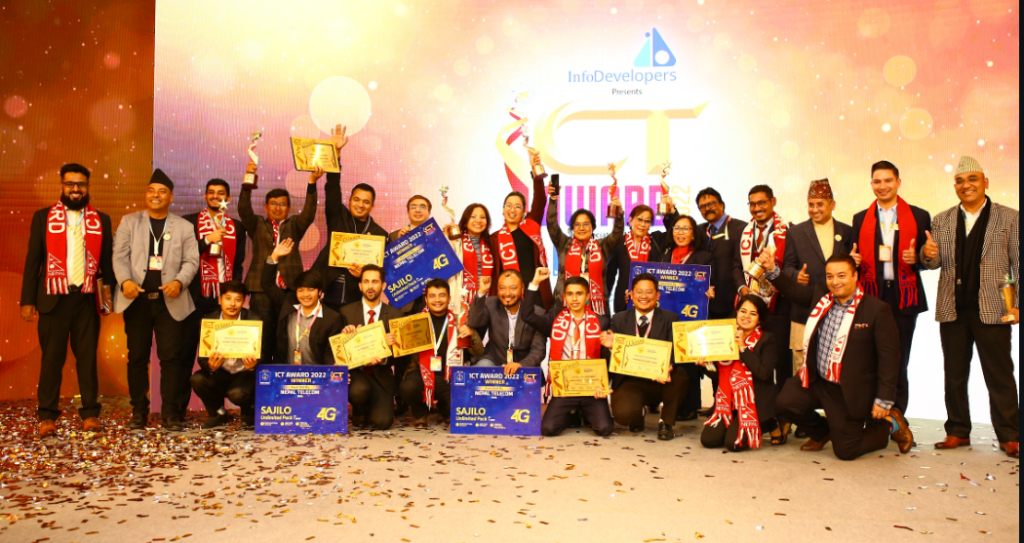 Category B: Award Distribution to Organization/ Company
Digital Education (Private Sector) ICT Award 2022- Gyanodaya Bal Batika School
Digital Education (Public Sector) ICT Award 2022- Gyanodaya Secondary School
Digital Services ICT Award 2022- FonePay
Digital Governance ICT Award 2022- Department of Foreign Employment
Category C: Award Distribution to People
Nepali Diaspora ICT Award 2022- Dr. Ved Kafle
Entrepreneur ICT Award 2022- Mangesh Lal Shrestha
Nepal Telecom Pioneer ICT Award 2022 – Bijay Krishna Shrestha
Ncell Woman Icon ICT Award 2022- Sheela Kansakar Karki
Seven Province-level winners were also felicitated at the event
During the ICT Awards 2022, the organizers organized Startup and idea fests in all seven provinces and honored the best 7 startups of the province in the grand finale program of the award. According to this, Cura Health from Province 1, Ezze Eats from Madhesh Province, Knowledge Exchange from Bagmati Province, Swastik Nutri Food from Gandaki Province, Farid Dotcom (M. Security) from Lumbini Province, Surkhet Soft from Karnali Province and Pathibhara Sensor Solution Industry from Sudurpaschim Province has been honored as the best startups of the province.
This year, South Asia Startup ICT Award 2022 was organized for the first time targeting South Asian countries. Tech 4 billion Company from Banglore, India has received the award in this category for its product- Chingari. The best 5 startups from 5 different countries came to Nepal to participate in this award.
A 9-Grader student won the Jury Mention ICT Awards 2022 with his Python-based personal voice assistant JARVIS
Among all the participants in the competition, the jury found a 9-grader student – Dikshyant Pandey, who amazed everyone with his personal voice assistant named JARVIS.
He made it using Python programming language. As his project page reveals, he has used Visual Studio Code to edit the code.
JARVIS is developed to perform certain tasks like:
Sending emails
Google search
Show Covid-19 update
Open any app
Play music
Do Wikipedia searches
Weather forecast
Play the video on Youtube
Have basic conversation
You can dig down to his project page through this link https://www.dikshantpandey.com.np/project-page.
At this very young age, Dikshyant has self-learned many courses on various programming languages, Google certification courses, and web design and development courses.
ICT Awards 2022 has felicitated him as an encouragement to his endeavor in this age. Also, it could be a matter of inspiration for those who are looking forward to pursuing a career in information and technology.
Also Read: inDrive registering as a legal entity in Nepal