There has been the rise of vulgar and 18+ group chats in Nepal after Nepal government decided to banned access to any porn site on the internet. Nepal's government decided to ban this pornography in October 2018 after the inhumane rape case of 13-year-old girl Nirmala Panta in Kanchanpur Nepal. Some people have used this opportunity in a such way that we can not even imagine.
Today in this article we are going to talk about it. Nepal banned these kind of site to reduce the violence against women but reports suggest something different. Even after the ban, cases filed in such activities have shown no sign to decrease. According to the report of similarweb.com, Nepalese people used to visit porn websites more regularly than the available news portal sites.
So, you can see the tendency of people to view such content as more than news and other things. And some people have understood this and have found the market for their product with a lot of audiences. A market where you do not need to promote because people are searching for this by themselves. Social media applications like Imo, Viber, Twitter, WhatsApp, clubhouse, and Facebook are some of the popular applications where you will find 18+ and pornography group chats.
Let me give you a walkthrough of some of the groups from the popular messaging app named imo. imo is one of the popular messaging apps where people can connect with each other and have a fun conversation but you would not even believe what is going on in these group chats. The name of the group will itself make you go bunkers.
Here are some of the screenshots of such groups.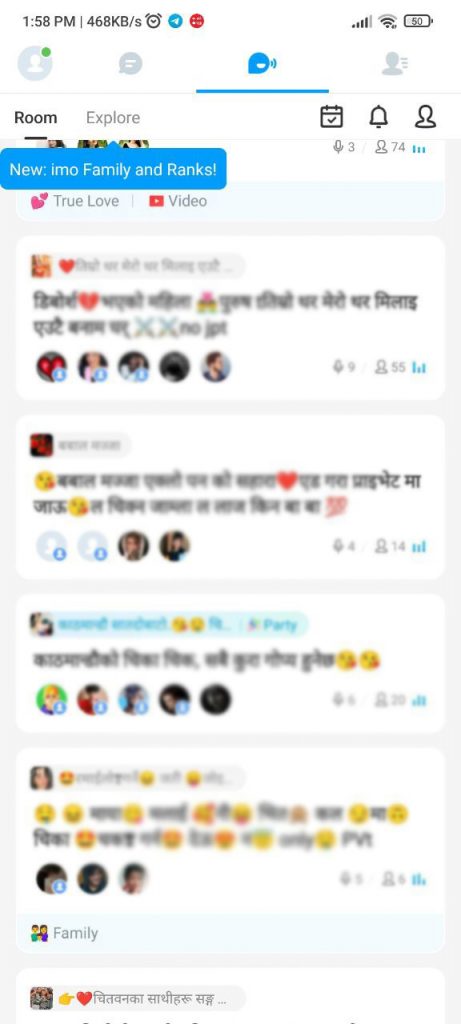 Aren't these 18+ groups chats promoting pornography?
It is a serious question that should be asked. These are just the glimpses of these kinds of activities, if we deep down into this topic, it will not even make sense. People have access to these kinds of groups and the number of these groups does not seem to stop at any point soon.
The government of Nepal banned the most popular websites and thought that it would decrease sexual violence. But this has to lead to the new problem of 18+ group chats all over the messaging applications. While you knew the exact population that was searching for such a website but we can not even have the exact number. People have found their resources to fulfill their sexual needs. Another problematic thing is that children who are below the age of 18 also have access to these types of groups.
Government must look after it because you can not hope people stop going to such groups and satisfy their guilty pleasures. The talks inside the groups are such toxic and vulgar that you won't even want to stay there for a second if you are not into such things but for people that enjoy such kinds of stuff, it is heaven for them.
This kind of group has become a medium for customers and sexual activity dealers. It has made it easier for dealers to find customers and vice-versa. It has lessened the barrier to finding customers.
If pornography increases the sexual violence in society then these are not any different from them. Government should take strict action against these kinds of groups. Banning won't be the only action against these kinds of groups but the government should make an environment where people could get sex education.
What Should Government of Nepal Do Next?
Banning porn websites have not done any good and this has helped such kind of sexual and vulgar group chats to flourish even more. The major risk of this strategy is that it will force an increasing number of children and teenagers to discover the dark webs and such heinous groups which contain heinous stuff like child pornography and live human skinning. Rather than striving to strengthen peace and order and provide better sex education, the government picked the simplest and most unworkable solution to the social issues it faced. Therefore, it is still undecided whether banning these sites or applications that promote 18+ group chats will give us the desired control over things.
Also Read: Nepalese Lost Rs 50 Crore in Minimum on Investment Schemes; Next Might Be You