As of now, there are three million people with an eSewa account and an even higher number of ten million who use the services of eSewa in some form. eSewa, the first digital payment service provider, established with the notion to create an entirely cashless economy, has reached its eleventh milestone of success. Providing an amazing service, that allows users to make financial transfer and payment digitally, eSewa has been successful to contribute to the government's campaign to create the cashless economy whole countrywide. This here is the tale of their success.
Released in 2009 AD, the beta version of eSewa was everything but a huge company that it is now. It started its service on 25th January 2010. The beginning was no picnic for them, the struggles were real. The NTC had no signs of the electronic recharge, and to make things even harder, the recharge cards weren't as ubiquitous as they are these days. eSewa used to buy the recharge cards, scratch them and store it in their system to sell the recharge. The system was only available on the web and they had to hire dozens of employees just to scratch the card and store the pins. It was a challenging and tedious job for them until NTC finally introduced the electronic recharge system. But now with the advanced modern technology, real-time top-up, and instant bill payment is possible through eSewa.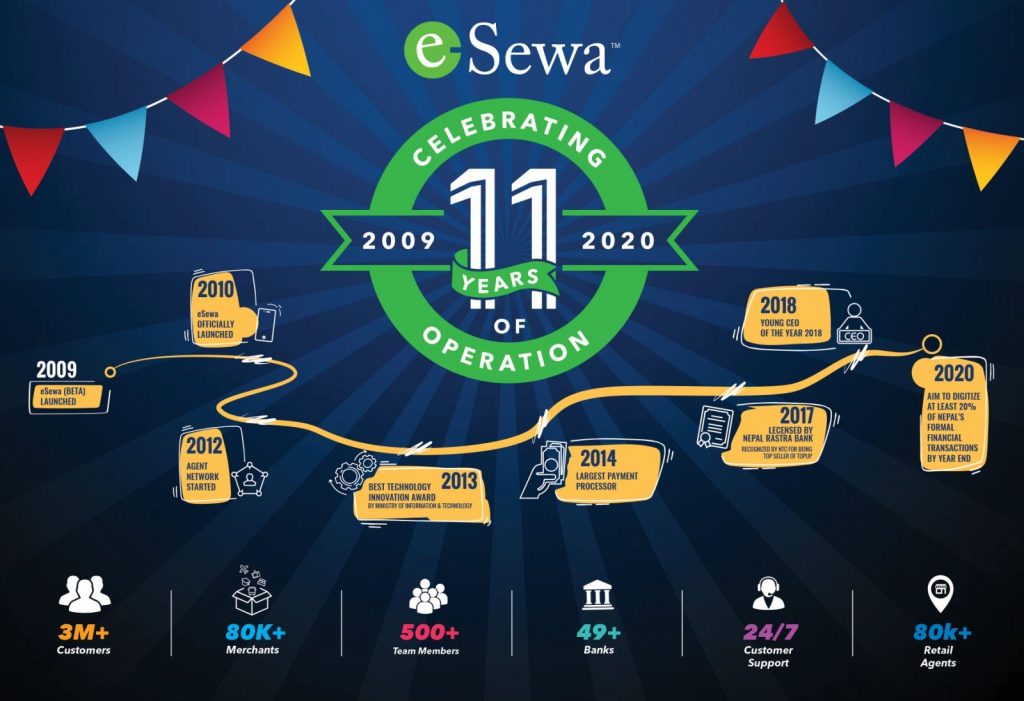 Before 2010, when eSewa officially started its service, it used to be a product of F1soft. But since 2012, with its logo, changed from blue color to green color, eSewa has been continuously providing an excellent service to their customers as an autonomous company. After 2013, when eSewa implemented an agent-based model, the number of agents and customers reached five thousand and a hundred thousand by 2014, in such order. Today the number of merchants in eSewa is roughly eighty thousand.
With the new policy of NRB to regulate the transaction services, eSewa had made an application requesting the authorization to NRB in 2016. It received a license from Nepal Rastra Bank in 2017.
The company has also kept up with its social and moral obligations. With an insight to make schools digital, eSewa has distributed computers around the number of 500. Along with that, it has developed a digital library and has distributed countless numbers of advanced educational software.
Also Read: Best Digital Wallets in Nepal
A company established upon the insights of three young boys, F1soft has a dozen more companies alongside eSewa currently in service. This group has provided employment to thousands of able manpower here in Nepal. It's truly wonderful how a small dream of establishing a cashless economy has come this far. With a successful decade of development of their own company and of digital Nepal, eSewa plans to take the services to every corner of the country. A company that's simplified the transaction in almost every sector, saving precious time of countless people truly deserves an appreciation. Happy anniversary eSewa. Good luck with the rest of the endeavors. Digital Nepal…