After being cancelled two times due to the COVID-19 pandemic, WordCamp Kathmandu 2022 is finally happening. The event is gearing up to be held on the 3rd and 4th of September. The WordCamp Kathmandu 2022 is a two-day event where members from the global WordPress community will be meeting to share their experiences of using WordPress. The event is going to be held at Alice Reception, Garidhara, Kathmandu. TechSathi will be one of the media partners for WordCamp Kathmandu 2022.
During the two days of the WordCamp, the first day is dedicated to the official 'WordCamp Event' while the second day is reserved for Contributors, known as 'Contributors Day'. Contributor Day is a particular day set aside for supporting WordPress. Collaborate with both new and current contributors, make new friends, and discover the various ways you can participate in the project. Contributor Day is open to everybody. WordCamp Kathmandu welcomes and requires people with all backgrounds and degrees of expertise.
WordCamp Kathmandu 2022 is also providing scholarships in honour of the late Ujwal Thapa for his contributions to the WordPress community.
About WordCamp
WordCamp is a yearly held conference, which is locally organized that cover every aspect of WordPress. It brings together members of the global WordPress community in a public setting, giving them the chance to meet up in a fresh setting to exchange knowledge and experiences, conduct business, form relationships, and discuss WordPress. WordPress co-founder Matt Mullenweg held the first WordCamp Event in San Francisco in 2006, since then, regional communities have organized their own WordCamps. Every year, the number of WordCamps has been continuously rising.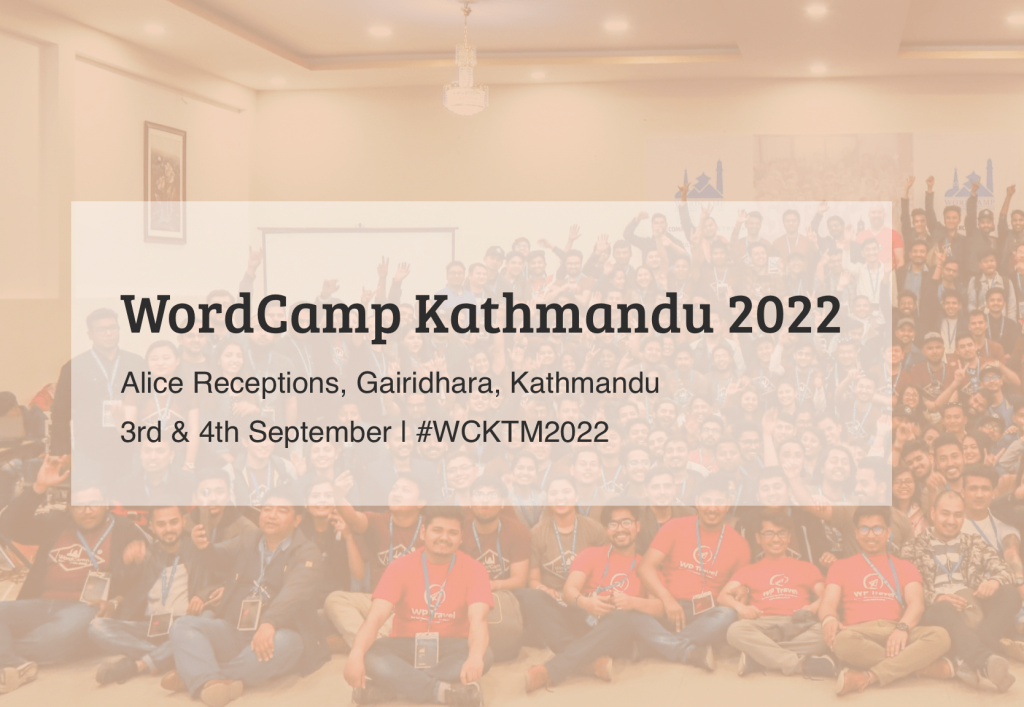 About Ujwal Thapa Scholarship
As a homage to the contributions of the late Ujwal Thapa to the WordPress Community, WordCamp Kathmandu 2022 is launching the Ujwal Thapa scholarship. There may be fewer of us who are unaware of what he accomplished for Nepal's society and the WordPress community at large. He co-founded the organization WordPress Nepal with Chandra Maharzan and Sakin Shrestha, among many other things. Since then, this organization has expanded tremendously and now numbers more than 8200 members.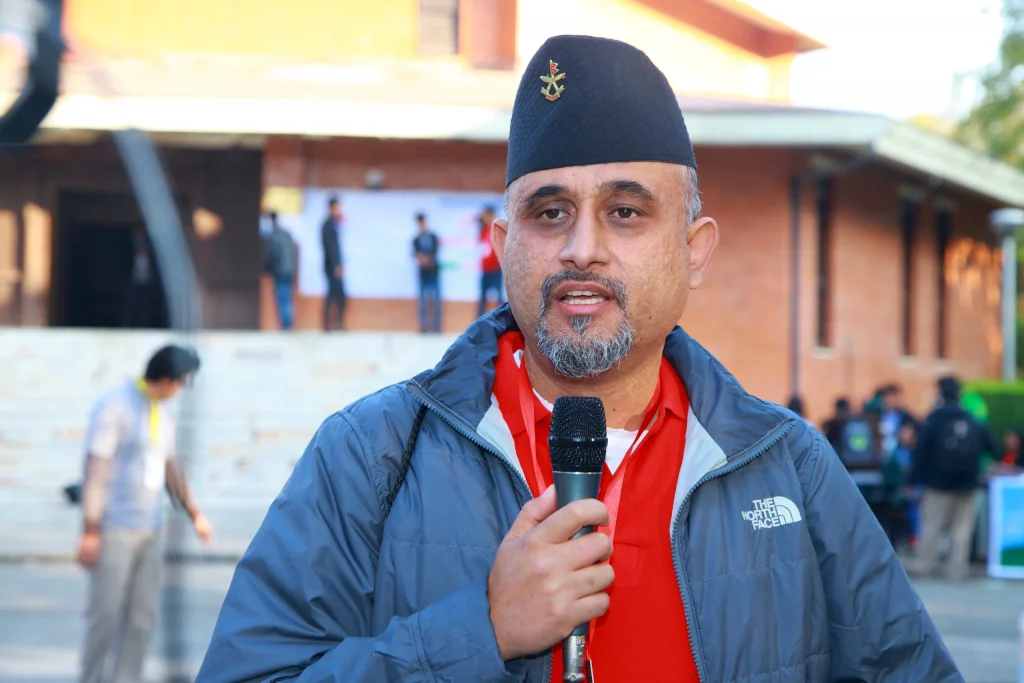 In honour of his achievements and memory, WordCamp Kathmandu has decided to award 5 tickets as a scholarship for this event. These are his full tickets for the two-day event. These tickets will be given to people who wish to attend the event but cannot pay for it.

For those outside Kathmandu Valley, WordCamp Kathmandu is offering 3 scholarships and for those within the valley, there are 2 scholarship offers.
If you or your friends, colleagues or anyone in your circle wishes to attend the event, then fill out the form below.
Details About WordCamp Kathmandu 2022
The event will take place on the 3rd and 4th of September (Saturday and Sunday).
The event will be held at Alice Reception, Garidhara, Kathmandu.
Various professionals will be covering and speaking on different topics.
In order to attend this event, a fee of NPR. 2000 (USD 20) has to be paid. However, interested individuals who cannot afford to pay can make use of the Ujjwal Thapa Scholarship.
The Tickets can be purchased by using either Khalti or FonePay. If making a payment through FonePay it is mandatory to fill out this google form: https://forms.gle/CnLBmhqcMt3ke7z38
Topics to be Covered During the Meetup
WordPress Deployment with CI/CD by Aayush Shrestha, a senior WordPress developer working in the Nepalese IT sector
Why should you hire mothers back into the workforce? by Alina Kakshapati, Product Manager at Code Themes.
Vertical Rhythm; Efficiency in WordPress Theme Layout by Ashish Rai, a Creative Designer currently working at Catch Themes
Introducing WordPress Full Site Editing & Developing a Block Theme (A Workshop) by Bishnu Sunar, team lead at AF Themes.
Making money from WordPress as a Student Developer by Bishwas Thapa, a Student Developer Working as a WordPress developer for the past 3 years.
Importance of Community and Contribution – Panel Discussion by Devin Maeztri who uses WordPress to promote the welfare of street cats in Jakarta, called Catrescue.id.
Contributing to Make WordPress by Hasanuzzaman, currently, leading the WordPress Company in Bangladesh and is also an active contributor to WordPress.org on bbPress, BuddyPress, Pattern, Photo, Plugin Development, Polyglots, Openverse, and the WordPress-Core.
Accelerate Your Migration Process with WP CLI by Lax Mariappan, currently working as a backend engineer at WebDevStudios.
Your next website in WordPress by Laxman Bhattarai, a Web Designer, Developer & and entrepreneur based in Nepal.
Scale Up Your Local Business With SEO & WordPress by Raju Khadka the Founder of RankMeTop SEO Agency
Introducing WordPress Full Site Editing & Developing a Block Theme (A Workshop) by Rohit Maharjan, currently working as a Sr. Front End Developer at AF Themes.
Social Media Marketing for WordPress Businesses by Roja Shrestha, an aspiring digital marketer.
The Secret Life of Fonts by Saif Hassan, the Lead Product Manager at weDevs.
Thinking the React Way for WordPress Developers by Sakar U Khatiwada, the Senior Web Developer at Proshore.
Creating WooCommerce Addons by Saloni Mehta, WordPress Engineer at Matat Technology.
Harnessing the power of GraphQL in WordPress by Sandip Basnet, a passionate software developer.
How to create custom Gutenberg Blocks in WordPress?(Workshop) by Santosh Kunwar, Founder of Acme Themes and co-founder of Acme Information Technology.
Introducing WordPress Full Site Editing & Developing a Block Theme (A Workshop) by Shiva Shanker Bhatta, the Founder/CEO of AF Themes.
How the Pandemic Has Influenced to Change the Content Writing Trends in 2022 by Subhasis Chatterjee a Content Analyst and Strategist.
Mastering Developer Tools by Surendra Shrestha, a Full Stack Designer.
Importance of Community and Contribution – Panel Discussion by Suvash Khadka, Coordinator of WordPress Nepal Community.
Social Media Marketing for WordPress Businesses by Vineet Rauniyar, an experienced digital marketer.
Importance of Community and Contribution – Panel Discussion by Yam B Chettri, Co-founder at Web Experts Nepal.
Code of Conduct
In hopes to have a smooth session, WordCamp Kathmandu has released a code of conduct that everyone including the attendees, speakers, sponsors, partners and volunteers must follow.
Be considerate, respectful, and collaborative.
Refrain from demeaning, discriminatory or harassing behaviour and speech.
Be mindful of your surroundings and of your fellow participants. Alert conference organizers if you notice a dangerous situation or someone in distress.
Participate in an authentic and active way. In doing so, you help to create WordCamp Kathmandu and make it your own.
Intimidating, harassing, abusive, discriminatory, derogatory or demeaning conduct by any attendees of WordCamp Kathmandu and related events is UNACCEPTABLE.
Offensive verbal comments related to gender, sexual orientation, race, religion, disability; inappropriate use of nudity and/or sexual images in public spaces (including presentation slides); deliberate intimidation, stalking or following; harassing photography or recording; sustained disruption of talks or other events; inappropriate physical contact, and unwelcome sexual attention is completely prohibited.
Note: If you are subject to any unacceptable behaviour or notice that someone else is being subjected to such unacceptable behaviour, or have any other concerns, please feel free to notify the conference organizer as soon as possible.
For Any Queries or Help
Contact the WordCamp Kathmandu 2022 Organizing Team using the link https://kathmandu.wordcamp.org/2022/contact/.
In case of assistance is needed during the event, you can contact any organizers wearing a "CREW" T-shirt.