 Is your non-profit organization in need of a professional website to expand your reach and amplify your mission? Look no further! We invite all non-profit organizations in Kathmandu and the surrounding areas to submit a form and be considered for a free website created by a team of talented volunteers at the do_action event.
WordCamp Kathmandu is thrilled to announce the do_action event, a unique opportunity for a non-profit organization to receive a free website tailored to their needs. This event will take place on the main day of the WordCamp Kathmandu, on September 9th, and we can't wait to empower non-profits with an impactful online presence.
Table of Contents
Why Participate?
A website is an essential tool for any non-profit organization to connect with supporters, share your story, and effectively engage with your community. By participating in the do_action event, you will have the opportunity to:
Receive a Custom Website: Our skilled volunteers will work closely with your non-profit to build a unique and functional website tailored to your specific needs, goals, and branding.
Enhance Online Presence: An engaging website can help you reach a wider audience, raise awareness about your cause, and attract potential donors, volunteers, and partners.
Professional Guidance: Our team of WordPress experts will guide you through the process, offering valuable insights and advice to optimize your website's impact.
Networking Opportunities: Connect with like-minded non-profit organizations, volunteers, and WordPress professionals in Kathmandu's vibrant WordPress community.
You will love to read: Hamro Patro India, A normal expansion Or Strategic Move?
Call for Proposal Submission Deadline
We would like to inform you about the important details concerning the proposal submission deadline for our upcoming event:
Deadline for Proposal Submission: July 25, 2023
The application deadline will expire at 11:59 PM UTC +5.45, corresponding to the NPT (Nepal Time) of the host city's time zone.
Please ensure that you submit your proposal before the stated deadline. We look forward to receiving your proposals!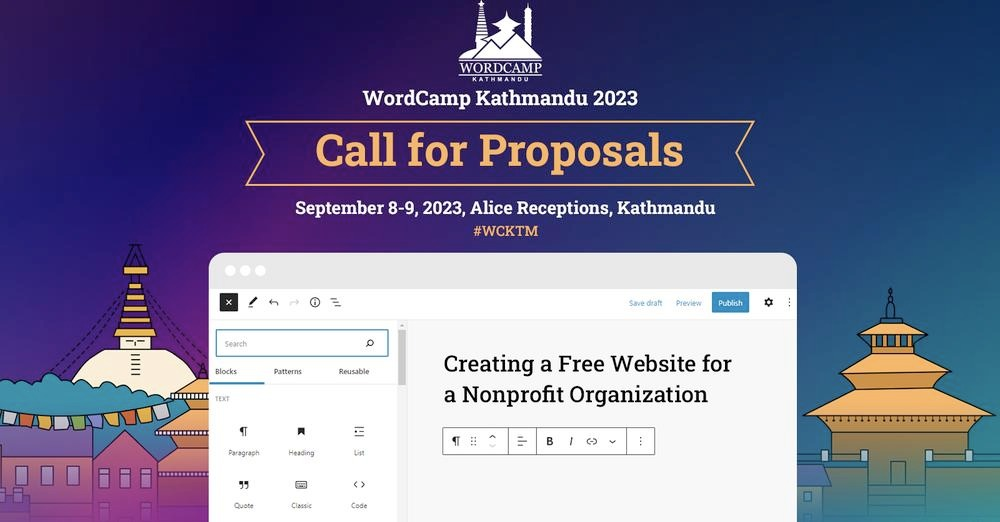 do_action Event Rules (as per WordPress website):
Eligibility: Non-profit organizations with a clear mission and a demonstrable impact on their community are eligible to apply.
Selection Process: Applications will be carefully reviewed, and a limited number of non-profits will be selected based on their mission, impact, and website needs.
Time Constraints: The do_action event aims to build websites in a maximum of two hours. Therefore, nonprofits are encouraged to provide all necessary content, images, and branding elements in a timely manner to ensure a smooth and successful website creation process.
Ongoing Support: The do_action event focuses on building the website during WordCamp Kathmandu 2023. However, after the event, non-profits will have access to their website and can maintain and update it independently.

How to Apply:
To be considered for a free website at the do_action event, please complete the submission form provided below. Provide detailed information about your nonprofit's mission, impact, and specific website requirements. We encourage you to submit your application as soon as possible, as spaces are limited.
Join us at WordCamp Kathmandu 2023, and let us help your non-profit organization make a lasting impact online. Together, we can create a stronger and more connected community!