Visa Direct has finally launched in Nepal as a game changer for the remittance industry. Through this service, banking customers can easily receive money sent from more than 100 countries in the world such as America, the UK, Canada, Europe, Australia, United Arab Emirates, Qatar, and Saudi Arabia immediately in their account by simply providing their Visa card number.
The Visa Direct is Expected to Expand Remittance Industry in Nepal
NIC Asia bank has announced the launch of this service in Nepal. The amount can be deposited in the account linked to the Visa card directly. The recipients just need to provide their 16-digit Visa card number to their senders.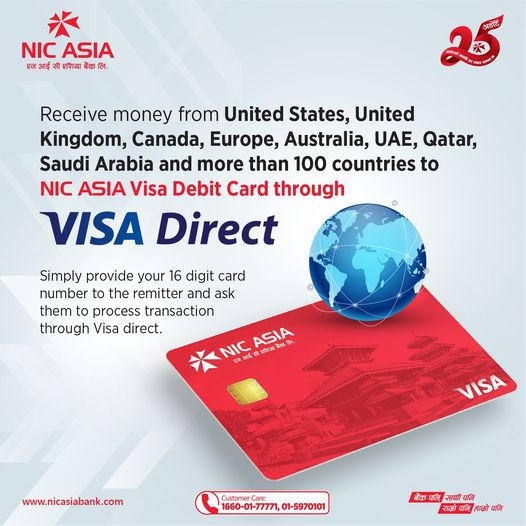 Foreign and domestic users who want to send money through Visa can use their mobile/internet banking or Visa card and remittance companies to send money directly to the linked account using the 16-digit VISA card number issued by this bank.
According to the Chief Information Officer of NIC Asia Bank Sudhir Nath Pandey,
"The customers of NIC Asia Bank can contact the bank's customer care center at 01-5970101 or 1660-01-77771 to activate their Visa card for Visa Direct service.
Similarly, Nabil Bank has also started this service from today (September 15, 2022), where the Visa card users from Nabil Bank can receive remittances from 180+countries around the globe with Nabil Visa Direct.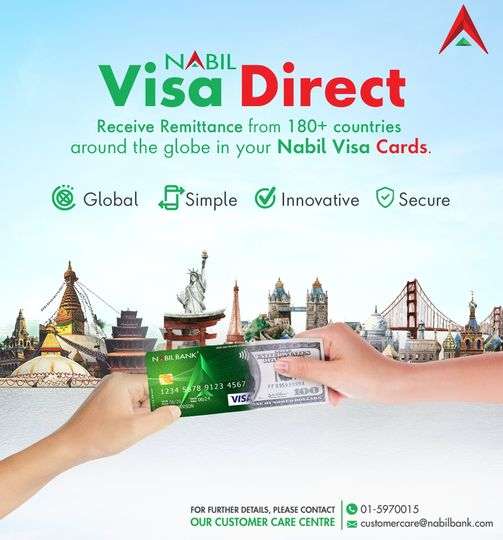 To apply for it or for further details, the customers of Nabil Bank can contact the Customer Care Center at 01-5970015 or send a mail at [email protected] to activate this service.
However, these banks were not the first ones to introduce Visa Direct services. It was already made available by Nepal Investment Bank Limited (NIBL) a few years ago. However, only a few users knew about this feature. Indeed, financial literacy was low among the banking customers since then in comparison to now.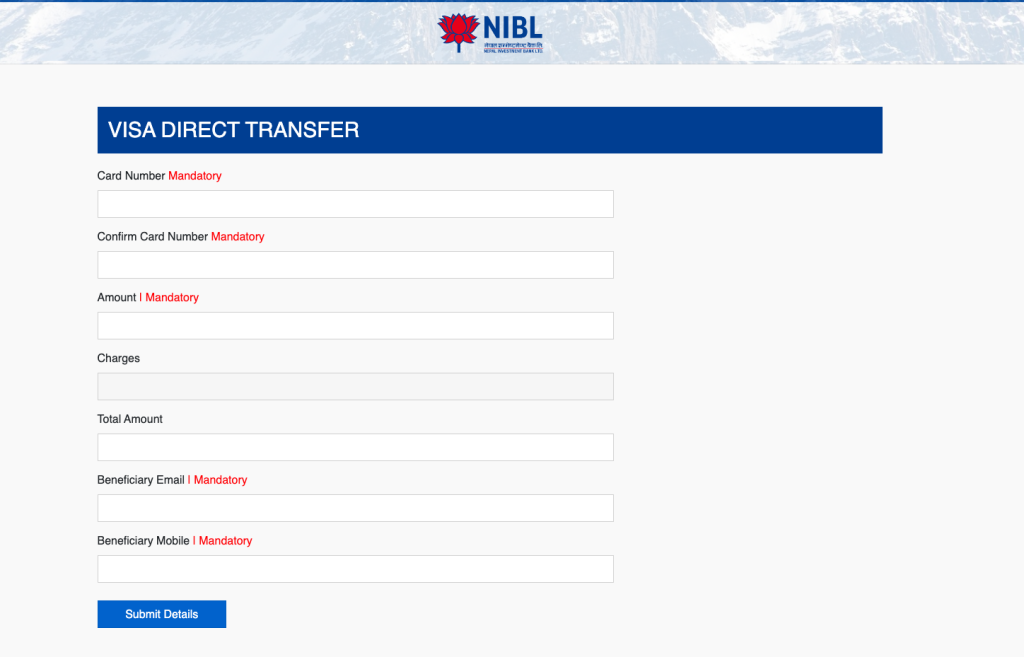 How does Visa Direct Work?
Visa Direct is a digital payment service developed by Visa Network. Visa is the global giant in the cards industry with more than 5 billion global transactions processed in 2021.
It has a strong network in more than 200+ countries around the world. It is a great savior for cross-border solutions where one can receive money immediately in the bank account across the Visa card network.
All of the banks in Nepal issue Visa cards and that is why it will be easier to implement and grow this service in Nepal. With the new feature Visa Direct, the banks can enable their customers to enjoy various digital payment facilities like:
Direct-to-card connection: Visa cardholders can leverage the global card networks of Visa and send money to any Visa cardholder (debit/credit/prepaid) around the world.
Direct-to-account connection: Also, Visa's network of partner banks allows cross-border delivery to the Visa cards linked with respective bank accounts.
As of now, this service is only available in Nepal for the purpose of receiving money through Visa cards. To send the money, one should use Prepaid Dollar Card issued by the bank. The Prepaid Dollar Card is also supported by Visa but it is only used to send money outside Nepal through the banking channel with an annual limit of $500.
About Visa
From being the market leader for debit/credit cards in the world for more than 64 years, Visa has now a huge network of 3 billion account holders, 61 million merchants, 15,500 financial institutions, and governments in more than 200 countries around the world.
To send money through Visa Direct to Nepal, the Nepali people living outside the country can send money directly by entering the 16-digit Visa card number of their recipients who are in Nepal. And then, that amount will be directly deposited into the Visa card number-linked bank account of the recipient.
Also Read: All About IME Pay Digital Dashain Tihar 2079 Offer; Get Loaded with Daily Prizes, Discount Vouchers, and Even Scooter in Bumper Prize