For the first time in Nepal, Standard Chartered Bank is accepting real time online fund transfer from all the commercial banks.
Standard Chartered Bank is now live in connectIPS so that You Can Now Transfer Money to Standard Chartered Bank using the connectIPS option in your own mobile banking app, connectIPS (App and Website).
This service is enabled by NCHL's National Payment Interface (NPI) system; which enables the users to make payments or transfer funds between the banks and financial institutions using payment options like connectIPS, mobile banking apps and other digital wallets. 
In the second phase, NPI services will be extended to SCBNL's channels, including its S2B and mobile banking, whereby its customers will be able to do outgoing transfers to other BFIs. In the later phase, SCBNL will allow its customers to link its bank account to connectIPS, such that outgoing payments could be done directly from connectIPS.
What value does it add now?
Standard Chartered Bank Nepal has been the market leader in credit card service where it provides reward points with comparatively attractive discount offers. However, the problem was in interbank fund transfer because SCB was not seen in most of the transfer options of mobile banking apps and digital wallets.
Hence most of the mobile banking apps lacked interoperability in terms of interbank transfers. However, connectIPS has solved this problem through its National Payment Interface System. Since SCB is now live in connectIPS, you can transfer to this bank from any commercial banks via connectIPS transfer option.
How to Transfer Money to Standard Chartered Bank from any other Bank Using:
1. Mobile Banking Apps
Login to your mobile banking app
On the home page, tap on "Payments"
Tap on "connectIPS"
Enter amount, beneficiary account number and name
Select Standard Chartered Bank Nepal in "Beneficiary Branch" option
Click on "Submit"
2. ConnectIPS
Sign in to your

connectIPS

On the Dashboard, click on "Bank Account" icon or select "Bank Account" in Transfer to option in the top left corner.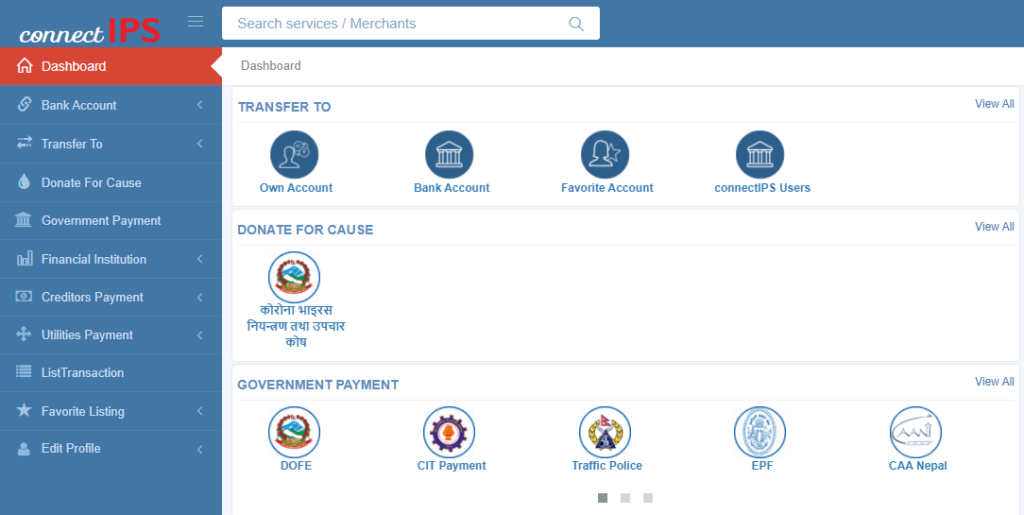 3. Enter account number, transaction amount, details, beneficiary's account details and select "Standard Chartered Bank" in the "Bank Name" option.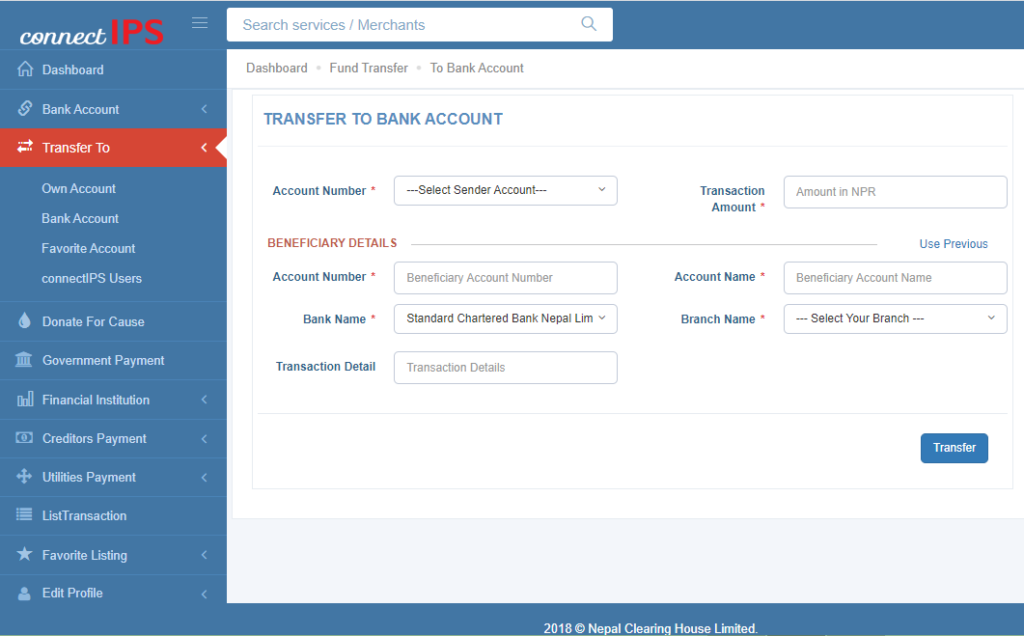 4. Click on transfer and then enter your 6 digit transaction password.
This would transfer the amount from your bank account to SCB through connectIPS.
3. Digital Wallets
Digital wallets like IME Pay, Khalti, Moru, Prabhu Pay Cell Pay have already started integrating NCHL's NPI for bank transfer.
Follow these simple steps to bank transfer into Standard Chartered Bank:
Log in to your digital wallet
Go to "Bank Transfer" option
Select "Standard Chartered Bank Nepal"
Proceed by entering the details of recipient's account and your fund would be transferred
About NPI
National Payments Interface (NPI) is the consolidated system of Application Programming Interfaces (APIs) of multiple payment systems hosted by NCHL or any other institutions built in an Open API platform concept. Its prime purpose is to consolidate multiple national payment systems into an open API platform such that the payment infrastructures could be used by any of the service providers.
For example, before NPI was introduced, bank transfer among all the banks was not possible till date. For instance, I have my bank account in Himalayan Bank Limited. I was unable to transfer the amount to Standard Chartered Bank since it was not supported by my mobile banking app. But now, with NPI-aided system, I can use the connectIPS option in my mobile banking app and transfer the fund to SCB easily.
It has been subscribed by the participating BFIs for enabling their alternate channels including their mobile banking, internet banking, corporate channels and remittance systems. Other non-bank institutions like payment service providers (PSPs), payment system operators (PSOs), remittance companies, insurance companies, Government and Semi-Government institutions are also some of the indirect/ technical members of NPI.
Also read: National Payments Interface: NCHL's API Banking Based Digital Payment for Corporate Sector
The BFIs are on-boarded as direct members and others as Indirect/Technical Members with direct members as its settlement banks.
Through this system, your payment or fund transfer from any of the banking accounts to another bank account will be directed via payment options like digital wallets, mobile banking or connectIPS. It would ease the users in transferring funds by introducing interoperability within the payment systems. And this initiation has an additional value in this lockdown since most of the banks are operating with limited services only and one can only deposit above NRs 50,000. In this case, isn't it easier to transfer the funds online to Standard Chartered Bank? Dear SCB Customers, are you happy with this news? Please drop your responses in the comment box.
Bonus Article: Running out of balance on your Digital Wallet? Here's How to Load From connectIPS