 This Friday (i.e. Today), July 2nd, from 6-8 P.M., the NxtGen Foundation and Kabaadii will present the second episode of their ongoing "The Happiness Talk Show". Mr. Himesh Panta and Mr. Aayush Shrestha, two amazing comedians, are performing at the online event. The purpose of the discussion show is to bring together a panel of individuals and ideas in order to simply inspire people to be cheerful and optimistic throughout this pandemic catastrophe.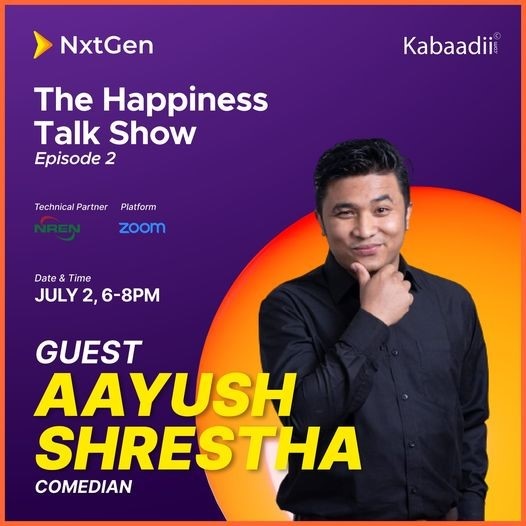 Mr. Aayush Shrestha is a stand-up comedian with a lot of skill. He was praised for his work on the YouTube show "Baaki Samachar", due to which he acquired a large following. He has already released books and projects in addition to comedy. Mr. Aayush Shrestha is not only a comedian, he's also a programmer, developer, and entrepreneur. At The Storytellers, he also performed as a stand-up comedian. His presentation was titled "If Everyone in Kathmandu Was a Newar".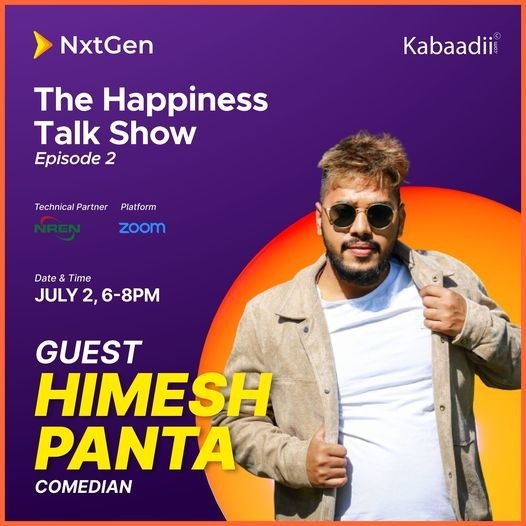 Mr. Himesh Panta is a comedian who is both skilled and content-based. He was the winner of the renowned show Comedy Champion Season 1. Panta is most recognized for his impersonations of Nepali politicians and his logical substance. His performance is adored and admired by Nepalese youngsters. He also gets involved with drama writing. He is a rising star in Nepal's stand-up comedy scene, and witnessing him perform at the event would be a thrilling experience.
Event Details
Date: July 2, 2021, Friday
Time: 6-8 P.M.
This team is getting ready to put on a hilarious episode to brighten your day. This Friday evening, the audience will have a difficult time staying still in their seats while attempting to keep their chuckles in check. The performer's comedic talents will undoubtedly fascinate the audience. So, it's time to get ready for a new round of hilarious antics. Are you ready for "The Happiness Talk Show"?