NMB comes to a glorious recognition as it receives "The Bank of The Year 2020" award by The Banker, Financial Times, London. This is it's third win in past four years. NMB received its first ever Bank of The Year award in 2017. Likewise, it successfully won the same award in 2018 as well. So, the bank consequently won the award for twice in a row. And after this year's victory, NMB ultimately houses three Bank of The Year awards.
"NMB is once again the recipient of the prestigious 'The Bank of The Year 2020' by The Financial Times, London. It's our 3rd win in last 4 years. This award reinvigorates our dedication towards our customers, strengthens us as a team and prepares us for a better tomorrow. We express our gratitude towards our costumers, stakeholders and well wishers for their unfaltering support through this journey." says the bank.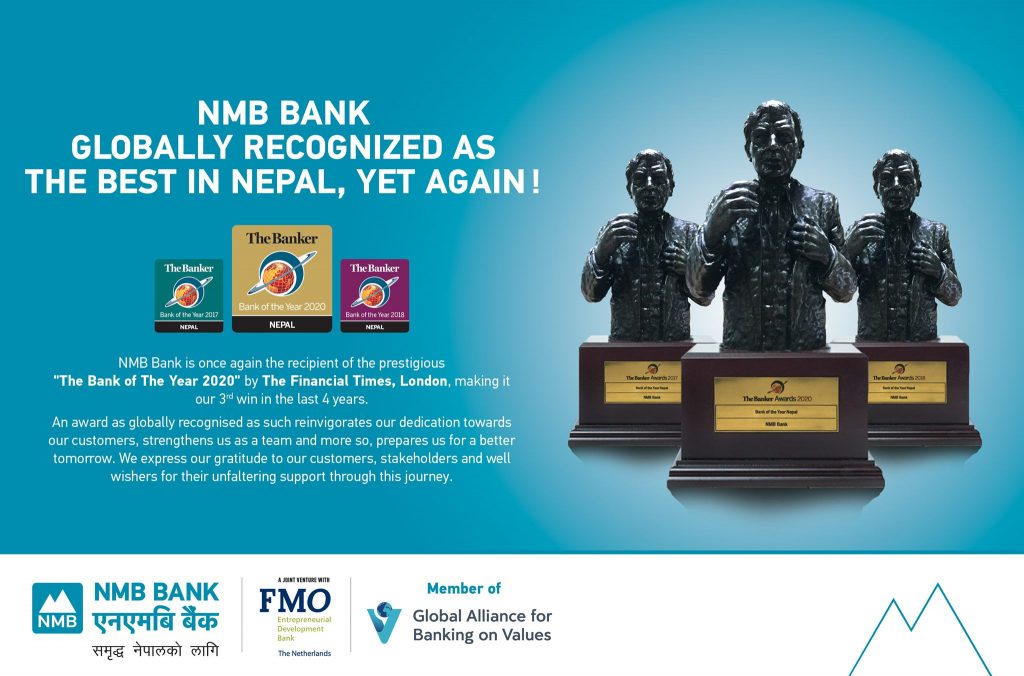 NMB's major contributions in this past year:
In 2019, NMB signed a memorandum of understanding for the acquisition of Kanchan Development Bank. For a short description, Kanchan Development Bank is a bank in western Nepal which focuses on sustainability. NMB also began operations with Om Development Bank for joint transaction.
NMB's achievements this year:
Just like 2019, NMB made some serious amendments and met up with great achievements this year too. The bank launched digital onboarding at the beginning of 2020. It introduced this service to stabilize the sharp increase in new account openings because of the pandemic. This year, NMB also brought WeChat Pay in Nepal by signing a contract with Tencent.
During COVID, NMB made an effort to provide seamless services to its costumers through their digital platforms. In addition to that, it also set industry standards to support communities. Besides this, it is equally focusing on strengthening Renewable Energy, Agriculture, MSMEs/SMEs and adapting Digitization.
Also Read:
NMB Bank Introduces VISA Corporate Credit Card :Your one stop solution to regulate business expenses
Other amendments/ contributions:
NMB Bank has also introduced its VISA Corporate Credit Card for the first time in Nepal . This card makes business payments effortless while offering the flexibility and information to effectively conduct company's business expenses. VISA Corporate credit card is a simple and secure way to manage employees travel, entertainment and mortgage expenses. This would avoid employee's depending on their personal credit card or cash . This gives a better sight into company's expenditure by acting as a fundamental unit of the company's authorized cash management approach.
Furthermore, NMB is actively exercising sustainable banking. In order to promote renewable energy, the bank even launched its Green Fixed Deposit product. NMB allow Savers to have their funds matched to a portfolio of renewable energy projects. Moreover, there, the funds range from one to five years. Additionally, each account holder can also have a tree planted in his/her name.
Was NMB deserving of "The Bank of The Year 2020" award?
NMB is extremely versatile and active in promoting/practicing banking and sustainability simultaneously. Also, with its timely updated services and advancements, NMB has successfully won hearts of a considerable mass. Thus, winning the award was a well-deserved victory for NMB.
After learning all these things, wouldn't you like to open an account in NMB? Share your opinions in the comment section below.