Nepali companies participating in global events is a rare occurrence in general. In this regard, a growing company in global tech talent sourcing, Swivt Technologies is exhibiting with its stall at the prestigious Singapore Business Show 2022 on September 28 and 29.
The event is happening at 1 Expo Dr in Lion City Singapore, where thousands of entrepreneurs, business leaders, and tech enthusiasts get together and share their experiences, and ideas so as to inspire one another.
This show has been running for the last 25 years in a row, which is a great opportunity for business leaders and entrepreneurs to grow their network and open many avenues to expand their partnerships and business processes.
Swivt Technologies is exhibiting in one of the stalls in The Singapore Business Show 2022
In this two-day event, more than 300 exhibitors will be showcasing their products and services among more than 5000+ visitors. Among them, Stall Number 332 will be named for the Nepali tech company Swivt Technologies. The table will be placed right next to Zoho Zendesk Docusign and MongoDB.
This is one among the few events where a Nepali company is exhibiting in one of the world's biggest business events- The Singapore Business Show.
In a talk with TechSathi, the CEO of Swivt Technologies Ms. Samita Rana shares her immense excitement regarding this event,
"We are really enthralled to be a part of the world's biggest business show to exhibit what Swivt is, what we do, what we represent, and what we offer to the world. The 200+ energizing seminars and noteworthy masterclasses are something we are looking out for as well with the expertise and learnings that we can use to grow in the future. We are also very much enthusiastic to meet fellow business executives, possible prospects, and investors. "
Know more about Swivt Technologies
Swivt Technologies is a digital agency that has built its own name in various avenues where businesses require digital support and branding. It is successfully operating in three different countries- HongKong, the Philippines, and Nepal along with catering to an array of services like:
Brand Strategy
Website Design and Development

Digital Marketing
Mobile app development
Social Media Management
Search Engine Optimization
Pay-per-click Management
Conversion Rate Optimization
Having served many national and international clients, it has gained a much loyalty from those who love the company mostly for its responsiveness and creativity at the work. It has been helping many companies to move from offline to online and scale their business along with customizing the products/services as per their requirements.
As a digital agency specializing in tech talent sourcing around the globe, it is operating in majorly four avenues of digital processes:
UI/UX
Website
Apps
Digital Marketing
Along with that, it has its own product named SAYAPATRI, which provides the easiest contactless payment solution with its Radio Frequency Identification (RFID) technology. It was introduced for the first time in Nepal which lets the customers pay without internet or pins.
Sayapatri assists retailers in improving operational efficiency and providing customers with a positive shopping experience by shortening the length of each transaction.
Swivt Technologies will be sharing the venue with other businesses and keynote speakers at The Singapore Business Show 2022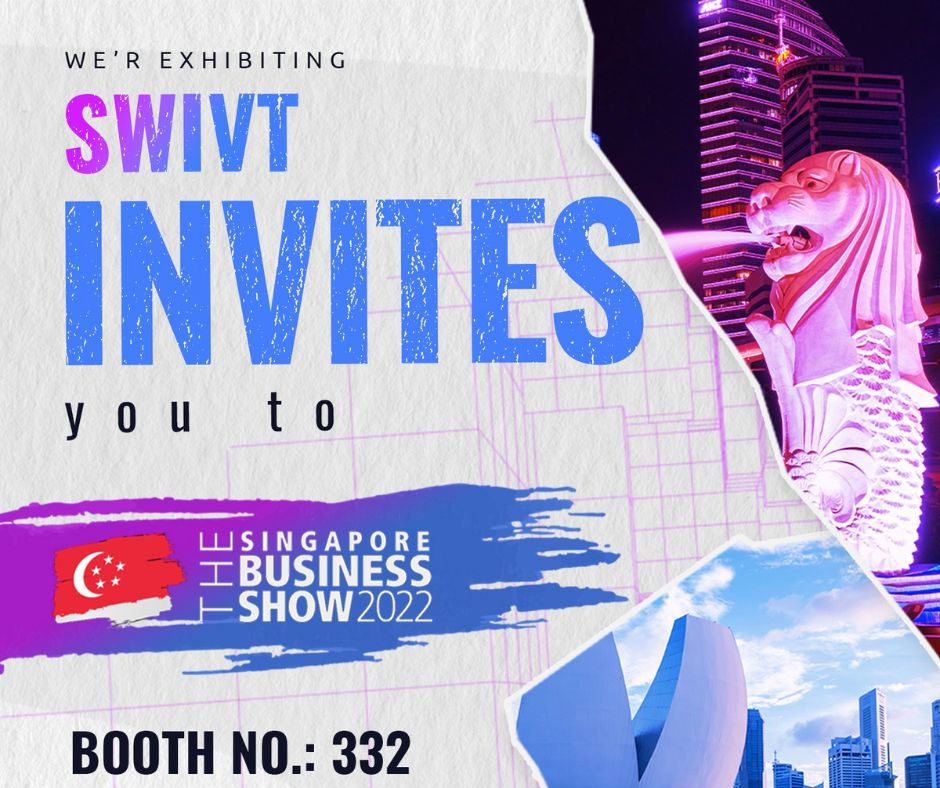 The Singapore Business Show is going to be grand on its own where more than 200 seminars and speaking sessions will be held at a time along these two days. The speakers around the world have an experience in various renowned companies like Google, Meta, Unilever, Tiktok, Zoho, and many more.
Also, there will be stalls of various companies that have been contributing in any way to support their users by leveraging the power of technology. And it is one of the prestigious opportunities for a Nepali company to have its presence in the world's biggest business show. Those who are in Singapore can book for the event and visit the stall of Swivt Technologies.
Also Read: vivo's Budget Friendly Y Series; vivo Y35 and vivo Y22 Launched in Nepal