Softwarica College of IT and E-commerce has conducted a "Job Placement Week" for students.
Being in the academic sector for 12 years, Softwarica College has conducted this placement program for its students to support them in getting jobs in various companies in Nepal.
"We have conducted this program to become a bridge between job providers and job seekers," said Pramod Paudel, Head of the college.
He further added this program has helped students to build up their employability skills to be ready for the job market, and excel in their careers.
In this program, computing, ethical hacking, and cyber security were discussed among students and officials of various companies.
More than 100 students got selected on the Job Placement Week at Softwarica College
During the placement week, there was the participation of former students, current students, and representatives of 20 different companies.
150 students participated in this program which ended on Thursday. College head Paudel informed that more than 100 students were selected.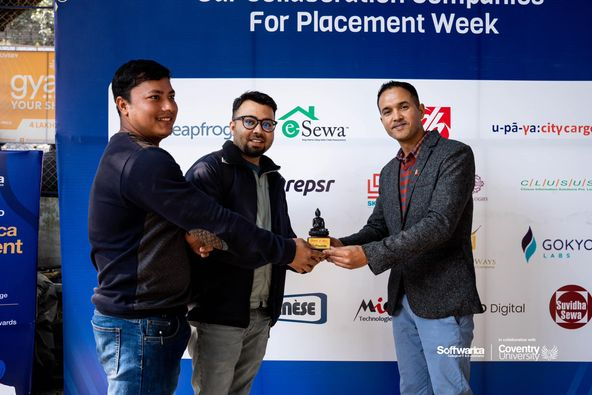 Under the program, representatives of various companies also gave training on various subjects.
Prashant Koirala, a former student of the college and the Director of Ayat Digital Company Pvt. Ltd., shared his experience in the past when he could not get the right talent fit for his company even after the vacancy announcement.
The college has also arranged a study and research center for the students. The Chairperson of the college, Vigyan Shrestha, said that scholarship has also been arranged for deserving students. Shrestha said that this job placement has helped most of the students studying in college get jobs before they graduate.
Moreover, he added that the graduates from the college have been successful in getting jobs within 3 months.
Shristi Shrestha, Associate Product Manager at Code Rush shared that the graduates from Softwarica College have performed well in their company. She also added that she is looking forward to working with more college students in the days to come.
The representatives from companies like Leapfrog Technology, Midas Technology, Genese Solution, Dish Home, Hitachi Energy, Subidha Sewa, Ayat Digital, TechKraft, etc showed their participation.
Also Read: 10 Best AI Tools for Content Creators and Entrepreneurs