 OPPO has finally announced the launch date for the all-new OPPO F17 Pro. The F17 Pro will land here in Nepal on September 27th via an online launch event which will be live on the company's social media platforms. The live launch will be honored with the gracious presence of Superstars from the Nepali film industry such as OPPO's brand friend / Actress Swastima Khadka, Actor Anoop Bikram Shahi, Actress and model Alisha Rai along with renowned Photographer and Filmmaker Sanjog Rai.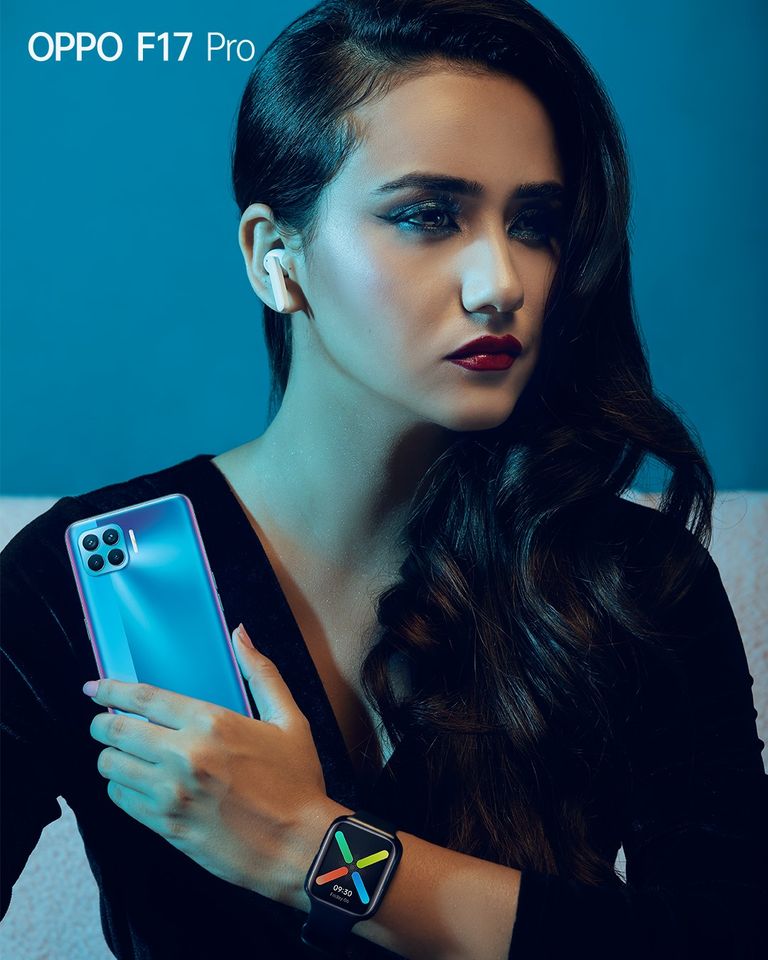 F Series has a well-accepted, long history in Nepal for bringing state-of-the-art technology to the customers. OPPO has been focused on making technology more personalized, accessible, and fun through forward-thinking designs. Continuing this with the F17 Series, for trendsetters who are passionate about using intuitive technology. The newest addition to OPPO's popular F-series, OPPO F17 Pro – will be shipped with 6 AI Portrait Cameras, 30W VOOC Flash Charge 4.0 and will sport an Ultra-Sleek Body, fashionable Mini Dual Punch Hole Display, and innovative Shiny Matte Colors alongside others.
6 AI Portrait Cameras, Ultra-Sleek Design, and 30W VOOC FLASH CHARGE 4.0

Camera:
F17 Pro seems to boast 6 AI Portrait Cameras boosted by 6 AI Portrait Functions and Ultra Steady Video technology that will result in selfies, images, and videos to be of higher quality. The AI-powered professional shots taken with this phone tries to impress everyone who sees them as F17 Pro leverages fashionable technology that makes users' life look and feel easier.
2020's Ultras Sleek Phone:
Oppo F17 Pro embodies an Ultra Sleek Design with an Ultra-Sleek Body, fashionable Mini Dual Punch Hole Display, and comes in innovative Shiny Matte Colors. Oppo F17 Pro, is thinner with a thickness of a stunning 7.48mm, while just weighing 164g. It has got 220 Degree Rounded Edge, The high-gloss Rounded Edge Design feels smooth and comfortable in the hand.
Display:
F17 Pro's display is set to a 20:9 ratio, which is the optimal width, especially when one holds it in one hand. And whether one is catching up with news, or browsing and reading before bed, it'll be easy to do so with just one hand. It has Mini Dual-Punch Holes, allowing for more visible screen real estate on its 6.43" Full HD, Super AMOLED screen, with a 90.7% Screen to Body Ratio.
Also Read || OPPO Enco W11 TWS Goes Official in Nepal for NPR. 3,990
30W VOOC Flash Charge 4.0
F17 Pro is equipped with 30W VOOC Flash Charge 4.0 which can fully charge in just 53 minutes. Not only is charging fast, but OPPO's rapid-charge VOOC technology does it at lower phone temperatures than other standard fast charges.
F17 Pro's 4000 mAh battery charges to 74% in just 30 minutes. Compared to previous versions where 30 minutes of charging netted over 50%. Regardless of old times now a 5-minute charge would give enough battery for not just two, but 4 hours of talk time.
2020's top phone material trend
Soft to the touch, easy on the eyes, with shimmers of brilliant streaks of light, OPPO F17 Pro comes in Shiny Matte, the new black. To solve the problem of a fingerprint while still giving the phone a high-end premium effect, designers crafted a unique shiny matte color using a new optical coating technique that results in a Fingerprint Proof finish. Oppo F17 Pro offers users two different color choices that represent something for everyone; Matte Black and Magic Blue.