Huawei Nova 5T packs some pretty cool camera features, but is it as good in real life as it looks on paper? Here's a quick rundown of the 5 best Huawei Nova 5T camera features with some sample shots and detailed camera review.
Camera Specifications:
Rear Camera:
48 MP main camera (f/1.8 aperture AF) + 16 M ultra-wide camera (f/2.2 aperture FF) + 2 M depth sensor (f/2.4 aperture FF) + 2 M macro camera (f/2.4 aperture FF), supports autofocus (phase focus, contrast focus).

Front Camera:
32 MP, f/2.0 aperture, supports fixed focal length.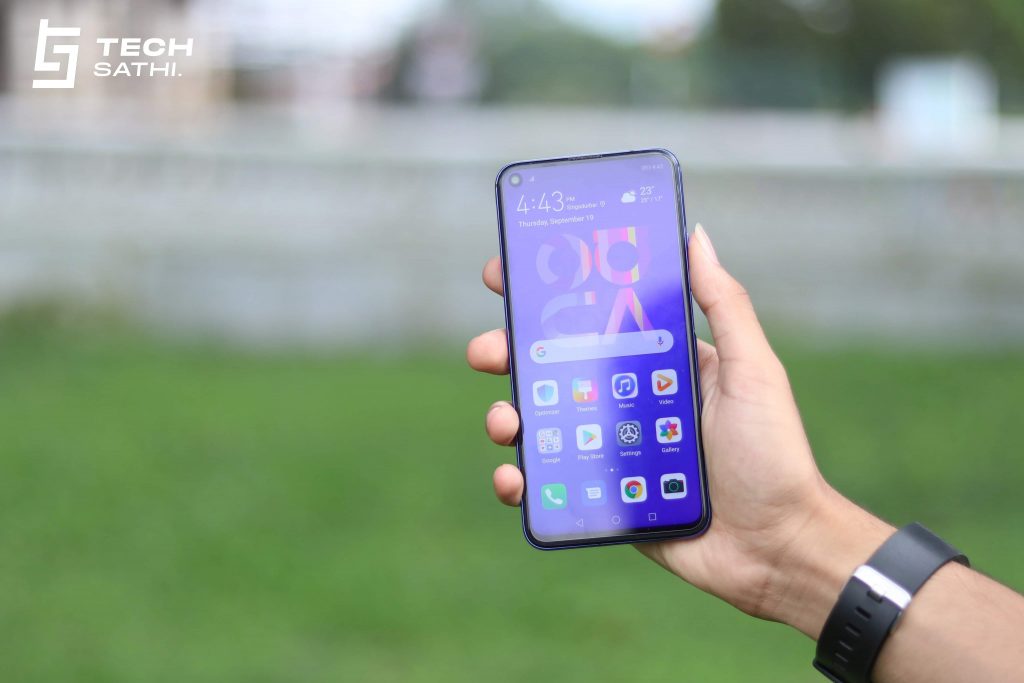 1. Portrait Mode:
Portraits or pictures with blurred backgrounds keeping the subject of choice in focus has been the biggest hit in the camera department of smartphones for a few years and Nova 5T doesn't disappoint here. With the help of its 2MP depth sensor and AI capabilities, the phone results in portraits with great sharpness, details, and DSLR like background blur with an improved edge to edge detection not only for human subjects but for other objects as well. Various types of background blur effects like 'Swirl', 'Hearts', 'Circles' are also available. The front camera also supports portraits with these effects and results in impressive clarity from its 32MP lens. Though 'Beauty mode' is supported in portraits by both rear and the front camera, I personally don't prefer it at all and it is better to post-edit your pictures but if you are a fan of beautification, I can assure you that the AI beautification mode is very good.
On the 'More' option in the native camera app, you can also find a shooting mode called 'Aperture Mode' which helps you control the amount of background blur in your pictures.
Sadly, portraits by the ultra-wide 16MP lens are not supported and I don't think anyone would even prefer to use it. But what's exhilarating is that Huawei Nova 5T camera supports background blur in videos at all resolutions by both the main and the ultra-wide lens just as we had previously seen in the Live Focus Video mode of Samsung Galaxy Note 10+. Various blur effects and color-graded modes are also available for videos which makes the videos look punchier and expressive.
2. Macro Mode:
Here, we have a dedicated 2MP macro lens which helps you take close-up shots of macro objects from as close as 4cm. I am genuinely impressed by its results in good lighting conditions but when the lighting is less the 2MP lens with f/2.4 aperture results noise. An alternative I found for this is that the pictures are taken by the 48MP main lens with AI Ultra Clarity option found in the settings, due to its f/1.8 aperture, highly reduces noise and improves clarity and if we crop the pictures, we can get very good macro shots even in low light.
3. Ultra-wide Mode:
The 2019's most popular ultra-wide lens has been a game-changer for mobile photography and now even iPhone has been forced to join. Nova 5T's 16MP ultra-wide camera gives an impressive 117-degree field of view to cover everything in your pictures. Though we do not get a Go Pro fish-eye to look here, there is some minimum stretching of the pictures in the edges which is taken from a good perspective result in stunning ultra-wide images. Oh! Did I forget to tell you that you can also take videos at 4K from the ultra-wide camera and change lens from main to ultra-wide or vice-versa in between the same video recording.
Also Read: Huawei Nova 5T Review: A Gamer's Delight
4. Night Photography:
Huawei had been leading the smartphone night photography department with its flagship phone, the P30 Pro, and now with the introduction of Mate 30 Pro, it has become even better. So, do you think a phone half the price of P30 pro still packs some punch in the night game? I wasn't expecting much but oh boy I was wrong. The night mode pictures by the 48MP main lens are superb with capturing of minute details and maintaining the color accuracy without noise increment. You can also use night mode with the wide lens which isn't as good as the 48MP one but the image quality doesn't fall very far behind. When taking night mode pictures, the phone needs to be stable for a few seconds which has been made possible by the AI image stabilization resulting in steady handheld shots.
5. Pro Mode:
Being able to play with the settings of a smartphone camera as manually as in a DSLR is a dream for me. Whenever I need to take better pictures, I start experimenting with the Pro Mode available in the native camera app as it helps me control ISO, shutter speed and aperture for both the main and the ultra-wide lens. Sometimes in extremely dark environments, the night mode can't do its job well enough and that's when the Pro mode shines. With control over the shutter speed or the exposure time, I could capture high clarity pictures without any noise in extreme low-light with Huawei Nova 5T camera.
The maximum video resolution supported by the camera is 4K at 30fps with AI stabilization (also EIS). Some other shooting modes available to you to up your smartphone photography/videography are Panorama (Horizontal and Vertical), Slow motion video (720p at 960fps and 1080p at 120fps), Light painting (silky water, star trails, traffic trails, light paint),