Nepal Investment Bank Limited (NIBL) has recently launched its mobile banking and mobile wallet application named "Thaili Digital Paisa". Through its mobile application and web portal, Thaili enables customers to make online payments and tap into other innovative features like linking one's bank account to Thaili, P2P Fund Transfers, and many more.
The beta version of this app was launched recently with a peculiar service named "Thaili Overdraft" where any user registered as a vendor/merchant under Thaili app can get their loan disbursed through NIBL.
How to get started with NIBL Thaili Digital Paisa App?
Customers can get access to the following features provided by the Thaili Application by following a simple "quick registration" procedure:
Open Thaili application
Click on "Register"
Enter Mobile Number and click on "Register"
You will receive an SMS for verification Code.
Enter Verification Code received via SMS and click "Verify Now"
Enter basic details and click "Finish"
Login password and PIN will be sent on SMS after success.
Thaili Digital Paisa: Services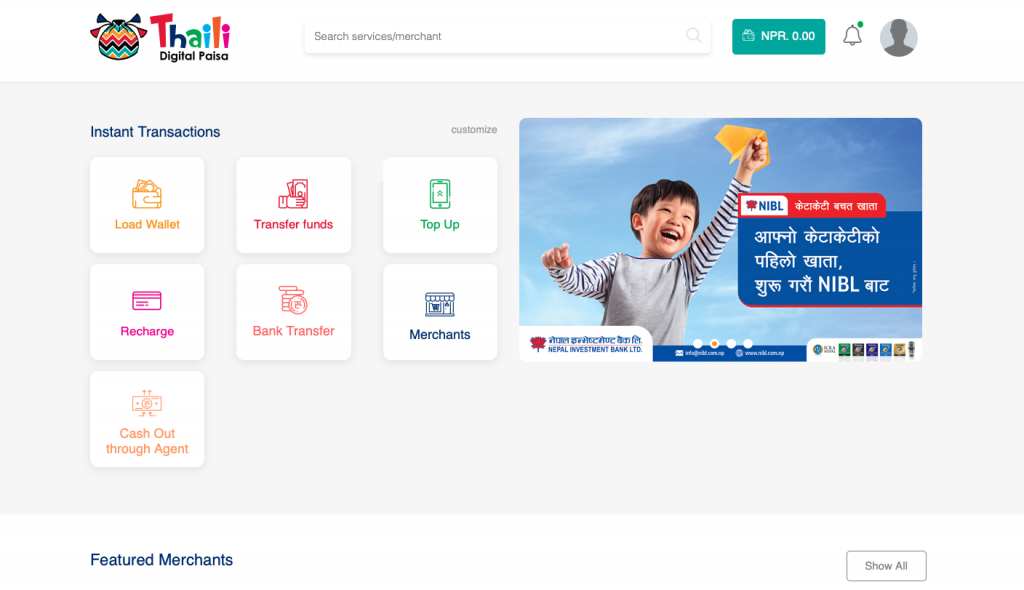 Thaili app is not less than other mobile wallets and mobile banking services since it has a wide range of products and services within the app system. They are:
Top Up
Recharge Cards
Merchant Payments
Transfer Funds
Bank Transfer
ConnectIPS
Link Bank
Load Wallet
Utility payments
Thaili Overdraft
What's Thaili Overdraft?
This is a new service by NIBL under the Thaili app where any user who registers as a vendor/ merchant in this app can get a loan from the bank. For that, one must visit the bank at first to register themselves with required documents and fill up the KYC. Then they will get their user ID and confirmation of subscription. After this, they can get their loan disbursed in an instant click on their smartphone.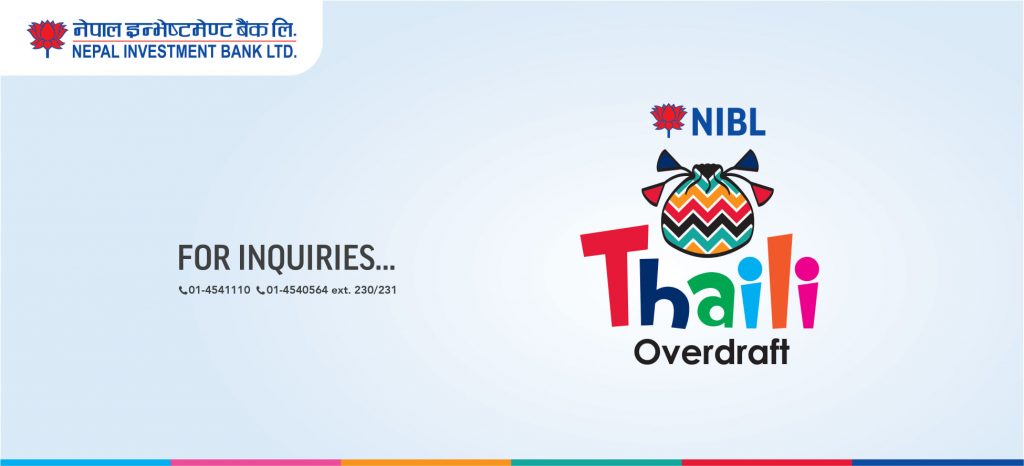 Thaili allows its customers to get loans up to NRs 50,000 per transaction. They also allot points as per the transaction and amount to the user's ID so that higher the transaction, higher is the point allotted. It is such that the users with higher points are privileged to get further loans without collateral. So, the customers can enjoy easy disbursement of loans whereby avoiding the lengthy process of getting loans by visiting the bank in person.
One must be the account holder of Nepal Investment Bank Limited and should be a registered user of "Thaili Digital Paisa" app in order to enjoy the service of Thaili overdraft.
This app is available in the beta version and has been made available in android version as of now. According to the bank's information center, they are working on launching it for IOS users as well.
Conclusion
Nepal Investment Bank Limited (NIBL) is showing its significant presence in the digital banking scenario by introducing new products and services like "Paisa Pathaune App" which was released a few days ago. Similarly, this "Thaili Digital Paisa" app is yet another milestone for the bank in digital payments. With the distinguishing service of "Thaili Overdraft" this very digital wallet and mobile banking app is all set to be an outstanding product in the banking sector. With the aim to ease their customers in being accustomed to cashless transactions, NIBL has been paving its way towards contributing in making Nepal digital.