Nepal Telecom, the largest telecom operator of Nepal has introduced a new SIM card for SEE passed students. The offer packed SIM card is exclusively for SEE appeared students and is available for free. The SIM provides lots of bonuses and offers as well. SEE graduates of 2077 will be able to claim the SIM Card and registration gifts for 30 days and a special bonus on recharge up to six months.
What's in the free SEE Student SIM card offer?
NTC's free SEE student SIM card is feature-packed and bundled with offers and bonuses. Firstly, the SIM card is absolutely free which is an offer in itself. Other than this, the new SIM card has the main balance of rs 10 and comes with, 60 MB of Mobile data, 40 minutes of call within NTC networks, as well as 20 free SMS. The offer is lucrative. However, the call and SMS feature can only be used within Nepal Telecom network only. In addition to this students will have access to the Student registration pack in which the students will get 100 MB of data, 10 minutes on-net call, and 10 on-net SMS every day for a month. That means you'll get 3000 MB data, 300 minutes talk-time, and 300 SMS along with bonus on every recharge until 6 months.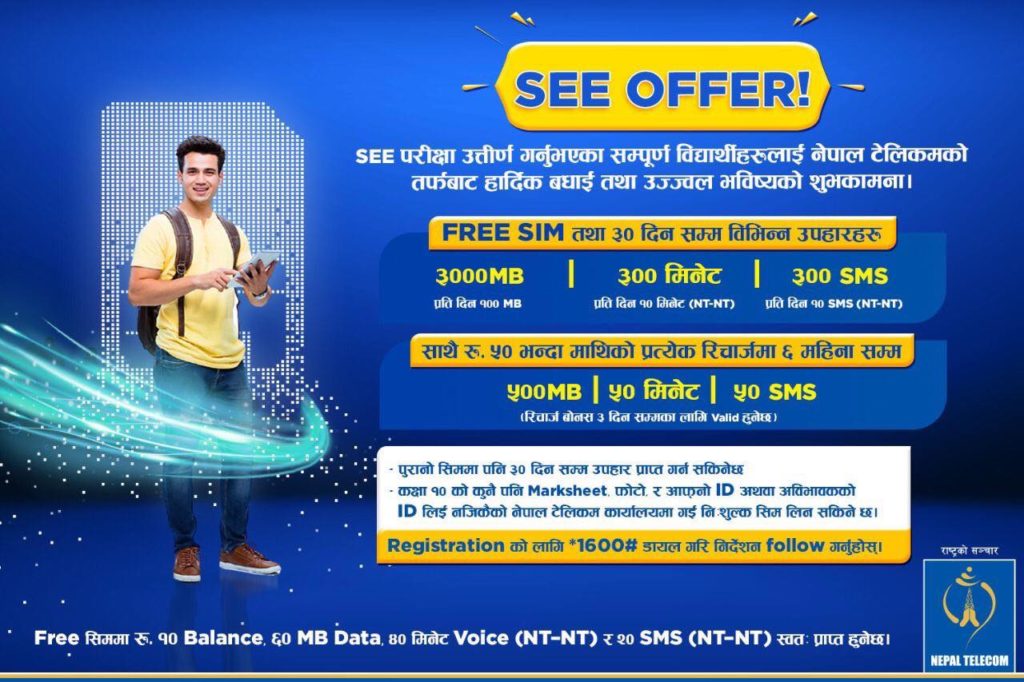 Whenever you recharge your SIM card by more than Rs. 50, you'll instantly get 500 MB of data, 50 minutes on-net calls, and 50 on-net SMS which only be valid for 3 days from the day of recharge. Alongside the bonuses and special offers, students having free SEE Student SIM card can also benefit from NTC's learning packages including the e-Shikshya package and happy learning package.
How to get the free SEE Student SIM offer from Nepal Telecom?
In order to claim the free SEE Student SIM offer from Nepal Telecom, you just have to follow the following steps:
Visit the nearest NTC office in your area.
Fill a SIM card registration form with a passport size photo, copy of citizenship (of yours or your parents)
And copy of Class 10 Marksheet (this one is mandatory)
Be sure to take the original citizenship of you or one of your parents to get the get SIM card.
You will then get a free SIM card with the SEE offer. Bonuses and all the services activated.
What if you already have a SIM card from Nepal Telecom ?
If you already have a NTC SIM card and you just want to enable all the services mentioned above, you can also easily do this without having to visit the NTC office. For this, you just need to Dial *1600# on the SIM card where you want to activate the SEE offer. Enter the symbol number (without the alphabet) and Date of birth to register your SIM for that offer. After that bonus on the recharge pack and the student registration pack will be available within 30 minutes.